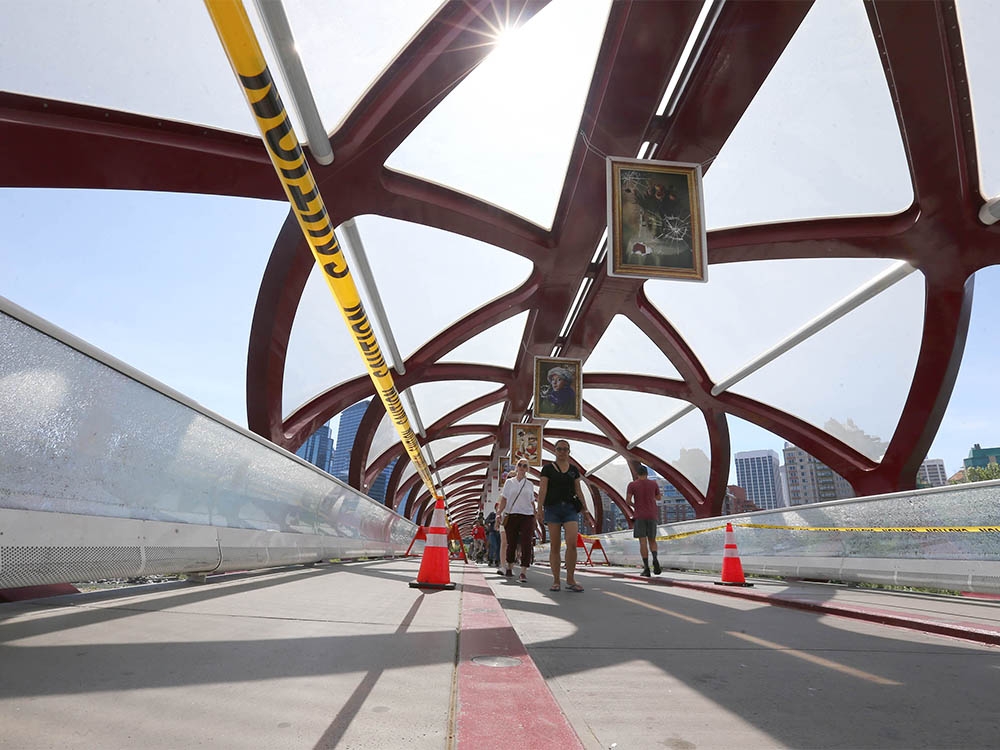 Article content
When a friend from out of town visited the other day, we went for a long wander through the city centre and eventually wound up at the Peace Bridge.
Article content
As it is with so many other people.
While there continue to be differing opinions about how (and how much) we paid for the bridge, how it looks, where it was built, or whether it should even exist, there is no doubt the span has become a magnet for locals and tourists alike.
Despite its awkward location — and my previous misgivings, I admit — it has become an important transportation artery for pedestrians and cyclists.
Over the past several years, I've noticed how the bridge has become part of people's routines — individuals and families out for a stroll across the span and nearby pathways.
People seeking a photogenic setting for wedding and graduation photos are drawn to the bridge, too.
And given its name, it's sometimes become a gathering place for demonstrations and fundraising events in the name of peace.
Article content
All that to say the Peace Bridge, now 10 years old, has quickly and clearly become an iconic piece of architecture for Calgary.
Unfortunately, this means it's also become a magnet for miscreants.
Until now, the city's been far too reserved in its attempts to prevent deliberate damage to the structure.
As my friend and I crossed the Bow River from the north side, we eventually came upon reproductions of famous works of art suspended from the bridge's tubular structure.
He was puzzled as to why there were holes and other damage done to the paintings.
I explained it was part of the city's attempt to deter vandalism which, I predicted not-so-boldly, probably wouldn't work.
Seeing how the bridge suffered massive damage Sunday morning when some crazed individual smashed the majority of the glass panels along both sidewalks, I'd say this campaign is a dismal failure.
Article content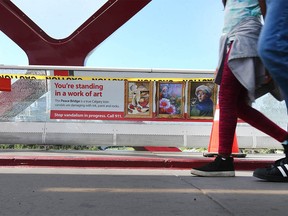 If someone needs to be told the bridge is a piece of art, or vandalism is costing taxpayers money, they're clearly not all there to start with.
Same with whoever is running around smashing glass at bus shelters and on LRT platforms.
The last time a few glass panels on the Peace Bridge were damaged by vandals, the repair cost was pegged at some $80,000. I imagine the price tag for the latest vandalism spree will probably wind up well north of that.
We're now at the point where it would be cheaper to pay a security guard or two a more-than-adequate wage to keep watch on the bridge all night. Maybe we should.
Despite the city's thoughtful attempt at persuasion, it was directed at people who were unlikely to have put any cogent thought into their actions, assuming they were even capable of it.
Article content
Although we've excessively leaned on law enforcement or security personnel to solve our social issues, this is one example where it would be an appropriate use of resources, in the short term anyway.
As with all problems, prevention is the best medicine.
Despite what the bridge's architect might think, glass barriers were a terrible idea and the city should continue looking for a sturdier substitute that's also structurally and esthetically appropriate.
And as for the vandals destroying every pane of glass they can get their idle hands on, we need to arrest them, throw the book at them and keep them from falling back into their criminal ways.
Calgarians have been more than patient.
Vandalism is not just an assault against property but also on taxpayers' wallets and on the community's sense of safety and security.
Whether it's at the Peace Bridge, on transit property or wherever else, it can't be allowed to continue.
The city's response must be swift and appropriately robust.
rleong@postmedia.com
On Twitter: @RickyLeongYYC