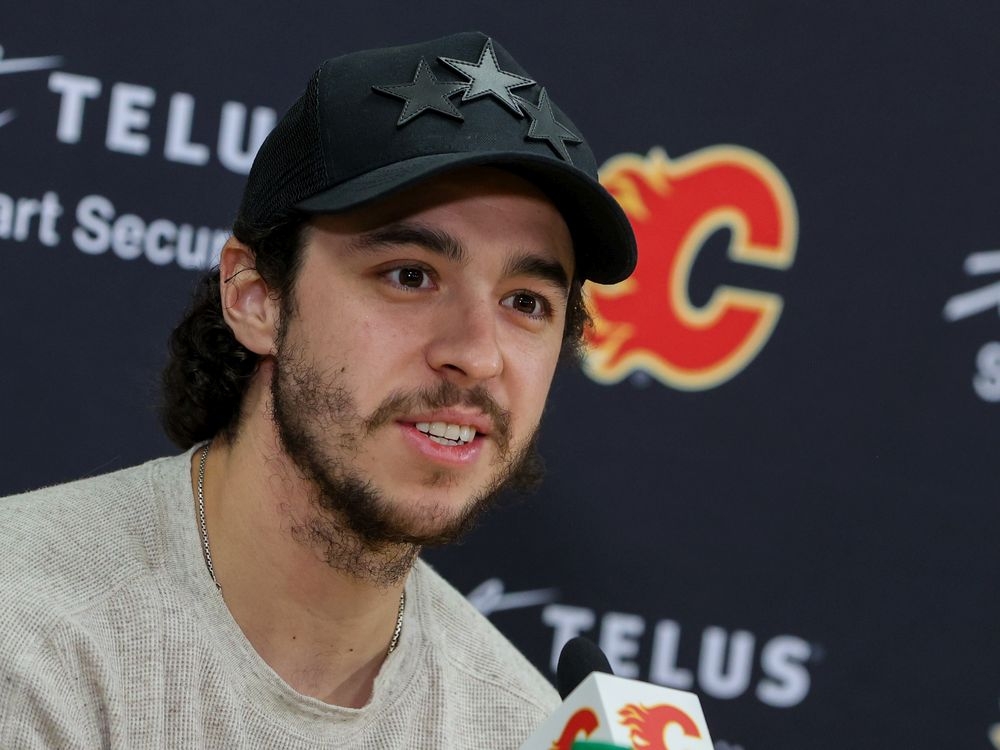 Article content
Johnny Gaudreau, ace playmaker, can appreciate a good assist.
Article content
And one driveway over, there's a household of Calgary Flames fans determined to do their part to ensure that the superstar left-winger is back next winter.
They don't want to see a For Sale sign pop up on Gaudreau's lawn in mid-July, when he could test the market as an unrestricted free agent.
"My next-door neighbours, I'm pretty sure they were shovelling my snow all year just to get me back," Gaudreau said with a grin. "You go to Starbucks, you go out to eat, everyone is so welcoming and really wants me back here. And it's great. That's what you want to hear. That's what you want people to think of you — that they want you on their team.
Article content
"It's a little overwhelming at times, but it's great to hear. I love it. It's just nice to hear everyone wants me back."
Article content
And who has been campaigning the hardest, who's leading the please-stick-around push?
"Probably Tre," Gaudreau quipped.
That is certainly what Flames fans — and not just the ones who share a fence line with Johnny and his wife — are counting on.
General manager Brad Treliving has several crucial contract negotiations on his summer to-do list, but No. 13 is undoubtedly the top priority. As alternate captain Mikael Backlund acknowledged: "It would be a huge loss if he's not here next year."
On Saturday, as the Flames gathered for their exit meetings and locker cleanouts, the free-agent-to-be Gaudreau didn't sound like a guy who has already booked a U-Haul or started stockpiling moving boxes.
While there has long been speculation that he might like to be a little closer to loved ones in the eastern U.S., the 28-year-old reminded this is the only home he's known during his big-league career.
Article content
"Calgary has a special place in my heart," he said, gushing about the way he has been treated by the organization, his teammates, fans and even the local media since he was selected as a fourth-round long-shot in the 2011 NHL Draft. "Everything about this city, I love. My wife loves it here. You guys can tell on Twitter — my uncle, my dad, my mom, my sisters, my brother, everyone loves Calgary. It has a special place in our heart and we love it here, so we'll see what happens.
"It's kind of a big decision here and I'm just going to try to figure out what's best for me first and my family and go from there, but Calgary is a special place for me and I do really, really love it here."
The Flames would really, really love to have him back.
Article content
Duh.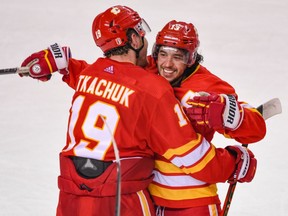 Gaudreau piled up a career-high 40 goals and 115 points this season, finishing second to only Connor McDavid in the NHL's scoring race while also being singled out by his hard-to-please boss Darryl Sutter as "one of the best 200-foot players in the league" and "our best checker."
The first-liner and fan fave was also tops on the team with 14 playoff points, including a series-clinching overtime goal in Game 7 of an opening-round date with the Dallas Stars. The Flames were ultimately bounced by McDavid & Co. in a long-overdue spring instalment of the Battle of Alberta.
Gaudreau has earned a hefty raise from his current cap hit of US$6.75 million. Many have guesstimated the average annual value on his next deal could be north of US$10 million.
Article content
"I've said this, and I've said it to John — I think he's a Calgary Flame and we want to make him a Calgary Flame for a long time and we're going to do everything we possibly can to make that happen," said Treliving, who also needs to negotiate new contracts for looming restricted free agents Matthew Tkachuk, Andrew Mangiapane and Oliver Kylington, among others. "We've seen what he's capable of. I've believed in this guy since the day I walked through the doors here. So certainly that's an important piece of business that we have to take care of.
"We're going to do everything we possibly can to get him signed," Treliving added. "We want him to be a Calgary Flame. He's been one his whole career. I think he has a chance to be one of the greatest to play in the history of the franchise — and there's been some great ones. So we're hopeful we can get it done."
Article content
That legacy, including a shot at Jarome Iginla's all-time club scoring records, will be part of the Flames' pitch. That and a term of eight years — one more than what any other suitor is eligible to offer.
Gaudreau plans to meet sometime this week with his agent Lewis Gross, and there's no question that Treliving will be pushing to get a deal done long before the NHL's free-agent frenzy opens on July 13.
Fans will be nervous until an extension is finalized, but Saturday's comments should provide plenty of reason to be optimistic that the perennial all-star will be staying put at the Saddledome.
"I've been here for 11 years and haven't got to that ultimate goal," he said. "And it's been a while since they've won here, so I think that would be pretty special — to win a Cup here. It's something that I kind of dreamed about my whole life, and Calgary is a great place to do it."
Calgary is a great place … unless there's four inches of fresh snow on your driveway.
But if you put up enough points for the hometown team, you apparently don't have to worry about that.
"I just want people to know how grateful I am for them welcoming me here," Gaudreau said Saturday in reference to the entire Flames' fan-base, not just the shovelling supporters next-door. "Hopefully, it's a few more years here and they can get stuck with me."
wgilbertson@postmedia.com