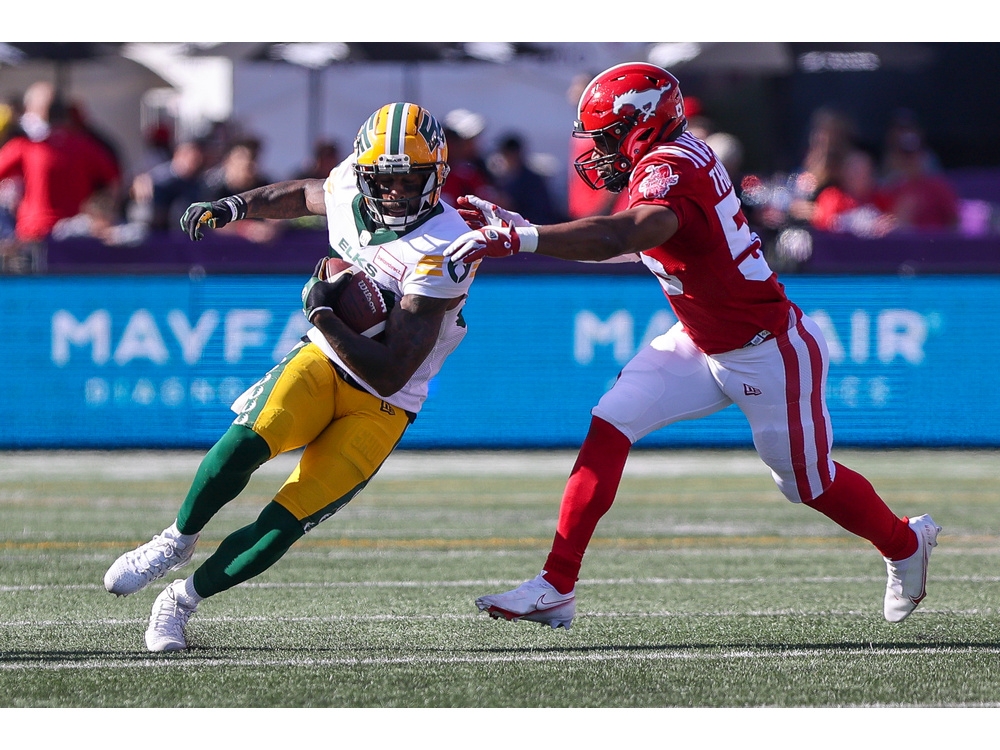 Article content
You get the feeling that if Jameer Thurman had been able to get cleared to play, he might not have missed a game.
Article content
The Calgary Stampeders middle linebacker has been out of action for three games because of a knee injury but was pulled off the six-game injured list this week. It's very, very likely that he'll be back in the lineup for Monday's Labour Day Classic against the Edmonton Elks at McMahon Stadium (2:30 p.m., TSN, 770 CHQR).
Article content
"I've been feeling good for a while, but I'm just glad I'm able to get back out there with the guys," Thurman said Friday. "I didn't know I was going to be (out for even) one game, but it's how things work. It was a load management decision. I didn't get much say, but I feel great now. I feel close to 100%.
"I'm ready to go."
Getting Thurman back in the mix is a big boost for a Stampeders defence that has had more than its fair share of injury issues this season. While Silas Stewart stepped in admirably over the past couple weeks, Thurman is a leader on the defence and is an experienced vet who makes everyone around him better.
Article content
While there are few people out there giving the Elks much of a chance in the Labour Day Classic, the Stamps still want as many of their key players available as possible.
"Trying to get the right look," said Stamps head coach Dave Dickenson. "I'll be cautious if I feel it's something I can get away with, but we need our best guys to beat these guys.
"(Thurman's) been a good leader for years, but he's quieter. We've always had (middle) linebackers that I can remember, going back to (Juwan Simpson) and then Alex Singleton, who were quite vocal. They come out of the locker room talking trash, and I think Thurm is a little more business. But I know he's got that leadership in him. And when he's on the field, we're better."
Thurman's not the only guy coming off the six-game injured list this week for the Stamps. Right-tackle Julian Good-Jones and safety Branden Dozier were pulled off, as well, and could be available for Monday's game.
Article content
That's an important trio for the Stamps.
Even if the Elks aren't the toughest opponent on the schedule — the Stamps won 49-6 the last time the two teams played — it's still a huge game, and the Stampeders have very little room for error going forward in the CFL's playoff race.
The schedule between now and the end of the season has a lot of games that, on paper, are extremely winnable. But after dropping three games to the Winnipeg Blue Bombers and one to the BC Lions, the Stamps need to b pretty close to perfect if they want to host a home playoff game in November.
Getting guys such as Thurman back should help.
"We need to go on a run — we understand what's coming up this stretch," Thurman said. "Everyone always talks, 'The season doesn't start until Labour Day,' but no, the season starts at the beginning of the year. Labour Day, it tends to pick up a little bit and you start positioning yourself for the end of the season."
Article content
SLOWLY BUT SURELY
Heading into training camp, most people who follow the Stampeders closely were expecting this to be a breakout season for Javien Elliott.
Stamps president/GM John Hufnagel had said as much in the off-season, and Elliott looked primed to make one of the team's defensive halfback positions his own.
It hasn't worked out that way, though.
A groin injury in training camp sent Elliott to the six-game injured list before the regular season even kicked off, and he still hasn't made it back to the field.
The Stamps are hopeful, though, that he might be back sooner rather than later and provide some help to a banged-up defensive backfield.
"It was a groin, but from what we were told, they hadn't really seen it to that extent," Dickenson said. "It's a two- or three-month injury, but we're past three months. I think you'll see Javien soon, but he's just not comfortable with the transition, opening up that groin.
"Sometimes injuries can be healed physically, but mentally you have to get over that barrier, as well. He should be one of our better players in the back end, and we were loving what he was going in camp. Unfortunately, it just hasn't been the start of the year that he's wanted."
daustin@postmedia.com