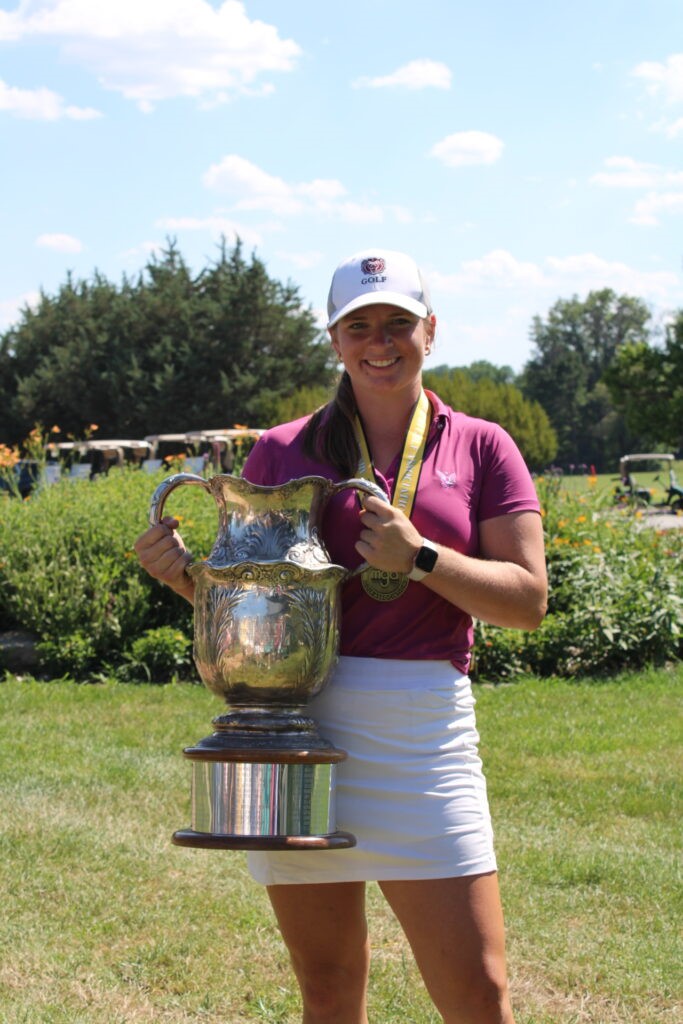 ST. LOUIS, Mo. —Missouri State University Golfer Faith Belmear is the 84th Missouri Women's Amateur Champion at Norwood Hills Country Club in St. Louis!
Belmear shot an impressive four under par, 67, during the final round of stroke play, sinking six birdies, bringing her total score to six under par, 207. She did a great job representing Missouri State at this event. Click here to view full results: www.golfgenius.com/pages/3372735
Our champion was closely followed by Siena Minor (Columbia). Shooting three under, 68, in the final round of stroke play, Minor is our runner-up for the Missouri Women's Amateur Championship. Over the course of the three rounds, she shot three under par, 210.
Kayla Pfitzner (Ozark, Springfield Catholic) shot even par, 213, to bring home third place in the Amateur flight.
Nine-time Missouri Women's Amateur champion Ellen Port (St. Louis) is our Mid-Amateur champion for the first time. Port shot one over, 70 in today's final round to win by two strokes. Over the course of the three rounds, Port shot seven over par, 220. Port has been successful in nearly every avenue of women's golf, but this is her first time as champion of the Mid-Amateur.
Emily Dannegger (St. Louis) is in second place behind Port. Dannegger shot two under par, 69, in the final round and found herself at nine over par, for a total gross of 222.
In third place, Kallie Harrison (St. Louis) shot 13 over par, 226, to round out the podium for the Missouri Women's Mid-Amateur Championship.
Taking home first place in the Amateur Open Division is Alicia Anderson (Chesterfield). Just two strokes behind her, placing second is Diane Schneiderjans (Florissant). Peggy Carter (Florissant) and Mary Ackerman (Florissant) tied for third place.
Nancy Walther (St. Louis)  won the A Flight Mid-Amateur Open Division. Heather Brinkman (Glendale) was two strokes behind her in second place, and Patty Robinson (Poplar Bluff)  took home third.
In the B Flight Mid-Amatuer Open Division, Peggy Carter shot the low score to take first place. Kay Tice (O'Fallon) was right behind her in second, and Marge Behrens (Troy) placed third.