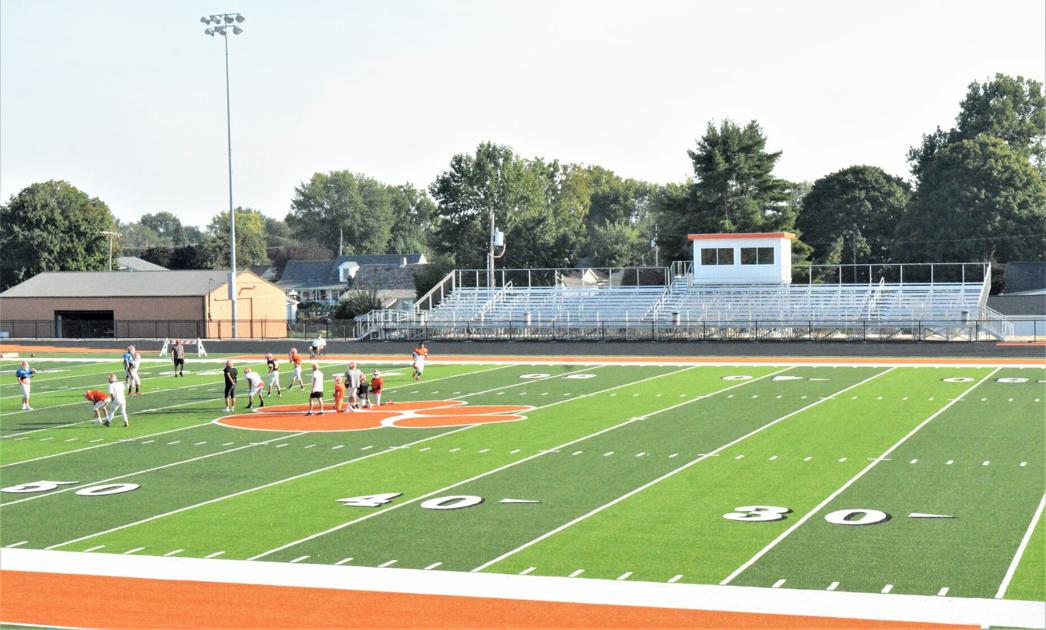 WESTVILLE — Guy Goodlove, the football coach and principal at Westville, heard the words of John Denver's classic song "Take Me Home, Country Roads" as his Tigers left Hoopeston last Friday with a 55-26 triumph.
Now, honestly, anyone that knows the Hall of Fame Coach — he was inducted this past year — would immediate think he was listening to a personal CD, but he claimed that it was coming from his players.
"We have been on the road for so long that these guys have learned the whole song and they were singing,'' Goodlove claimed.
And it would be appropriate.
For the first time since Saturday, Oct. 26, 2019, Westville will host a home football game this Friday at Memorial Field behind the Westville High School.
"It's been worth the wait,'' said Goodlove, as the Tigers will christen it's brand new football complex against the Oakwood Comets. Kickoff is set for 7 p.m. "There is a lot of excitement and electricity around the school and the community this week.''
Westville, which hosted the First Night High School Football Game in the nation, will open it's new football facility with is homecoming contest.
"This is truly a homecoming,'' said Dr. Seth Miller, the superintendent of Westville School District No. 2. "Football Friday nights have always been kind of special in Westville, and it's been nearly two years since our community has been able to host a game because of the coronavirus pandemic and this construction.''
In some respects, the pandemic gave Westville an opportunity to move ahead with the 8.9-million dollar renovation of the athletic fields (baseball, football, softball), along with the addition of an all-weather, all-purpose track and the construction of a new building where the bus garage had been for a new concession stand, new restrooms, new locker rooms, a weight room, batting cages for baseball and softball along with a wrestling room.
Miller said that these plans had been part of a long-range facility plan for a while.
"We've seen what other school districts around us have been able to do in the past 10-15 years,'' said Miller, noting that Paris opened a brand-new high school in 2015, Seeger built its Patriot Activity Center in 2006 and Unity installed FieldTurf on all its field in 2019.
So, why did they move forward during the 2020 school year?
"Last year, we were up in the air about extracurricular activities because of the pandemic and we weren't sure if anything was going to be played during the 2020-21 school year,'' Miller said. "Our board asked how can we turn a very frustrating situation and make the most of it. They decided to move forward with this project.''
Thinking the renovation was going to cause very little disruption — as most sports were paused by Gov. J.B. Pritzker and IHSA — and as Miller added that historically low interest rates at that time made it an opportune time to refinance debt and invest in capital development.
"This didn't happen overnight,'' Miller said. "This was a product of a couple decades of good stewardship from previous superintendents and school boards here in Westville, along with great community support.''
Miller notes that while Friday is the first home football game, the construction project is still ongoing.
"The gates will open at 5 p.m. on Friday night and people should try to arrive early as parking will be limited and we are expecting a big crowd,'' said Miller as the new bleachers should be able to accommodate a crowd in excess of 1,800. "We are going to have a small ribbon cutting ceremony before kickoff and we have printed a commemorative program that explains the history of Memorial Field, along with how the field got its name in 1949.''
Goodlove and the Westville Tigers can't wait to show off their new football facility this Friday night against Oakwood.
"The people that come to the game this Friday are going to see a facility that is second to none on the high school level,'' Goodlove said. "It's not only the turf, but it's also the new bleachers and the video board/scoreboard.
"And as the football coach, I have reminded my guys that we need to ready to go at 7 o'clock Friday night against a tough Oakwood team. Because in my 26 years as coach, the homecoming dance isn't as fun if you lose the game.''