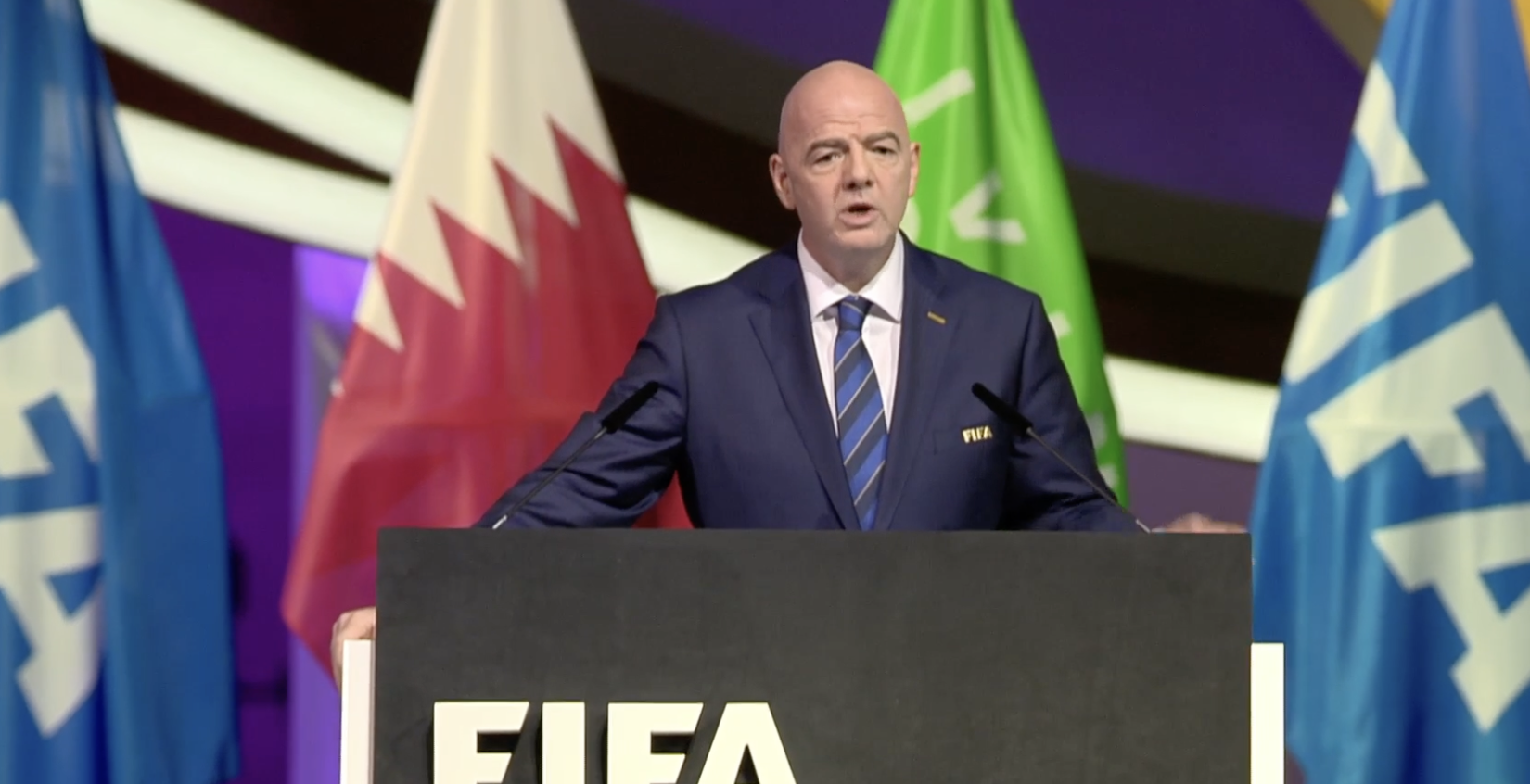 By Andrew Warshaw
March 31 – FIFA president Gianni Infantino, clearly anxious to steer a diplomatic line, deliberately sidestepped criticising Russia by name when addressing the war in Ukraine in front of the organisation's global membership today.
With almost all of its 211 member countries attending the FIFA congress in Qatar on the eve of the World Cup draw, Infantino missed an opportunity to directly denounce Russia even though FIFA has kicked the country out of world football competition, including the recent qualifying playoff programme.
Russia, whose federation, tellingly, has not been suspended, were among the nations present in the vast auditorium in Doha though it was unclear whether a Ukrainian delegation was also there.
Ukraine were included in a roll call of nations but that could well have meant an on-line presence because late in the Congress proceedings, a pre-prepared video was shown featuring the head of Ukrainian football, who was unable to travel, calling for support.
Knowing full well that Russian football's leaders were in the audience, notably those who organised the 2018 World Cup, Infantino chose his words carefully.
"Now that we were seeing light at the end of the tunnel (in terms of Covid) and looking forward to a fantastic World Cup what happened?," said Infantino. "War. War with the fear of a global conflict with the terrible events in Ukraine – though there are terrible wars in other parts of the world, places where innocent people are suffering."
Infantino, who received an Order of Friendship medal from Vladimir Putin in 2019 – a year after Russia hosted the World Cup – continued: "The Russia World Cup in 2018 was a great World Cup, sportingly and culturally. But obviously it did not solve the problems of the world. It did not even solve the problems in the region.
"It did not create a lasting peace. But what I want to say now is that once this terrible conflict is over, and all other conflicts around the world, hopefully football can play a small part in rebuilding relationships, in establishing peace and understanding.
"We live in an aggressive world, in a divided world. I am a big believer in the power of football to bring people together and to cross cultural boundaries. Football is the world sport but it cannot solve all of the problems."
"Please engage in dialogue, even with your worst enemy. Please try and come together."
Alexey Sorokin, the public face of Russia's World Cup, was unapologetic over his country's presence  at the congress. "We are not hiding. We have every right to be here," he was quoted as saying. "We find it kind of strange that the Russian team was not allowed to play in this (World Cup) qualification."
It was of course inevitable that Infantino, who during the Congress referred on more than occasion to his "brothers" in Doha,  would at some point address the issue of human rights which is still plaguing World Cup organisers over the treatment of migrant workers.
He insisted the Qatari authorities had made significant progress since being awarded the tournament in 2010. "It has to be recognised that work that in other countries has taken decades has been done in a few years," declared Infantino who then presented a video highlighting a number of positive changes in order to prove his point.
Not, however, before Norway's female FA chief took to the podium to question Qatar's human rights record, an intervention which provoked a furious reaction from a clearly rattled Hassan Al-Thawadi, the usually mild mannered head of Qatar's organising committee (see separate story).
Infantino, not for the first time, also repeated his oft-stated mantra about FIFA turning from a toxic organisation into a trustworthy one under his watch.
Supporters and critics alike will be interested to know that it is a watch he intends to maintain for another term after he officially announced he was standing for re-election in 2023.
Contact the writer of this story at moc.l1648741862labto1648741862ofdlr1648741862owedi1648741862sni@w1648741862ahsra1648741862w.wer1648741862dna1648741862