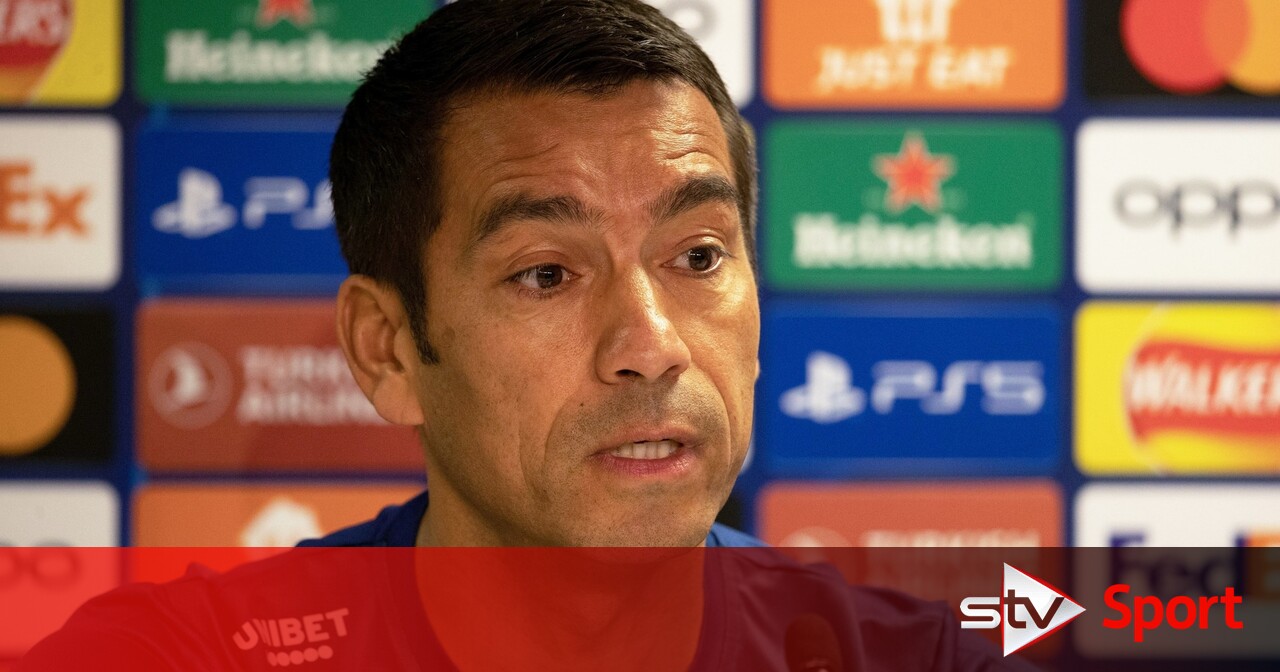 [ad_1]

Rangers manager Giovanni van Bronckhorst insists he won't change his playing philosophy as he looks to improve results after consecutive 4-0 defeats.
The heavy losses to Celtic in the Premiership and Ajax in the Champions League left the Dutchman open to criticism, and after the weekend's match against Aberdeen was postponed, Rangers now look to bounce back against Serie A leaders Napoli at Ibrox.
After two comprehensive defeats, the manager was asked if he considered changing his philosophy or style in a bid to reverse the run of form.
Van Bronckhorst was adamant that wasn't the answer, and that two poor performances had been the root of the problem for a team that was being praised recently.
"There's nothing to change about the philosophy," he said. "Two weeks ago we qualified for the Champions League and everything was fine.
"Everyone was praising the team, the staff, the club and we're doing well.
"Two defeats later and it looks like we haven't performed well in the last couple of years. That's the dynamic of football.
"So I'm not changing anything about my philosophy or how I want to play. Of course there's a lot of room for improvement but I think the most disappointing thing of the last two games is that we didn't perform.
"This is more disappointing for me. The players have that for sure and we've talked about it. This is something that has to change."
Van Bronckhorst said after the Ajax defeat that it was difficult to compete with teams who had a bigger budget, provoking criticism from some, ahead of facing Napoli he stressed that Rangers weren't used to playing such top-level opposition regularly.
"We're losing two games against good opponents," he said. "You don't play every year in the Champions League and the level of opponent we're playing in this couple of months we haven't endured that in 12 years.
"Of course it's going to be tough.
"But I don't understand why we have to put our philosophy to the side. We can go to Ajax and play with then defenders and try to keep to zero but we're not improving as a team like that.
"I'm sure that the opponent that we faced in Ajax was also an experience that my team won't forget. The big learning point is to be different tomorrow against another quality opponent in Napoli.
"For sure we faced heavy defeats and we talked about it. Now is the chance tomorrow to get a good result. Playing at home for us is a big difference and being a Rangers manager or a Rangers player, two defeats is not acceptable.
"But that's something different from putting your philosophy aside. We'll go out tomorrow with the same philosophy and try to win the game."
The manager revealed that goalkeeper Jon McLaughlin will miss the game through injury but said that Allan McGregor's experience meant he was relaxed about starting the veteran, who has dropped to the bench this season.
"McLaughlin has picked up an injury and will not be involved," he said. "It is different for Allan this season, he has still been the same in training. I have every faith in him tomorrow with the experience he has. No doubt in my mind that he will perform tomorrow."
[ad_2]

Source link