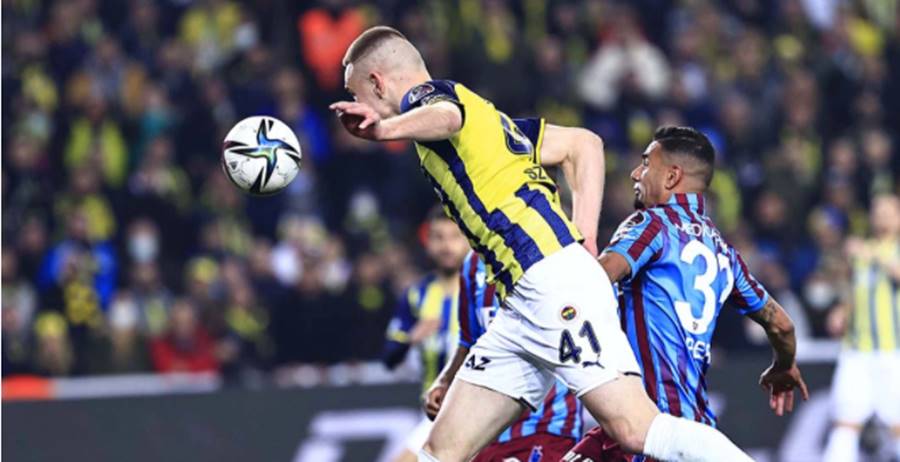 Fenerbahce and leader Trabzonspor drew 1-1 in the 28th week of Spor Toto Super League.
Fenerbahce football player İrfan Can Kahveci saw a red card in the 17th minute. In the 14th minute, Siopis could not get up from the ground after a double struggle with İrfan Can, just in front of the Trabzonspor penalty area. The referee of the match, Zorbay Küçük, watched the position from the screen on the side of the field, upon the warning of the VAR referee. Referee Küçük sent İrfan Can Kahveci out of the game with a red card.
Trabzonspor took the lead in the 22nd minute. Abdülkadir Ömür, who went down to the last line from the left with Nwakaeme's pass, turned the leather circle inside. The ball, which hit Zajc, remained in front of Nwakaeme in the penalty area. The Nigerian player hit the far corner without waiting, met with round leather nets: 0-1
Fenerbahçe could not take advantage of an important goal opportunity in the 35th minute. Szalai's head shot from outside the penalty area of ​​Crespo, right diagonally in the middle of the back post, returned from the round leather goalkeeper Uğurcan Çakır. In the continuation of the attack, Serdar Dursun found the six-cake ball in front of him, and Ahmetcan Kaplan pulled the leather ball out of the goal line. Finally, the ball that hit Rossi in the six-pass came out.
Fenerbahce tied in the 71st minute. Mert Hakan Yandaş's free throw from outside the penalty area from the right diagonal, Zajc's head shot from the front post, went to the round leather nets: 1-1
Trabzonspor approached the goal in the 84th minute. In the sudden attack, the ball that Serdar Aziz tried to move away from the right in the middle of Visca, remained in front of Djaniny. This player passed the leather ball to Nwakaeme, who was available to the left of the six-pass. The Nigerian football player returned from the round leather side post in the shot.
90+2. Visca, who met the ball on Djaniny's pass and quickly entered the penalty area from the right diagonal, shot towards the far post, and the leather round came out a short distance.
The match ended in a 1-1 draw.