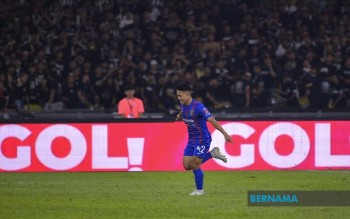 KUALA LUMPUR, Sept 10 (Bernama) — Johor Darul Ta'zim (JDT) defeated Terengganu FC (TFC) 3-1 in the 2022 FA Cup final at the National Stadium in Bukit Jalil here, tonight:
Half time: JDT 1-0 TFC
Scorers: JDT: Arif Aiman Mohd Hanapi (34th minute), Bergson da Silva (63rd minute) and (78th minute)
Scorers: TFC: Kipre Thetche (75th minute)
JDT: Mohd Farizal Marlias (captain), Matthew Davies (Muhammad Syahmi Safari), Mohd Afiq Fazail (Muhammad Nazmi Faiz Mansor), Bergson da Silva, Leandro Velazquez, Shane Lowry, La'vere Lawrence Corbin-Ong, Ignacio Insa Bohigues, Shahrul Mohd Saad, Arif Aiman Mohd Hanapi, Fernando Forestieri.
Terengganu FC: Muhammad Rahadiazli Rahalim, Muhammad Shahrul Nizam Ros Hasni, Muhammad Azam Azmi Murad, Mohamad Faizal Abdul Halim, Manuel Gelito Ott, Habib Haroon Haroon Saeed, Petrus Shitembi, Mohd Faiz Mohd Nasir (Nik Muhammad Sharif Haseefy Mohd Lazim), Kipre Thetche (captain), Muhammad Alif Zakaria, Pape Abdoulaye Diakite.
Attendance: 84,321
Referee: Muhammad Nazmi Nasaruddin
— BERNAMA
---
Bernama is the trusted source of reliable real-time comprehensive and accurate news for both the public and media practitioners. Our news is published at
www.bernama.com
; BERNAMA TV on: Astro Channel 502, unifi TV Channel 631, MYTV Channel 121 IFLIX; and Bernama Radio broadcasting locally on FM93.9 in Klang Valley, Johor (FM107.5), Kota Kinabalu (FM107.9) and Kuching (FM100.9).
Follow us on social media :
Facebook : @bernamaofficial, @bernamatv, @bernamaradio
Twitter : @bernama.com, @BernamaTV, @bernamaradio
Instagram : @bernamaofficial, @bernamatvofficial, @bernamaradioofficial
TikTok : @bernamaofficial