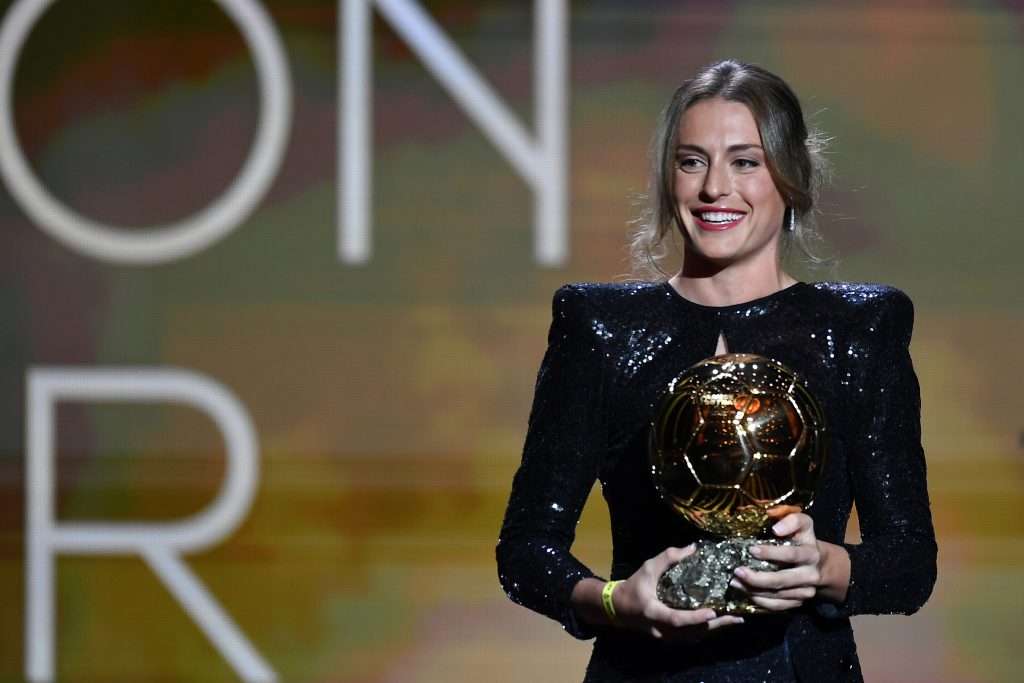 Barcelona and Spain star, Alexia Putellas, has had a huge rise as she recently won the 2021 edition of the Ballon d'Or.
The 27-year-old playmaker has the fourth highest amount of appearances in Barça Femeni's history and is already the highest capped player for the Spanish national side.
Though her stock has recently risen so high so as for her to be named player of the year, it's true that she has also been a regular player and goalscorer for the Catalan giants since 2015.
In November, she told Spanish vogue that if she were to win the Ballon d'Or it would be a turning point for the country.
When she was awarded the honour at the end of November, the reaction was immense.
At the ceremony, she said: "I'm very emotional, it's a very special moment.
"I would like to start by thanking all my team-mates, especially my current [Barcelona] team-mates. For me, it's a collective success."
Football fans, celebrities and personalities took to social media to remark how she had become the first Spanish female winner of the Ballon d'Or.
This was indeed a turning point.
For a country with so many passionate female football supporters and players, the domestic game has not always matched this.
To put it into context, the only previous male winners of the individual award who represented Spain have been Alfredo Di Stéfano and Luis Suárez in the 1950s and 60s.
World cup winner Andrés Iniesta has previously described Putellas as a role model.
And her recent rise has matched that of the Catalan club.
Last week, despite not scoring, Putellas ran the show as Barcelona demolished Women's Super League leaders Arsenal 4-0 at the Emirates Stadium.
On the weekend, Barcelona beat arch-rivals Real Madrid 3-1.
They are reaching the same dizzy heights as last season, where the Barcelona captain achieved a league, cup and Champions League treble with the club, as they romped home to a 4-0 victory over Chelsea in the final, with Putellas scoring a penalty.
In the Ballon d'Or, her Barça team-mate Jennifer Hermoso claimed second, with Chelsea forward Sam Kerr third and Arsenal striker Vivianne Miedema fourth.
Putellas was the highest-scoring midfielder in Europe with 26 goals in all competitions last season.
As well as winning the Ballon d'Or, she was also both player of the year in the Primer Iberdrola and most valuable player for the Copa de la Reina.
Although Barcelona Femeni have won six league titles since 2011, they did go through a tricky period between 2015-16 and 2018-19 in which they finished runners-up four times.
But under Putellas' increasing province they have reached new heights, winning the two league titles and winning the Champions League (as well as reaching another final) over the last couple of seasons.
There seems to be no end for her.
Putellas told Goal last year that she wanted the Spanish national side to emulate Barcelona's European success.
"There's so much hope and pride for what Barcelona has done. With the national team, we should not set limits. It's clear that if we keep this level up, we will be near tasting success."
The highest the Spanish national side has reached is the quarter-finals of the European championships and the Round of 16 at the World Cup.
But with a European Championship in England next year and a World Cup in Australia/New Zealand the year after now is a good moment for Spain's golden generation of female winners to win something.
And with Alexia Putellas at the heart of it, you wouldn't bet against it.