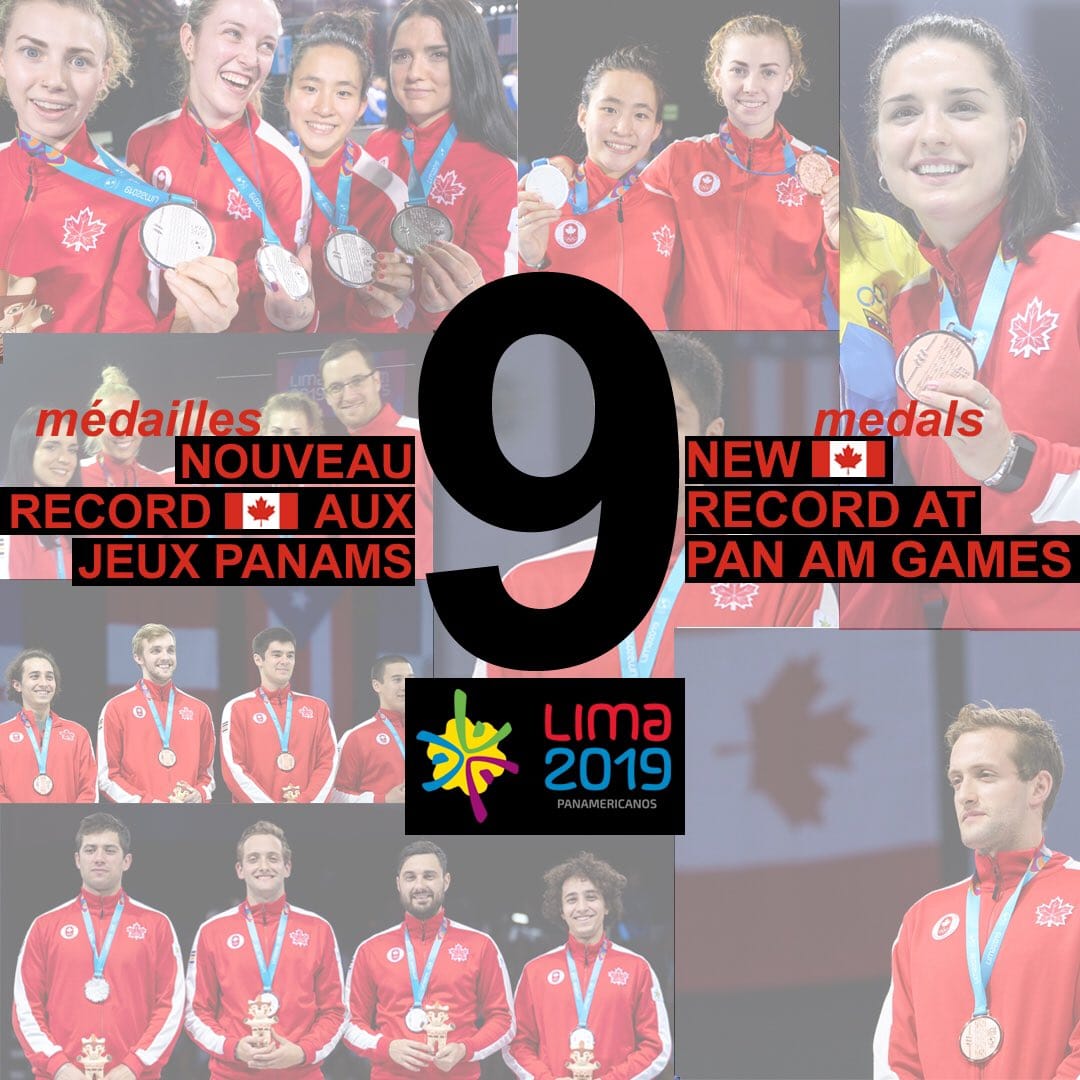 Canada started the team fencing competition at the 2019 Pan Am Games in Lima, Peru with five individual medals under its belt and was able to add another four medals in team competition to bring its total medal tally to nine medals, a record for Canadian fencing at Pan Am Games.
Women's Foil lead the way winning the first team medal for Canada.  The team of Alanna Goldie (Calgary, AB), Jessica Guo (Toronto, ON), and Eleanor Harvey (Hamilton, ON), along with reserve fencer Gabriella Page (Blainville, QC) came away with a silver medal after losing a close bout to USA 45-39.
"We weren't at a hundred percent today and it's good to come out with a tight match when we weren't at our best," said Alanna Goldie. "It shows that when we are fencing at one hundred percent, we're going to have them."
Canada's Men's Foil Team was the next to medal, winning bronze against Colombia 45-29.  The team of Maximilien Van Haaster (Montreal, QC), Eli Schenkel (Canadian living in the US), Misha Sweet (Winnipeg, MB) and reserve fencer Seraphim Jarov (Surrey, BC) lost a very close semi final bout against Brazil 45-43.  The team was able to rebound in the bronze medal final with a resounding win over Colombia.
Gabriella Page (Blainville, QC), Marissa Ponich (Edmonton, AB), Pamela Brind'Amour (St. Martine, QC) along with reserve Eleanor Harvey (Hamilton, ON) brought home Canada's second team bronze medal.  The women's sabre team defeated Argentina in the quarter-finals 45-33 but lost their semi-final bout to the Dominican Republic 45-42.  The team came back strong in their bronze medal final to win 45-38 against Mexico.
Canada's second silver medal in team came in the last day of the team competition.  Canada's Men's Sabre team of Shaul Gordon (Richmond, BC), Joseph Polossifakis (Laval, QC), Fares Arfa (Laval, QC) and reserve Eli Schenkel defeated Colombia 45-34 to advance to the final against the USA.  It was a very close bout with Gordon mounting an exciting comeback in the final round, but the Americans were able to take the win 45-41 to give Canada a silver medal.  "I think this was one of the closest bouts we have had against the US," said Gordon, "And it doesn't feel too good right now because we could almost taste it … but coming up short by a few points hurts."
Canada leaves the 2019 Pan Am Games in Lima, Peru with a total of nine medals, including three silver and six bronze.
-30-