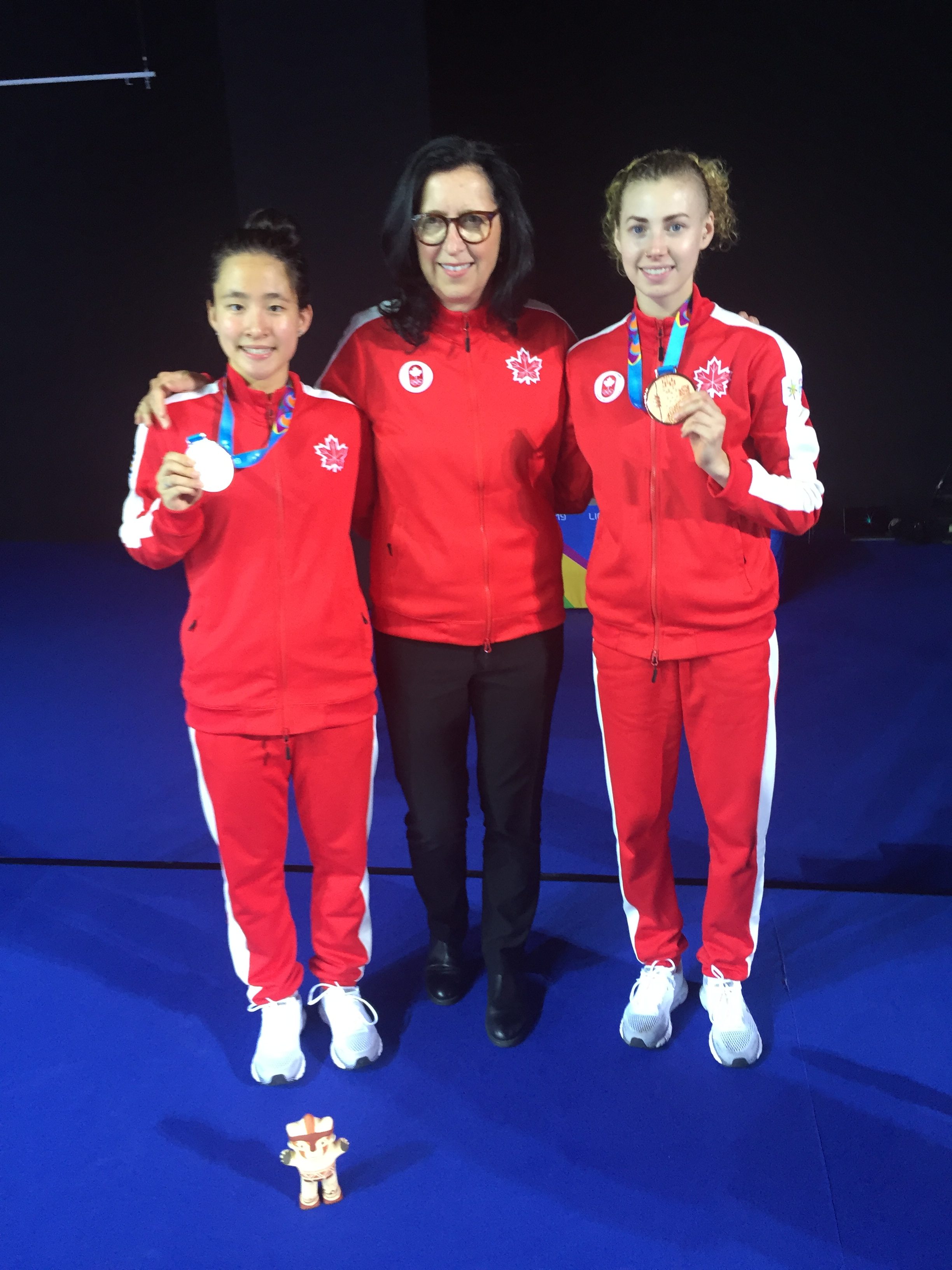 After the end of individual competition at the 2019 Pan American Games in Lima, Peru, Canada has a total of five medals – one silver and four bronze.
Canada's Jessica Guo (Toronto, ON) and Eleanor Harvey (Hamilton, ON) were the first to advance to the podium rounds, both dominating in their quarter-final bouts winning 15-6 and 15-5 respectively. The two Canadians unfortunately ended up fencing each other in the semi-finals.  Guo came out on top by a close score of 14-12, giving Harvey a bronze medal.  "It was my first time fencing individual at Pan Am Games," said Harvey, "I'm happy with how I fenced pools and I set myself up to get a medal. And it's nice that there are two Canadians on the podium."
Fourteen year-old Guo then faced USA's Lee Kiefer, in the finals.  Kiefer, ranked top 5 in the world with numerous world cup wins, took the bout by a score of 15-10, giving Guo a silver medal for Canada.
When asked whether she thought she would medal in her first major games, Guo replied, "I wasn't really thinking about winning a medal.  I was just into my bout and I was focusing on one hit every single time."
Maximilien Van Haaster (Montreal, QC) advanced to the semi finals in Men's Foil after a strong start in poules, winning four and losing one.  He then faced Colombia's Dmitri Clairet in the 16's and won 15-11 to advance to the quarter-finals. He then won his quarter-final bout 15-11 against Puerto Rico's Carlos Rodriguez to advance to the medal round.
Van Haaster fenced USA's Gerek Meinhardt, ranked 5th in the world, in the semi-final and lost 15-7 to take home a bronze medal for Canada.  "My fencing was not at its best, but I managed to stay composed," said Van Haaster. "I'm not happy that I lost but I'm happy with the medal which was the objective for today."
Gabriella Page (Blainville, QC) repeated her performance from the 2015 Pan Am Games, winning another bronze medal.  "I'm happy and disappointed at the same time," said Page after the bout.  "I came here to win. I had a really long season and despite the ups and downs, I am happy with the way I fenced.  I controlled my emotions and managed the pressure, so I'm satisfied but disappointed at the same time."
Page had four wins and one loss in poules and faced teammate Marissa Ponich (Edmonton, AB) in the 16's. Page won 15-9 and then fenced Eileen Grench from Panama in the quarter-finals, winning a close 15-13 to advance to the semi-finals.  Page faced USA's Anne-Elizabeth Stone and lost 15-10 to finish with a bronze medal.
Saber fencer Shaul Gordon from Richmond, BC but who now lives in Montreal was Canada's final Individual medalist. Gordon finished with a bronze medal after losing to USA's Daryl Homer 15-14 in the semi-finals. Gordon came back from behind to tie the score at 14-14 but lost on the final touch. Homer went on to win the gold medal.  "Unfortunately, in the last touch, I had the right idea, but the execution was not so good," stated Gordon. "So right now, I'm not too happy, but overall I'm happy with my result."
Several Canadians finished in the top 8.  Marc-Antoine Blais-Belanger (Montreal, QC)) finished in 6th place in men's epee while Eli Schenkel (California, USA) also finished in 6th, but in men's foil.
Canadian fencers expect to add to their total medal tally with the team fencing events which take place through to August 10th.
-30-