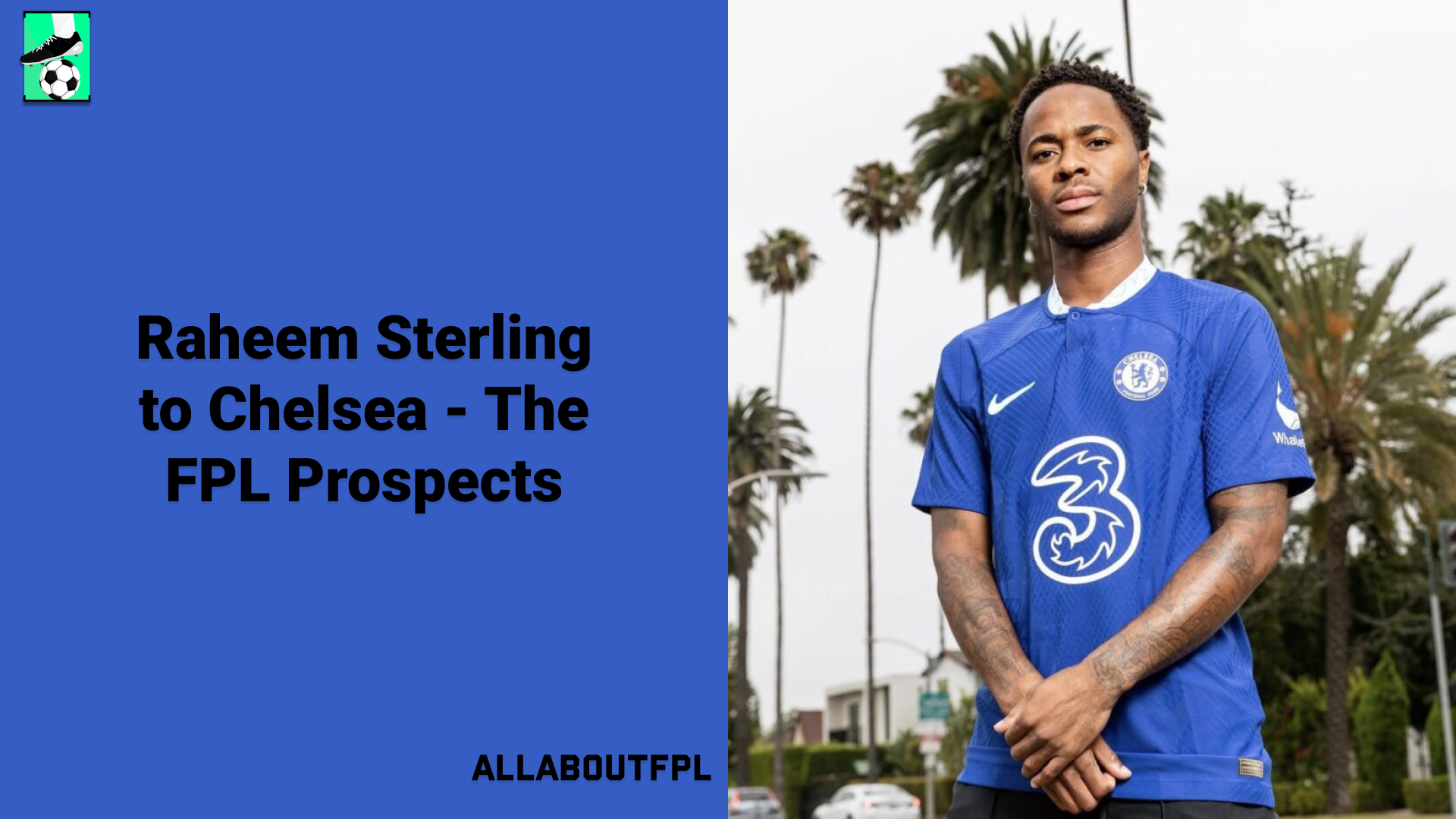 Raheem Sterling completed a 47.5 million pound deal to become the first signing of the Todd Boehly-Clearlake Capital era at Chelsea Football Club. At the age of 27, Sterling is entering potentially his prime years as a winger and Chelsea will consider this a massive coup ahead of the 22/23 Premier League Season.
Link to all our 2022/23 Pre Season articles including a transfer tracker of all new signings, all team pre-season friendly updates, team previews, fixture analysis, position-wise analysis, and more. Completely free to access as well!
Thomas Tuchel has stressed time and time again how Raheem Sterling was his top priority signing and is delighted that the club have obliged and managed to sign the England international. Sterling brings with him a wealth of experience for club and country, in Europe, a steely mentality, and a hunger to take his own game and Chelsea Football Club up a level. He's been priced at 10 million on Fantasy Premier League for the 22/23 season.
Sterling's numbers at Manchester City
Raheem Sterling featured on both wings for Manchester City but was more often deployed on the left wing as an inside winger, cutting inside and getting into good positions to score goals from the left side of the penalty box. While he was a key component of title-winning seasons for City, his importance and assurance of starts had begun to diminish for them in his last two seasons.
Still, Raheem Sterling averaged close to 29 league starts per season for Manchester City across their last 5 league seasons. In this time, he reached double digits for goals scored every single time and 17 goal contributions was his lowest tally of any of these seasons. These are absolutely incredible numbers. Purely looking at the numbers, it makes me wonder how Sterling has been underrated by us fans for so long. But just 'goals scored' don't tell the full story.
---
---
Raheem Sterling has averaged close to a remarkable xG of 0.55 per 90 minutes across this period with an xGI of closer to 0.70 per 90. While this is largely creditable to his footballing instinct and talent for getting himself into goalscoring positions time and time again, the quality flowing attacking brand of football instituted by Pep Guardiola augmented by one of the finest playmakers in the Premier League, both also had their part to play in these figures.
Furthermore, the criticism for Raheem Sterling has been that of a wasteful attacker who misses 'big chances'. While he did miss 13 'big chances' last season alone, this was a product of him engineering a large number of these big chances for himself, and his goals scored minus expected goals figure stands at +5.4 over the past 5 seasons suggesting an overperformance on that of an average finisher rather than vice versa!
Sterling was also notching close to 0.20 xA per 90 minutes suggesting that he isn't simply an out-and-out goalscoring winger. Instead, his raw pace and dribbling ability help generate chances of decent value for teammates and this will boost the appeal of other FPL assets at Chelsea, specifically Kai Havertz who's expected to start the season as Chelsea's centre forward and thus benefit most from Sterling's ability to carve chances.
Raheem Sterling FPL Record, Last five season:
Sterling registered three consective 200+ hauls and made it to the FPL dream team from 2017/18 till 2019/20. The last two seasons is when his season haul has dropped below 200 minutes which is directly related to the decrease in his playing time.
Sterling heatmap from 21/22 season
A look at his season heatmap from the 21/22 Premier League season for Manchester City shows his ability to play on both flanks but also the significant time he spends taking up threatening positions close to goal in the inside left of the penalty box
Sterling FPL prospects at Chelsea
There's reason to believe that Thomas Tuchel will be considering a switch to 4-3-3 this season from his regular 3-4-3 but Sterling's position and role are unlikely to be affected by either change – he is still likely to occupy the left wing and his chief task will be to get into threatening positions close to goal and provide a goal threat. His one-on-one dribbling ability will also come to the fore operating in and around the penalty box, no player has won more penalties in the Premier League than Raheem Sterling since he burst onto the scene at Liverpool.
Chelsea's major issues in seasons gone by has been their lack of goals. The 11 goals scored by Mason Mount last season put him as the only player in the entire Chelsea squad to reach double digits for goals in 22/23 – a feat Sterling has achieved in each of his last 5 seasons at City.
The season before last, Jorginho ended as Chelsea's top scorer with all his goals coming from the spot. This is unacceptable for a team harboring hopes of a Premier League title challenge. It's clear from this issue and Sterling being Tuchels vocal first choice that Sterling will be expected to bring goals!
Timo Werner's 0.53 and Kai Havertz's 0.48 were Chelsea's xG/90 leaders last season from 'regular' starters while Chelsea's season xG tally of 67.2 was some way off the 87.2 that Manchester City notched up. There's every reason to believe that Raheem Sterling will likely be afforded fewer chances at Chelsea than he was at Pep's Manchester City however the drop-off in xG per 90 may likely be comfortably made up in the overall more minutes that Sterling should play at Chelsea compared to his last couple of seasons at City. City also had several goalscorers while Chelsea's obvious issue in the goals department could lead to the system being geared towards Sterling being talismanic for the team in terms of chances received.
Timo Werner was the player playing a similar kind of role as an inside left forward for Chelsea and a look at his 21/22 league season heatmap below provides a reason for further encouragement as that position and role allowed him to get into similar areas that Raheem Sterling operates and thrives in.
Concluding thoughts on Sterling as an FPL Asset:
Raheem Sterling has been elite at getting himself into great positions to score goals, for a while now. He's joining a Chelsea team where he's likely to be played in his favoured position to get into goalscoring positions and might also have the burden of getting the highest xG from chances in the team given that centre-forward Kai Havertz's strength is in his horizontal movement across the front line and he isn't a pure striker while the pursuit of Raphinha and Dembele for the right-wing suggest the need for a more creative presence on the other side.
He might not be afforded the same quality of chances per 90 as he was at City but he's likely to be one of the first names on the team sheet at Chelsea and should match or exceed his total expected goals value by the sheer quantity of minutes.
In a season where players seem to be relatively underpriced to expectation, Sterling comes in at a hefty 10 million. However, at that price, FPL managers might be getting a 'talismanic' goals and point scorer from Chelsea with the consistency of minutes (hence an armband option) and point accumulation as a midfielder. We'd have to wait and see how quickly he and the team adapt to his style of play but there's strong potential for Raheem Sterling to be a 'glue' buy for FPL teams if can perform even up to expectation.
Further reads from ALLABOUTFPL ahead of the 2022/23 FPL Season
2022/23 FPL Chip Strategy: Guide on What to do with FPL Chips
What is BPS in FPL? | Which Players Benefit More from BPS?
Talisman Theory – 2021/22 Report | Who Got The Assist(WGTA)
Best FPL Picks Outside Top 6 Teams To Consider For 2022/23 Season
Man City Defenders Analysis & Ratings for 2022/23 FPL Season
How I landed up my first ever Top 500 finish | Sankalp's column | FPL Tips
One Underpriced FPL Asset at Each 'Big Six' Club | 22/23 Season
Raheem Sterling to Chelsea – The FPL Prospects | 2022/23 Season
Best £4.5 Million FPL Midfielders For The 2022/23 FPL Season
Initial GW1 Drafts for the 2022/23 FPL Season with Pros & Cons
Best £4.0 Million FPL Defenders for the 2022/23 FPL Season
Three time Top 10k finisher FPL GOAT's Three Best Drafts for GW1
8 Simple & Effective FPL Tips For A Good FPL Overall Rank | FPL Paz
How Will Five Substitutions Per Game Impact 2022/23 FPL Season?
FPL Fixture Swing Analysis & Best Player Rotation for 22/23 FPL Season
2022/23 FPL Season Launch | New Rules, Prices, Positions, Chips in FPL
List Of Free To Join Prize FPL Mini Leagues | Mini League | 22/23 Season
FPL Players to Target From The Top Six Till GW16 | 22/23 Player Watchlist
Initial Reaction to FPL Player Price Reveals for the 2022/23 FPL Season
FPL Ultimate Pre-season guide for 2022/23 season: Tips, Previews & more
List of Good FPL Team Names for the 2022/23 FPL Season
2022/23 FPL Pre Season: All Clubs Friendlies Fixtures, Updates & Results
All Teams FPL Fixture Analysis for The 2022/23 FPL Season | PL Fixtures
2022/23 Premier League Transfer Updates | FPL Impact of New Signings
2022/23 FPL Season: Key Dates, Information, and Timeline
FPL Rotational Pairs & Combinations For The 2022/23 FPL Season
List of Premier League Players Who'll Not be Going to the 2022 World Cup
Link to all our 2022/23 Pre Season articles including transfer tracker of all new signings, all team pre-season friendly updates, team previews, fixture analysis, position-wise analysis, and more. Completely free to access as well!
If you're new to FPL, here is a link to all our FPLBeginners Guide including FPL Beginner's Guide- How to play?, Bench boost, Team value, Triple captain, Effective ownership, Price Changes, Free Hit, Bonus Points and more.
Thanks for reading the "Raheem Sterling FPL prospects at Chelsea" blog. Keep checking allaboutfpl.com for regular blogs. Also, follow our 60000+community on Instagram, Facebook, and Twitter to stay updated on regular Posts and FPL updates.
What's next from ALLABOUTFPL ahead of FPL Gameweek 1 of the 2022/23 FPL Season?
We'll be covering team previews for all 20 teams, FPL team structures, must-own players, player comparisons, differential picks, fixture analysis, captaincy metrics, multiple FPL drafts with pros and cons, chip strategy, rules guide, beginners guide, FPL tips, and more. Keep checking allaboutfpl.com for all our blogs and subscribe to our free newsletter through the link below. We'll also be posting regularly about the same on our social media accounts so follow us on Twitter, Instagram, and Facebook keep our notification ON.
Our content is always free and if you like our content do drop a comment, follow, subscribe, and support us. Your love is what keeps us going:)
The following two tabs change content below.