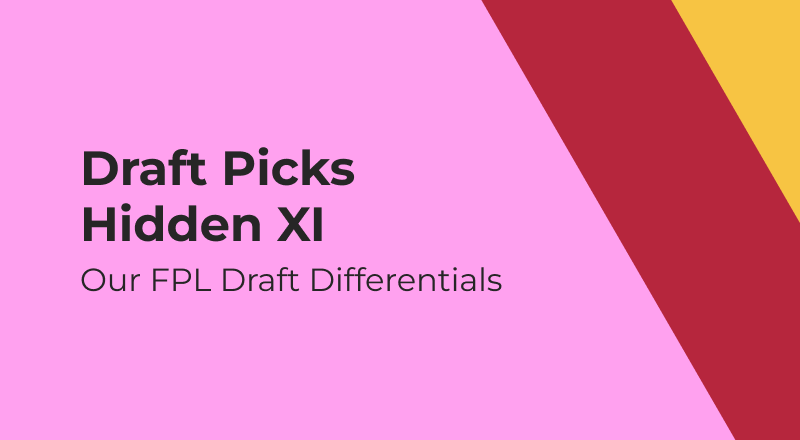 A monthly feature that does what it says on the tin – a playing XI of guys with ownership below 10% for you to consider. This team takes into account everything we've seen so far from August as we plan for the season ahead.
We'll keep the hidden gem XIs coming throughout the season, but you can always tune into the Draft FC Podcast for a weekly discussion of all my waiver tips for that gameweek.
In many of our articles (including this one) you will notice that we are able to show the % ownership (or rostered for the yanks) across all the FPL draft leagues – this data isn't a secret! You can have access to all of this and more by signing up to access the Draft FC Global Dashboard. If you haven't signed up already you can easily take a peak with our 7-day free trial.
GK: Johnstone [CRY]
Verdict – Discussed on this week's podcast, obviously hasn't been handed a starting spot yet but I don't think it will be much longer before we see him given a go in place of Guaita and if you're able to bring him in at the right time you will get yourself a bargain out of the waiver pile.
DEF: Dalot [MUN]
Verdict – Another player mentioned on this week's podcast – following the impressive result against Liverpool last week, United need to keep that momentum going and Dalot has looked a stand-out performer so far with promising underlying statistics that point towards imminent goal involvements.
DEF: Dunk [BHA]
Verdict – reliable, solid fixtures and always chips in with a few goals. Nothing glamorous but gets the job done.
DEF: Gomez [LIV]
Verdict – Liverpool have been uncharacteristically sloppy at the back and I think that's largely down to Van Dijk not having one of his trusted centre-back partners in Matip or Konatè. For now, it looks like Gomez is set to continue playing there and however poor they've been so far it surely won't be long before the clean sheets are back and there are some very enticing fixtures over the coming weeks.
DEF: Henry [BRE]
Verdict – Cracking fixtures pretty much all the way up to the World Cup, nailed to start and has the best underlying xStats versus the other BRE defenders. I'm sure his ownership will rise and push him outside of hidden gem range very soon.
MID: Guedes [WOL]
Verdict – I've seen Guedes play one game of football so far but I'm already impressed with what I've seen. Guedes had the most shots in WOL's match against Spurs last week and gameweeks 5 & 6 could allow him his first attacking returns in English football.
MID: Aaronson [LEE]
Verdict – I've really enjoyed watching him play through the opening 3 gameweeks and while he's a totally different player to Raphinha, is proving just as effective so far. He's performing perfectly in line with what his underlying stats suggest and has the added benefit of playing with Rodrigo and Harrison who are equally showing excellent form. Leeds are another team that have an excellent run of fixtures and he's another playing whose ownership will be well above 10% before long.
MID: Aribo [SOU]
Verdict – We've not seen a settled system or line-up from SOU so far, but wherever it lands, I'm sure Aribo will be somewhere on there. He's versatile and has quality in key moments (a quality that's generally lacking from the SOU squad). Like Ward-Prowse, Aribo strikes me as a player that should continue to chip in with attacking returns regardless of how well the overall results are going for Southampton.
MID: Cornet [WHU]
Verdict – We all know what Cornet can do and it's an exciting prospect to see what he can do in a team that isn't total anti-football. We've already seen him link up with fellow new signing Scamacca in their Europa Conference League play-off and I don't think it will be long before he's a regular starter as Benrahma seems to be a luxury player Moyes doesn't think he can afford. At least a guy that plays for Dyche is sure to track back when you ask him to.
FWD: Johnson [NFO]
Verdict – The continual transfer business from the NFO owners seems to be centred on one thing – goals. So far they've probably been fortunate to have the 4pts they find themselves on and will know full well that if they are going to survive in this league they need to create more. Despite all of the changes to the squad, one of the constants from last season is Brennan Johnson, their talisman. NFO have a tough end to August with Spurs and Man City, but September will be where they look to make their move – it just remains to be seen how they intend on fitting in all the new faces.
FWD: Mateta [CRY]
Verdict – Fairly disappointing figures so far from Edouard who has played triple the minutes of Mateta, but it's Mateta who is already off the mark with a fine finish to round off their win over AVL. Zaha is clearly the stand-out in that attack but as soon as we see Mateta get a first start (and if he caps that off with an attacking return), I'd be looking to get on him pronto.