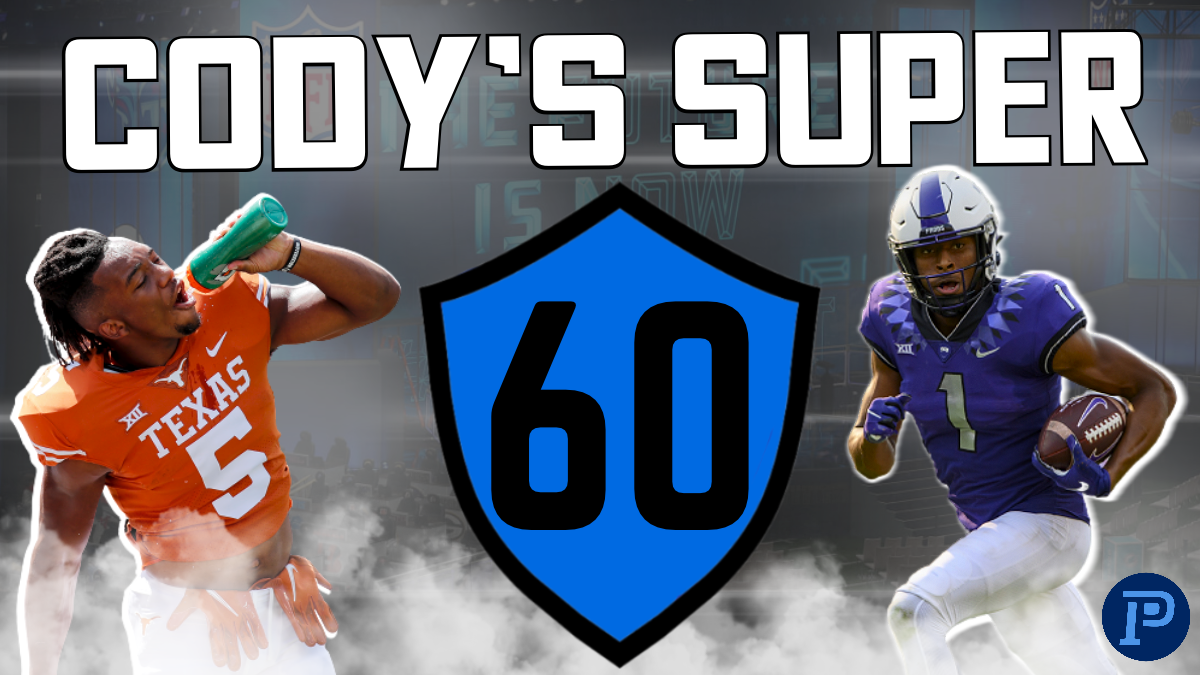 Did you think NFL Draft Season was over? It's not, today is Labor Day and there is no better time to expand on the "Intro to the 2023 NFL Draft" series than to move into my Super 60 Prospects entering the 2022 College Football Season.
In 2022, I traveled to Mobile for the Senior Bowl, and Indianapolis for the NFL Combine with Roster Watch, as well as the NFL Draft, and the Liberty Pro Day. This year, that trend continues as I look to continue bringing boots-on-the-ground coverage from all of the places that the Fantasy media won't go. PlayerProfiler has you covered in Fantasy and with NFL Draft talk year-round.
Check out current NFL Mock Drafts in the Dynasty Deluxe section under NFL Draft Index. Aside from NFL Mock Draft Data, you can find 2023 Rookie Mock Draft ADP (SuperFlex and 1QB) as well as Dynasty Mock Draft ADP (SuperFlex and 1QB), a Dynasty League Trade Finder App, Rankings, Trade Analyzer, and the Brand New Dynasty Dominator Reloaded Book.
Cody's Draft Grades
After hours of Film Analysis, This list can and will change as new things come in, some would call this "a Bayesian process" and while these prospects complete their 2022 seasons and go through the Draft process, things will change. But ever so slightly. Things that are taken into account to come up with the below draft grades, you may wonder? 1. Film, 2. Athletic Profile, 3. Cody's DAWG Rating (off-field actions/energy and on-field actions/energy), 4. Role in College vs NFL and how it will translate.
PS: The Official DAWG Rating Scale/Explanation/Database will come out in 2023.
Cody's NFL Draft GRADE
10
Perfect Prospect: #1 Overall Talent
9.50+
All-Pro Level: Top 5 Talent
9.0-9.49
Year 1 Stud: Top 10 Talent
8.51-8.99
Year 1 Starter: 1st Round Talent
8.00-8.50
Year 1 Starter: Late 1st – Early 2nd Round
7.50-7.99
Year 2 Upside: 2nd Round Talent
7.30-7.49
Boom/Bust: 3rd Round Talent
6.75-7.29
Developmental: 4th Round Talent
6.20-6.74
Developmental: 5th Round Talent
5.70-6.19
End of Roster/Depth: 6th Round Talent
5.36-5.69
Practice Squad/Depth: 7th Round Talent
4.81-5.35
Priority Free Agent: Undrafted Talent
4.00-4.80
Undrafted: Unlikely to make Roster
0.00-3.99
The Super 60 Prospects to Watch
1. Kayshon Boutte, WR – LSU (9.13)
2. Will Levis, QB – Kentucky (9.07)
3. Jaxon Smith-Njigba, WR – Ohio State – (9.01)
4. Bryce Young, QB – Alabama-  (8.94)
5. Michael Mayer, TE – Notre Dame – (8.80)
Evaluation: I can't begin to explain how many times Notre Dame ran Mayer on crossing routes and allowed him to chew up yards and dominate the inside and outsides of the field. Michael Mayer has all of the accolades a rising junior could ask for from Freshman All-American to John Mackey semifinalist as a sophomore, and potentially winner in 2022. Mayer's athleticism and ability to break tackles, dominate and well, wearing no. 87 on a weekly basis has garnered him the nickname "Baby Gronk". Although subtle at times, Mayer began his career at Notre Dame in 2020 with just a handful of games over 30 yards, while peaking with 5 receptions for 73 yards and one touchdown against Pittsburgh, things changed as a sophomore. In 2021, Mayer burst onto the scene with a massive 9 reception 120 yard game against Florida State – this became a normal occurrence for the golden domer, he went on to finish with seven games over 7 receptions and 60 yards during his sophomore campaign. Entering his Junior season, the expectation is for Mayer to continue competing with Georgia Tight End Brock Bowers as the Best in College Football, but for a stat line – expect multiple 100-yard explosions in 2022.
6. Jordan Addison, WR – USC – (8.55)
7. Bijan Robinson, RB – Texas – (8.48)
8. C.J. Stroud, QB – Ohio State – (8.41)
9. Josh Downs, WR – North Carolina – (8.17)
Evaluation: Possession receiver with breakaway speed. While sharing a receiving room with Dazz Newsome, and Dyami Brown in 2020 – Downs failed with crest 200 yards. But the departure of Newsome and Brown elevated Downs into the no.1 wide receiver chair for Sam Howell, since being at North Carolina his College Target Share is a class-best  39.2% (99th-percentile). Not only is Downs one of the quickest twitched receivers while in and out of breaks, but he also returned 16 punts in 2021 with an average of 9.8 yards. Look for Down's to work himself into the Top 2 tiers of conversation by the 2023 NFL Draft.
10. Arik Gilbert, TE – Georgia – (8.10)
Intro to the 2023 NFL Draft Class: Tight End
Players 11-60
11. Zachary Evans, RB – Ole Miss
12. Parker Washington, WR – Penn State
13. Quentin Johnston, WR – TCU
14. Jacob Cowing, WR – Arizona
15. Jaheim Bell, TE – South Carolina
16. K.J. Jefferson, QB – Arkansas
17. Jermaine Burton, WR – Alabama
Evaluation: Transferring from Georgia after the 2021 season, Burton slides into the perceived no.1 wide receiver chair for Bryce Young. Burton's athleticism and ball skills have gone wildly underrated in the 2023 class to this point, but being in the Alabama spotlight in 2022 should elevate Burton a bit more in the National eye. Despite just 400+ yard seasons each in 2021 and 2022, Burton was a pivotal part of the Georgia offense, cresting 3 touches or 30 total yards in 11 of 22 games. Burton is very obviously missing the big games of output, and that is why he will be wearing Crimson this fall.
18. Tank Bigsby, RB – Auburn
19. Theo Johnson, TE – Penn State
20. Jayden Reed, WR – Michigan State
21. Corey Rucker, WR – South Carolina
Intro to the 2023 NFL Draft Class: Wide Receivers
22. Anthony Richardson, QB – Florida
23. Isaiah Neyor, WR – Texas
24. Zay Flowers, WR – Boston College
25. MarShawn Lloyd, RB – South Carolina
26. Jahmyr Gibbs, RB – Alabama
27. Tyler Van Dyke, QB – Miami (FL)
28. Sam LaPorta, TE – Iowa
29. Ainias Smith, WR – Texas A&M
Evaluation: Ainias Smith was a late add to this list due to some off-field legal issues, despite his talent, it will be an extreme uphill battle to get into the Round 1-2 conversation while clearing his name of any wrongdoing or worries from the National Football League. As a prospect, Smith is a hybrid super tool, through 3 seasons he has 54 punt returns, 64 carries, and 112 receptions.
30. Sean Tucker, RB – Syracuse
31. D.J. Uiagalelei, QB – Clemson
32. Elijah Higgins, WR – Stanford
33. Blake Corum, RB – Michigan
Intro to the 2023 NFL Draft Class: Running Back
34. Tanner McKee, QB – Stanford
35. Spencer Rattler, QB – South Carolina
36. Marvin Mims, WR – Oklahoma
37. Lew Nichols, RB – Central Michigan
38. Kenny McIntosh, RB – Georgia
39. Jase McClellan, RB – Alabama
40. Devon Achane, RB – Texas A&M
41. Deuce Vaughn, RB – Kansas State
42. Rakim Jarrett, WR – Maryland
43. Dontay Demus, WR – Maryland
44. Jalen McMillan, WR – Washington
45. Darnell Washington, TE – Georgia
46. Mohamed Ibrahim, RB – Minnesota
47. Gary Bryant, WR – USC
48. Will Mallory, TE – Miami (FL)
49. Zach Charbonnet, RB – UCLA
Evaluation: One of the hardest pure runners, though his upright running style hurts his top-end speed and ability to pull away. Charbonnet was expected to declare in the 2022 NFL Draft class, but decided to return to UCLA for a second season, his fourth in college after two seasons at Michigan. Charbonnet is a player that enters at no. 49, but could either fall out of the Super 60 by January, or climb into the Top 15.
50. Brennan Armstrong, QB – Virginia
51. Malachi Wideman, WR – Jackson State
Evaluation: Transfer? No Way! Yes, from Tennessee to Jackson, Mississippi to play with the Shedeur Sanders and family. Wideman is a massive target on the outside and despite his excessively lean frame, he was able to crack the starting lineup and finish 2nd on Jackson State with 540 receiving yards. In the 2020 ESPN Recruiting rankings, Wideman entered at WR39, smack dab between the likes of Josh Downs, and Jordan Addison.
52. Trey Knox, WR – Arkansas
53. Cameron Ward, QB – Washington State
Intro to the 2023 NFL Draft Class: Quarterbacks
54. Jahleel Billingsley, TE – Texas
55. Chase Brown, RB – Illinois
56. Roschon Johnson, RB – Texas
57. Jayden Daniels, QB – LSU
Evaluation: Jayden Daniels has been through the wringer in his first three seasons at Arizona State. As a true freshman, Daniels finished with 3,300 all-purpose yards, 17 touchdowns, and just 2 interceptions. After a mediocre 2020 shortened season, Daniels struggled to return to form as a passer completing 65% of passes, with 10 touchdowns and 10 interceptions. After three seasons, an 18-11 career record, and over 1,200 rushing yards Daniels entered the transfer portal. The ceiling is high for the San Bernardino native in 2022, but the floor is being benched and that makes Daniels one of the biggest question marks at Quarterback, but he cracks the Super 60 as QB no. 12 due to his rushing upside.
58. Jake Haener, QB – Fresno State
59. Kedon Slovis, QB – Pittsburgh
60. Gee Scott, TE – Ohio State
P.S. We have OVER 300 College Prospects on PlayerProfiler.com! Go to https://www.playerprofiler.com/prospects/ to sort and share on Twitter. Tag us @PP_College