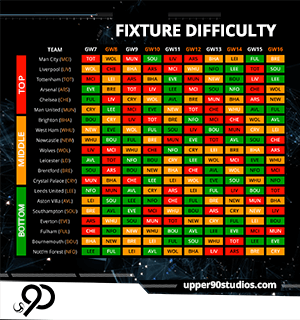 FREE Bonus! Download your 2022/23 Fantasy Premier League Fixture Cheatsheet 🔥
U90
free bonus.
Subscribe to our email list and receive the 2022-23 Fixture Difficulty Cheat Sheet! >>>
*Available exclusively to subscribers.
---
Fixture Difficulty

cheat sheet.
3 VERSIONS FOR 2022/23!
💥 ATTACKERS 💥 How attacking players match up against defenders.
💥 DEFENDERS 💥 How defensive players match up against attackers.
💥 ORIGINAL 💥 Quickly identify problem fixtures or an easy run of games.
---
HOW TO USE IT
Attackers cheatsheet.
Choose the "ATTACKERS" cheatsheet to see how your attackers match up against other defenses.
Defenders cheatsheet.
Pull up "DEFENDERS" to see how your defensive players match up against opponent attacks.
---
Original cheatsheet.
The ORIGINAL U90 Fixture Difficulty Cheat Sheet! Quickly identify problem fixtures or an easy run of games. It's an overall assessment of the schedule in FPL.
ATTACKERS and DEFENDERS cheatsheets provide a detailed ranking of fixtures by player position.
⚽ Use U90 Fixture Difficulty Cheatsheet to optimize your transfer strategy.
---
BEST FEATURES
Upgraded with 3 versions: Attackers, Defenders, Original
Unique algorithm and weighting to rank teams
Updated throughout the season
Currently on GW7-GW16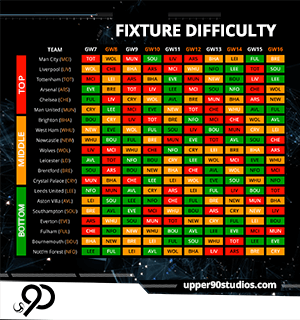 ---
Fantasy Premier League
strategy.
With a decade-long winning record in the top 1-2%, our Fantasy Premier League tips and tools help managers from all around the world play and win. Considering the total number of players each season, 2018/19 was our best ever, finishing top 0.3% Overall Rank 21k out of 6.3 million! Previous finishes: 13k, 20k, 20k, 21k, 54k, 61k, 63k, 65k, 78k, 119k, 129k…
Stay ahead of your competitors! Don't forget to subscribe to our email list at the top right of the page. We'll send you our weekly team prediction and best tips which you can use to tweak your team. Stay up-to-date with our last-minute transfers and captain choice on Twitter or Facebook.
---
FREE FPL tool to raise your game! 2022-23 Fantasy Premier League Fixture Difficulty Cheatsheet