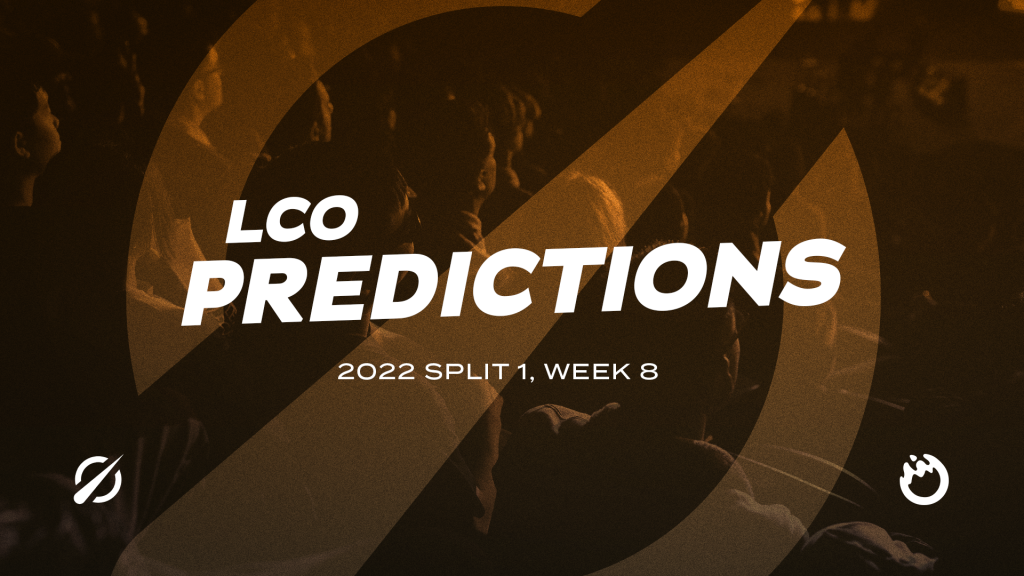 With just three weeks to play, the LCO's playoff spots have been decided. Dire Wolves already hold the tiebreaker over Mammoth, so our top 5 are set.
At the pointy end of the ladder, Chiefs are still through and clear at 1, and only dire collapses from Peace, Pentanet.GG and Order will see the teams chasing them claw back a position.
We have some spicy games to close the penultimate week of 2022's first split though, despite how set the ladder ought to be.
The bottom-table clash should be exciting to watch as Kanga are ever-improving with the addition of coach Jordan "Only" Middleton, an important upgrade to the team despite the downgrade at his former jungle role.
Pentanet.GG should comfortably account for Order, but both teams have a tendency to make games more close and exciting than they should otherwise be, so I expect fireworks.
The Chiefs and Peace is the match of the day, but I've already written on that matchup so I probably shouldn't again.
I am intrigued by a plucky Mammoth who have nought but pride (and I guess avoiding a slip into seventh) to play for over a Dire Wolves squad, who have similarly little to gain in the standings.
Perry's Pick of the Week: Dire Wolves (Justice for Bulldawg) vs Mammoth (Fear the Brow)
This Mammoth team has my heart, but I don't know if they have enough to win.
I am intrigued as to the pro trajectory of Thomas "Tronthepom" Garnsworthy. I think he is fine and while he does go behind fairly often, he doesn't give up deaths in big bunches as I so often see from Oceanic top laners. He has almost a Dyrus-esque quality to him in which he is quite susceptible to being dove, but then holds his own once the enemy top side of the map has extracted a pound of flesh. A real "bend but don't break" type player.
Mammoth's strength lies in their bottom half of the map carry players. Reuben "Reufury" Best is, for my money, a perfect secondary carry. I don't feel great about Mammoth games that are "Reufury games", but I feel pretty good about his play in Voice drafts. Speaking of which, James "Voice" Craig has been the find of the split by my reckoning — and not just for those luscious brows. A player unafraid to step forward and carry from the front lines, rather than just stay sheltered in the pocket like some other ADCs.
As long as they keep the draft simple, Mammoth are a threat to any team. They're well-drilled and have shown they're capable of taking it on any day. Their weakness just shows when the clock strikes midnight and they turn into a pumpkin.
Geez, that was a tortured reference.
In promising games against the top teams, they've fallen over in critical fights and it seems they struggle to maintain teamfight discipline over an extended period of time. They need to take leads and get a few "gold lead fights" to make up for that.
So, if they get ahead, they're exciting. When they're even, they need to get ahead, fast. When they're behind, they're tame. The reason this matchup is so exciting is I think the Dire Wolves are the perfect opponent to create an explosive match that can fluctuate along these lines.
The Wolfpack has highly volatile side lanes, to put it mildly. Early in the split I was convinced Cameron "Zorenous" Abbott was the worst player in the league — and by a country mile, at that — but he has really shown improvement as the split has gone on. Make no mistake, he's not yet in the upper echelon, but he has shown performances that can drive the Wolves to success. He uses his skills well in fights. Watch the number of times Zack "Rusty" Pye says his name when breaking down team fights. He comes up time and again.
Nathan "Kyose" Bacha has sadly trended in the other direction. I rated him coming into the split, but he has not impressed and last week a LeBlanc game was among the worst I've ever seen on the champion. His frankly disgraceful damage number was the tombstone that remained over a performance that underscored what eyes showed you.
I haven't given up on Kyose entirely though, not by a long shot. He's a better player than that game and I hope and expect to see him return to form.
James "Frosts" Paterson is placeholder ADC, I think. He's not a liability but I can't help but feel that he occupies a spot while we wait for a better option to make themselves known. Bringing in Brendan "Shinki" Ngo over the charismatic and aggressive Drekani "Bulldawg" Akuhata for seemingly no better reason than synergy with Frosts was a head-scratcher of a move. I'd have built around Bulldawg – I much prefer to try and tame a tiger than paint stripes on a kitty-cat and have it try to roar.
But maybe I'm being harsh on Frosts. If Samil "leemas" Kip has not yet been benched, then Frosts definitely shouldn't.
I think DW wants to win this match from the top of the map down, and Mammoth wants to win from the bottom of the map up. So far DW has managed to make this happen against Mammoth twice this split and five-against-five I tip them to be narrowly better, as much as my heart wants Mammoth to win.
My Pick: DW in a game that is surprisingly fun to watch.
Perry's Week 7 Day 1 Predictions
Kanga over Gravitas
Pentanet.GG over Order
The Chiefs over Peace
Dire Wolves over Mammoth
---
LCO Week 8 concludes tonight as Kanga and Gravitas kick things off from 6PM AEDT. Catch up on all the split details in our ultimate coverage hub.
Follow @ImHarryTaylor & @Ties_AU on Twitter.