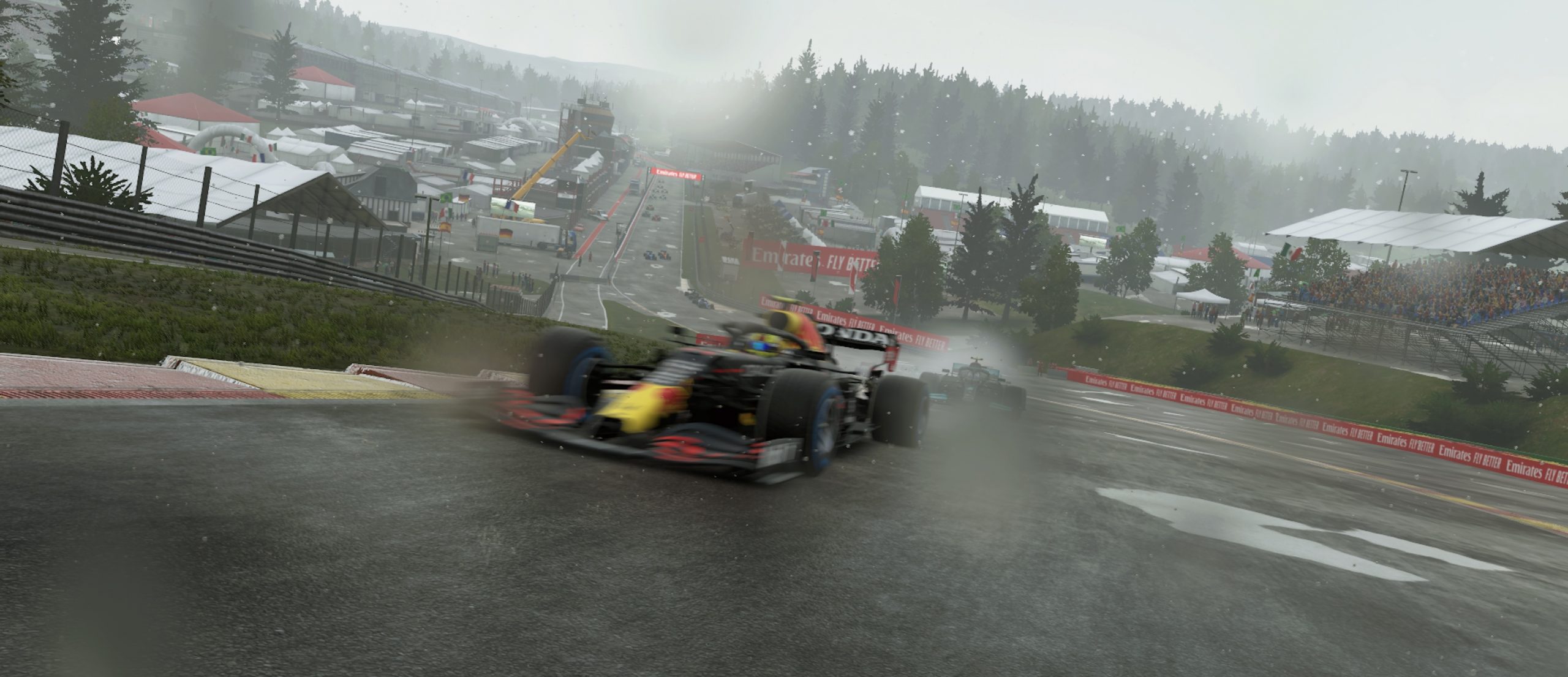 March 4, 2022
We're into our fourth event week of red-hot F1 Esports Series Challengers action in 2022, and the fight for the top six positions in each group is reaching boiling point.
As a quick reminder we have three groups comprised of 16, drivers, one for each platform. Every two weeks, these groups convene for two 25% races, and the top six drivers from each group at the end will qualify for a spot in The Pro Exhibition. From there, they can go on to be selected by one of the 10 official F1 Esports teams, should they catch their eye. Here's what went down in Belgium and the Netherlands…
MANLEY QUALIFIES, COWAN CONVERTS ON XBOX
The Xbox group were first up once more, as racing took place at the fearsome Circuit Zandvoort in the Netherlands, before a short trip across the border to Spa-Francorchamps in Belgium.
Tom Manley had been the dominant force in the first three events, but he was cast aside in Spa, with Jed Norgrove taking pole position in soaking conditions. Heavy rain persisted throughout the race, and no pitstops were registered, so it was an out-and-out fight to the flag. With no DRS to worry about, Norgrove held the lead for the entire race, until, agonisingly, the final corner. He ran deep at the Bus Stop chicane, allowing not only Harvey Cowan through, but also Zak Oates in the other Red Bull car, and they crossed the line 1-2-3. Miko Hautajoki grabbed fourth, with Manley spinning over the line in fifth. Sam McLean ruined his streak of scoring in every race in Belgium, sliding off at Pouhoun on the wet kerbs.
It was back to standard operating procedure around Zandvoort, with Manley zipping off into the lead and breaking the DRS one-second buffer, streaking clear to take an unthinkable sixth win in Challengers. After two podiums last time out, Andrew Corapi went one better and snagged second, with Ryan Jacobs in third completing the podium. After his DNF in Belgium, McLean bounced back to take P4, with Hautajoki taking another strong result in fifth.
Manley now has more than double the points of his nearest rival, and with four rounds remaining has enough points – 181 – to guarantee at LEAST second on Xbox. Now that's mind-blowing… Jacobs is second on 89 points, with McLean third on 70, and Cowan up to fourth with 69 after his first win. Oates is fifth with 65, and Norgrove and Hautajoki are tied in sixth with 55 apiece.
NOORDIJK EDGES AHEAD ON PLAYSTATION
Our PlayStation racers were next up on Wednesday, and in the first race around Spa, it was Georges Nader who grabbed pole around the seven-kilometre circuit.
The Lebanese driver held his nerve and indeed his race lead, with the pit stops on Lap 3 doing little to shake up the order. Agonisingly for Nader, Joost Noordijk in P2 timed his move to perfection, sweeping past along the Kemmel Straight on the very last lap to take his second win of Challengers. Behind Noordijk and Nader came Jordin Poland, Mirko Suriano, and Benjamin Bolwerk.
Noordijk continued his momentum into his home race in the Netherlands, but Duncan Hofland got the better of him at the start and grabbed the lead. Hofland kept the lead, but further back there was all sorts of chaos. Three cars retired on Lap 1 with accident damage, and on Lap 12, Jacopo Derosas and Modesto Mena tangled on the exit of Turn 4 and both retired after hitting the wall. Suriano spun into the wall after a collision with Valentino la Bella on Lap 16, and a few corners later, the latter tangled with Bolwerk, putting them both out. Just eight finishers then, in the most chaotic race of the series yet. Of those eight, it was Hofland who took the win, with Simone Ferri second, and Noordijk took third after a penalty for speeding in the pit lane.
Noordijk is back in the lead of the championship with 118 points, after previous points leader Matthew Alder failed to score a single point in Event 4. Hofland takes second with 89 points, ahead of Alder (84), and the remaining top-three spots consist of Suriano (76), Poland (75) and Nader (74).
PORADZISZ ON THE BRINK ON PC
Our final stream once again saw the PC gang in force. Tomek Poradzisz took pole in Spa, and it was a similar occasion to the PlayStation race. Poradzisz kept the lead until Lap 10 of 11, when Piotr Stachulec seized the lead along the Kemmel Straight, taking his second win in a row, ahead of Poradzisz, Samuel Bean, John Evans, and Wilson Hughes.
The final race took us to Zandvoort, where Poradzisz once again took pole and led away from the start. Evans filed in behind, with Stachulec third, all three of them maintaining a remarkably consistent half-second gap to one another. There they stayed, with Can Akinci in fourth and Bence Szabo-Konyi completing the podium.
Polish duo Poradzisz and Stachulec are both into triple figures, with the former on 149, the latter on 117. Next up is Szelle Kristof with 86 points, Evans with 80, Hughes in fifth with 68, and Bean holds the sixth and final qualifying spot at present.
Four events down, two to go. We have eight races in the rear view mirror, and four more on the horizon through the month of March! Join us for the next instalments when we'll be racing in Italy and the USA.
We love streaming F1 Esports events for you, and we're delighted that our fourth week of Challengers racing tipped us over the milestone of 1 million hours of watch time on Twitch. Thank you so much for watching, and we'll see you for the next one on March 15!