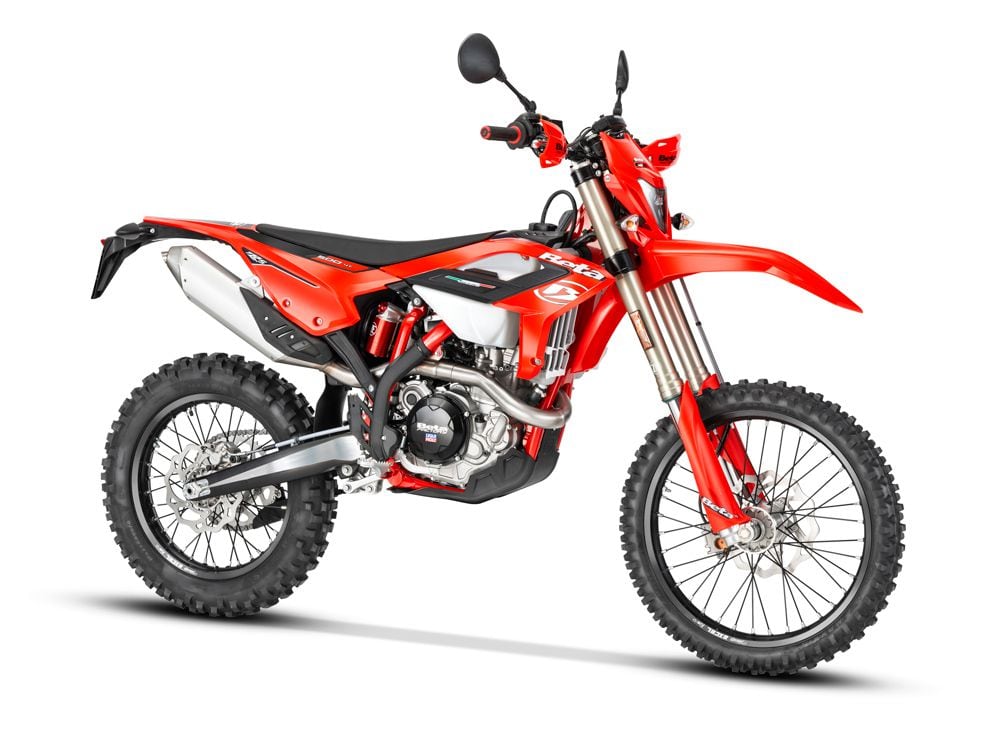 Hardcore dirt riders have for decades longed for dual sport bikes that lean as far as possible to the dirtworthy side of things. For this subset of motorcycling's demographic, riding in the dirt was the reason for riding itself. You only jumped on the pavement for as few miles as it took to save your tires and to link up with the next section of trail.
Beta was only too happy to fill that niche with its RR-S line of dual sport bikes that have always been derived from the dirt-only RR variety. For 2023, that characteristic remains happily intact. Better yet, it seems that most of the updates to the RR models are carried over to the RR-S line.
Related: 2022 Beta Race Edition Off-Road Motorcycles First Look
Available in four sizes (500, 430, 390, and 350), each of the dual sports share major components like the rolling chassis (including updated suspension), engine, brakes, red bodywork with new graphics, and more.
A dirt bike with lights—that's essentially what the 2023 Beta 500 RR-S (and its three smaller brothers) amounts to. It shares all of the hardware that comes with the 2023 480 RR including dual engine maps and traction control that were first featured in the 2022 RR Race Editions. These are not your average dual sports. (Beta/)
To satisfy EPA and DOT mandates in order to qualify the RR-Ss for street-legal status in the US, of course, Beta did make some adjustments like adding legal lighting (including brake-activated lights, plus turn signals and reflectors), mirrors (folders even—a nice touch), horn, and DOT-approved Maxxis dual sport tires. An added bonus is the full-featured Trail Tech Voyager GPS mounted forward of the handlebar and row of warning lights as well as the ignition key.
The aggressive dual sport rider should note that each of the 2023 RR-Ss comes in the same state of tune as the new RRs. If you read the First Look story on those bikes a few weeks ago, you'll likely remember that the new RRs are basically the 2022 RR Race Editions, engine-wise. A 2023 RR-S that mimics the power and delivery of its corresponding 2022 RR Race Edition? Call us impressed.
Part of that carryover is the 42mm throttle body with dual fuel injector nozzles, two engine maps, plus traction control. Beta reprogrammed the 2023 maps to make the power curve even broader for more of that Beta goal of enhanced rideability.
Related: Off-Road Racebikes—Evan Smith's 2022 Beta 250 RR Race Edition
To explain further, each of the engine maps initiates a traction control map unique to that engine map. Nice. Traction control can also be disengaged at any time by simply pressing the button between the steering head and 2.4-gallon translucent plastic fuel tank, in essence providing a total of four combinations of the two systems. Further enhancing that easy-to-ride power delivery is a slightly longer head pipe, the exhaust terminating in a DOT-compliant quiet muffler.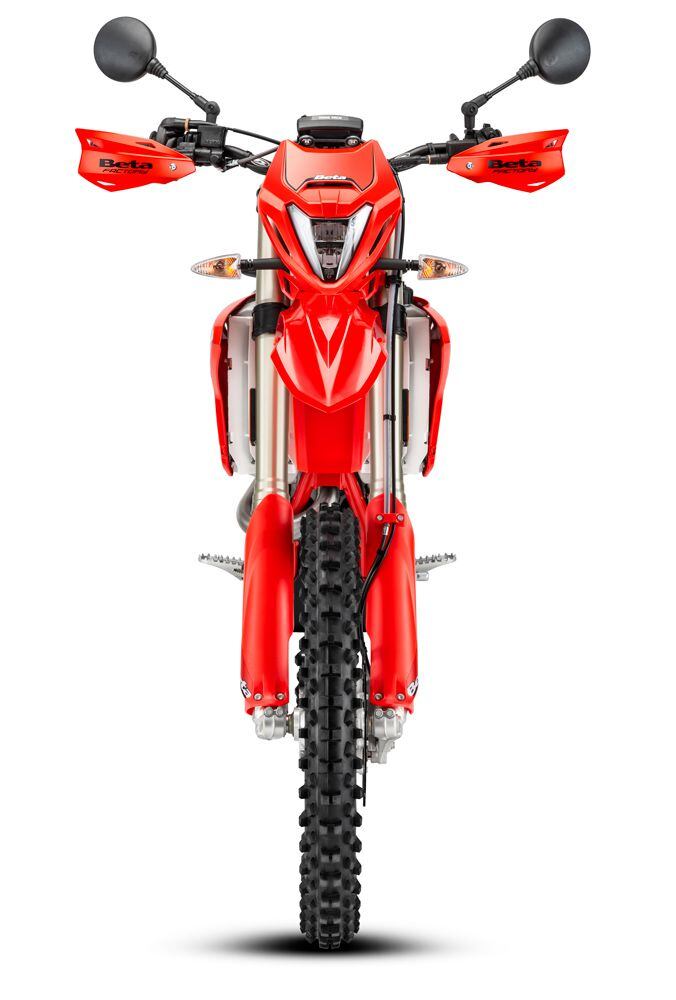 As evident here, there are several items that make the 430 RR-S (and the three others in the line) street-legal like the folding mirrors and turn signals as well as DOT-legal Maxxis tires, reflectors and horn. But its dirt essence remains the same. (Beta/)
All four models are, of course, liquid-cooled four-strokes with dual overhead cams and four valves; the two intakes are titanium while the RR-S' pair of exhaust valves is made of high-strength steel. Double oil pumps send lubricant throughout the engines; each has a separate cavity for engine and transmission which is a six-speed, by the way. (Gearing is a slightly tall 15/48 to both improve fuel economy when droning down the interstate and quiet things for those fly-by sound tests. If those things are of lesser importance to you, Beta supplies each bike with a 13-tooth countershaft sprocket which will be much more suitable for trail work. Each comes with an O-ring chain.)
Like the new RRs, the 2023 RR-Ss have 200-watt Kokusan ignitions and electric starting, though unlike some others, the owner has the option of installing a backup kickstart assembly. Another fairly unique feature is the diaphragm clutch which, Beta claims, provides a lighter pull while simultaneously offering more progressive engagement and being capable of transferring more torque. Beta will offer three different spring strengths, allowing the rider to tailor the clutch to their riding style.
The suspension changes to the 2023 RRs are also featured in the RR-Ss. Starting up front with the ZF Sachs 48mm open-cartridge fork, we find new internals. Chief among the updates is the geometry of the oil passages in the internal pistons, aimed at reducing cavitation and producing smoother, more consistent action throughout the 11.6 inches of travel. Spring preload, compression damping, and rebound damping are all adjustable, and Beta says the new pistons will yield a greater range of felt changes when playing with the clickers.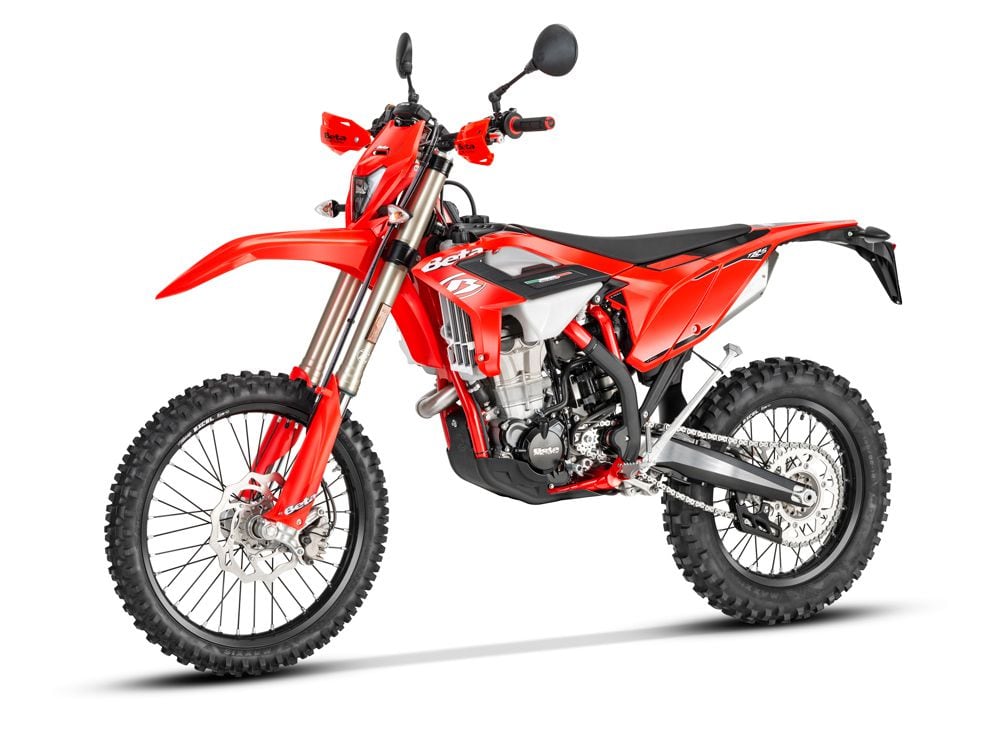 Unique in the marketplace is the 390 RR-S, though some will find this is the perfect Beta dual sport for them. With a smaller piston but significantly longer stroke than the 430 or 500, it promises good torque coupled with a lighter riding feel—something that's always welcomed. (Beta/)
In back is the same aluminum-bodied ZF Sachs shock with piggyback reservoir producing 11.4 inches of wheel travel via Beta's progressive linkage system. Like the RRs, the RR-S shocks are fully adjustable: spring preload, rebound damping, and low- and high-speed compression damping. Beta didn't specify whether spring rates or shim stacks were less aggressive than in the dirt-only RRs so we'll have to conclude they're the same. Between that, the fairly aggressive tires, and the relatively thin (but quick-release) seat, comfort on the street is obviously a secondary consideration.
To slow things down, the new owner will appreciate the same Nissin components as on the RRs with a 260mm floating wave-style rotor in front and 240mm version mounted solidly in the back.
Related: 2022 Beta 300 RX First Look
The dual sports will also share the new bodywork with the RRs including the narrower radiator shrouds for enhanced rider movement and what Beta says is improved turning radius. Frame guards and a nice plastic skid plate will help keep the bike looking fresh while the included radiator fan will reduce the likelihood of boiling over. In addition, there's the quick-access air filter that makes maintenance that much less painful while color-matched hand guards will make hitting trailside flora less memorable for your mitts.
Unlike the six-month warranty with the RRs, the RR-S dual sports double that with a 12-month limited warranty. This includes bikes purchased under Beta's Build Your Own Beta (BYOB) program. The customer who chooses this option can order a Beta with practically any aftermarket part (or factory suspension service) offered by many major companies—handlebars, exhaust systems, tanks, sprockets, chains, wheels, tires, seats, plastics, small bling pieces, and much more (over 500 different pieces) are there for the giddy new owner to choose from. It's a question of how much one's bank account will handle.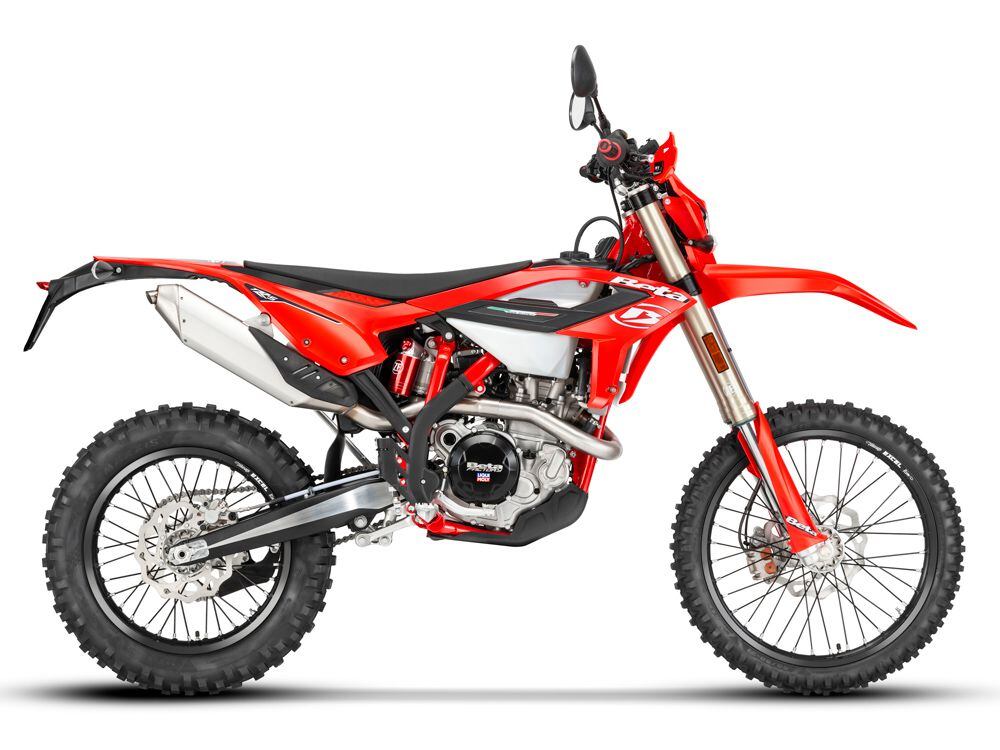 The 2023 Beta 350 RR-S (like the three other Beta dual sports) comes with the same suspension, engine management electronics, chassis, and bodywork as the dirt-only RRs. In addition, the prospective buyer can avail themselves of Beta's Build Your Own Beta (BYOB) program and really bling it out with practically any part (including factory suspension work) available from major aftermarket companies—depending on how big their bank account is. (Beta/)
2023 Beta 500 RR-S
Since the 500 RR-S and 480 RR are both powered by the same 478cc engine with 100.0 x 60.8mm bore and stroke, why the differing designations? It's all about the marketing, we'll guess. Compression ratio is 11.9:1 while weight (wet, no fuel) is 243 pounds, just 4 pounds heavier than the dirt-only 480 RR.
Other dimensions include a 58.7-inch wheelbase, 37.0-inch seat height, and 12.6 inches of ground clearance.
MSRP of Beta's top-dog dual sport is $11,799.
2023 Beta 430 RR-S
Beta seems to believe smaller is often better in the dirt, which may be why it eschews making a 450 like everyone else and instead offers a 430. While the 430 may not be quite as powerful as a rival 450, the 430′s easier-to-ride nature will probably be more appreciated by dual sport riders. Besides, if they want more power, there's always the 500.
The 430 RR-S comes with the same 95.0 x 60.8mm bore and stroke as the 430 RR with displacement obviously identical at 431cc. It's got more compression than the 500 at 12.3:1, but weight is the same at 243 pounds (wet, no fuel) as are wheelbase, seat height, and ground clearance.
MSRP of the 430 RR-S is $11,699.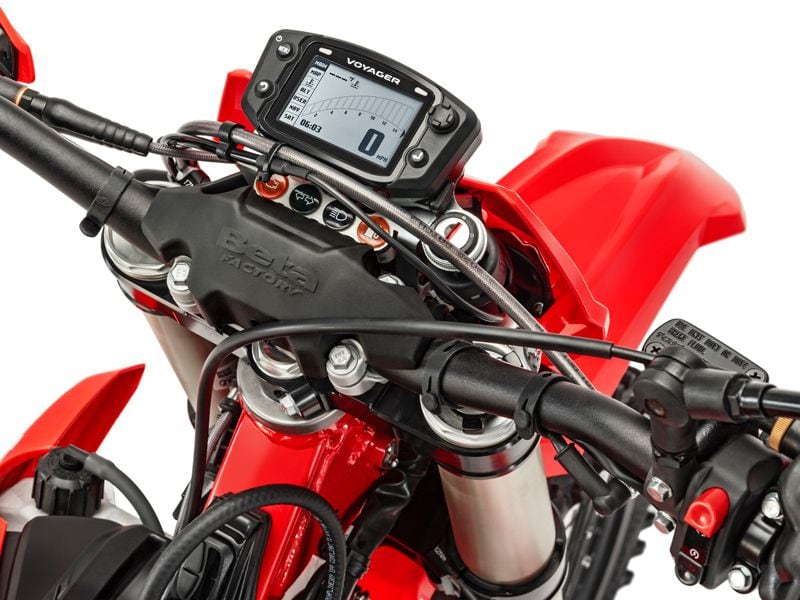 Standard on all 2023 Beta RR-S models is the Voyager GPS by Trail Tech. Prized by dual sport enthusiasts, it boasts more than 40 functions including altitude, engine temperature, outside temperature, hour meter, trip meter, GPS with downloadable trail maps, and more. (Beta/)
2023 Beta 390 RR-S
Beta is unique in offering a 390, long after other manufacturers have dropped 400s and 390s from their product lines.
Again, that shouldn't be an indictment against Beta, but an indication of the Italian concern's willingness to buck trends and offer something that fills a niche.
With a bore and stroke of 88.0 x 63.4mm for 386cc of displacement, it's got the expected smaller piston compared to the 430 and 500, but the longer stroke than either of its big brothers signals the desire of engineers to ensure the 390 pumps out good torque. This is balanced by the 12.5:1 compression ratio, which should let the smaller mill rev well.
At 241 pounds (wet, no fuel), the 390 RR-S is 4 pounds heavier than the 390 RR off-road-only model with an MSRP of $11,599.
2023 Beta 350 RR-S
The 350 RR-S is the only common denominator size-wise among Beta's lineup to other manufacturers, but it will have a feel all its own.
While the engine cases might be common across the Beta board, internally the 350 differs from its three larger siblings with its exclusive 88.0 x 57.4mm bore and stroke for 349cc of displacement. The significantly shorter stroke than all three others coupled with the relatively mild 13.2:1 compression ratio lead us to believe this will be a fairly free-revving mill, so we look forward to riding it and seeing how its power delivery compares to others in the class.
Other external dimensions are shared with the 390 RR-S including the 241 pounds of weight (wet, no fuel). MSRP is $100 less, though, at $11,499.