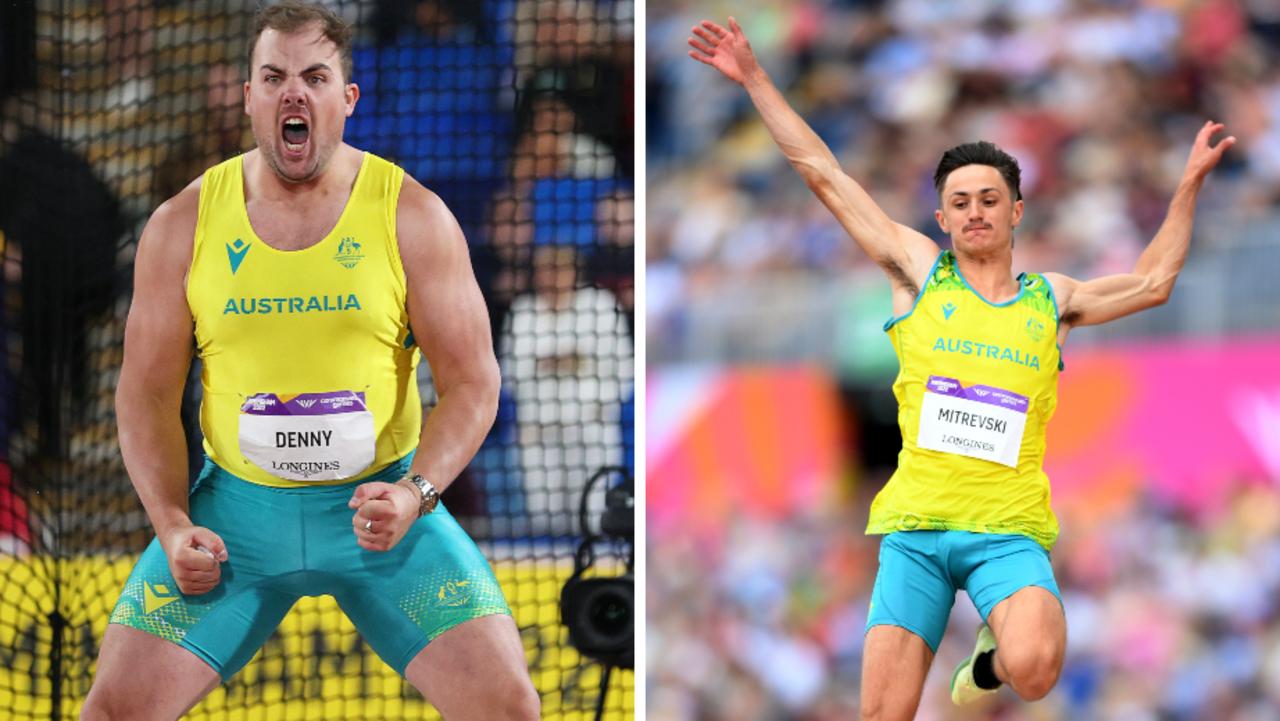 Australian discus star Matthew Denny secured the gold medal and then delivered an interview for the ages that was gatecrashed by one of his rivals in hilarious scenes.
Denny's celebrations were equally as legendary as he ran along the track as fast as his legs could take him.
There was other success to be had on Day Seven, as Maddison de Rozario won her fouth Commonwealth Games gold as did cycling stars Grace Brown and Rohan Dennis.
But it wasn't all rosy, as "the upset of the Games" saw the Diamonds lose their final pool match while an Aussie boxer copped a harsh call in his defeat.
Catch up on all of the day's action in our Day Seven Wrap!
READ MORE
MEDAL TALLY LIVE: Cycling stars secure MORE gold as Aussies surge ahead
Aussie boxer hit with controversial call | 00:27
KOOKABURRAS DOMINANT AS WIN STREAK CONTINUES
The Kookaburras won four games from four in the pool stages after defeating Pakistan 7-0 as they look to continue the nation's perfect record at the Commonwealth Games.
It was a resounding win as Australia always looked a level above Pakistan throughout and will now go on to face host nation England in the semi-finals.
The Kookaburras have won the gold medal at every Commonwealth Games since 1998, can they keep that streak alive?
DENNY SECURES GOLD
Matthew Denny bowed to the crowd in Birmingham after winning the gold medal in the men's discus.
Denny was superb throughout and even broke his personal best not once, but twice in his final two throws.
His first was 67.24m, only for Denny to break it again with his final throw of the night as he launched the discus at a distance of 67.26m.
England's Lawrence Okoye threw 64.99m to come second and the Brit had a cheeky moment when he gatecrashed Denny's post-event interview.
Delighted for his rival, Okoye screamed into the microphone
"F*** this guy, Matt Denny. Matt Denny."
Denny replied: "You think I'm big, look at this dude."
The Aussie star's celebrations brought a smile to the nation as he made a mad dash down the track with his arms outstretched.
Grace Brown races to Aussie GOLD | 00:30
HOUGH DOES IT TOUGH
Unfortunately for Nicholas Hough, it wasn't to be in the men's 100m hurdle final.
The Aussie star finished last, but he remained upbeat having recently tested positive to Covid and is already casting his eye towards the 2024 Olympics in Paris.
DUBLER ON TOP IN DECATHLON
Cedric Dubler was grimacing throughout, but he got the job done in the 400m of the decathlon.
There are now five events left to go in the decathlon as Dubler sits in second, 85 points behind leader Lindon Victor from Grenada.
AUSSIE STAR "GUTTED" AS ERROR PROVES COSTLY
Christopher Mitrevski was "shattered" after doing himself no favours in the men's long jump, struggling with his run-up and leaping far too early as he finished outside the top eight.
The Australian looked out of sorts and set sail way before the board on his jumps. Channel 7 commentator David Culbert was staggered by the repeated misses, saying Mitrevski was "giving away 50cm".
The 26-year-old hit 7.70m but could have been in the medals had he been taking off at the right spot.
Sports reporter Jonathan Selvaraj tweeted: "Wow Christopher Mitrevski jumps 7.70m but he was 50 cm behind the take off board. If he was anywhere closer to the board he would be in gold medal position with a jump well over 8.2m. As it stands he's done for the day as he finishes in 9th place."
Speaking to Channel 7 after he was eliminated, Mitrevski was "gutted" as he tried to explain what went wrong. He said he was chopping his run-up but just couldn't get it right when it mattered.
Mitrevski added he thought he was a genuine chance of winning but "when you're giving up 30-40cm on the board you're never going to do it".
"I'm pretty gutted at the moment but nothing I can do now," he said.
– with James Matthey, news.com.au
DE ROZARIO DOES IT AGAIN!
Madi de Rozario has won her fourth Commonwealth Games gold medal after winning the women's T53/54 1500m final.
De Rozario led from the start and never looked like she'd be beaten, holding off all challengers before she ramped up the pace with one lap to go.
Fellow Aussie Angie Ballard took the silver medal after an enthralling dash past Scotland's Samantha Kinghorn on the final straight.
"It was a cagey race and a bit tricky towards the end there," De Rozario said after her 3min53.03sec victory.
"It wasn't what I was expecting and it was definitely surprising but I'm happy to come away with that one.
"I've not done a lot of track work and the track is so technical and so you get out of the habits of it. I was trying to come in from the marathon this weekend and I definitely made a few mistakes out there but it all came together and I'm really happy about that."
De Rozario takes out 1500, makes history | 00:26
SILVER SECURED IN DIVING
Diving star Shixin Li is the latest Aussie to add to medal tally.
Li won the silver medal in the men's 1m springboard, with England winning both the gold and the bronze in the event.
DENNIS' DELIGHT AS GOLD DROUGHT FINALLY BROKEN
Finally Rohan Dennis has a gold medal at an Olympic or Commonwealth Games.
After claiming three minor medals at the two multi-sport games, the 32-year-old Dennis made breaking this drought at the Commonwealth Games and standing atop the podium a big goal of this year.
And the Australian star did exactly that as he took out the time trial in Wolverhampton with a dominant effort, but he was aided by some crashes to his two main rivals.
The two-time world champion from Adelaide received an early boost when his main rival Geraint Thomas of Wales took a corner too quickly and crashed into a barricade just two minutes into his ride.
Dennis got an early 30 plus second lead on Thomas into the first checkpoint of the 37.4km course at the 8.9km mark.
But Thomas, who was third at the Tour de France, came back charging despite the crash and began to make some time on Dennis.
But his luckless race continued when Thomas encountered a mechanical issue at the halfway point of his ride and he couldn't bridge the 30 plus second gap between the two.
As well as Thomas, England's pre-race contender Dan Bigham crashed himself into a barricade and required a new bike.
It was Dennis' first bike race since June when he and his team Jumbo-Visma had to abandon the Tour de Suisse because of Covid-19.
Dennis SCORCHES field to take TT gold | 00:28
CYCLING QUEEN
Grace Brown is the latest to win gold.
The 30-year-old, who competed in last year's Olympics, won the women's cycling time trial in a time of 40:05:20.
Brown, who was slow out of the blocks, wen ton to win the race and almost break the 40-minute barrier. She finished well ahead of her rivals, with Anna Henderson (England) claiming silver in a time 33 seconds slower than the Australian.
BOXING DRAMA
Alex Winwood has been left shocked and devastated, after his boxing quarter-final was stopped early in the second round against Zambia's Patrick Chinyemba.
After four of the five judges awarded Winwood the first round, the Australian was floored by a right-shot by his opponent. Winwood got up moments later, but his bout was waved off despite the youngster appearing stable and his eyes still.
Read more about the shock stoppage here
"MONUMENTAL!" Jamaica defeat Diamonds! | 00:29
DIAMONDS ROCKED
Australia has suffered a historic three-goal loss to Jamaica at the Commonwealth Games, rocking their gold medal campaign in Birmingham.
The Diamonds had been expected to sail through their Pool A matches and meet the second ranked team in Pool B in the semi finals.
But they coughed up a six-goal lead heading into the final term to suffer their first ever loss to the Sunshine Girls.
A brilliant 47 goals from international superstar Jhaniele Fowler and some remarkable defensive efforts from Shamera Sterling ensured Jamaica nailed a 57-55 win.
Fox Netball's Catherine Cox said the Diamonds "just shut up shop" in the last quarter as Jamaica ran home with the win.