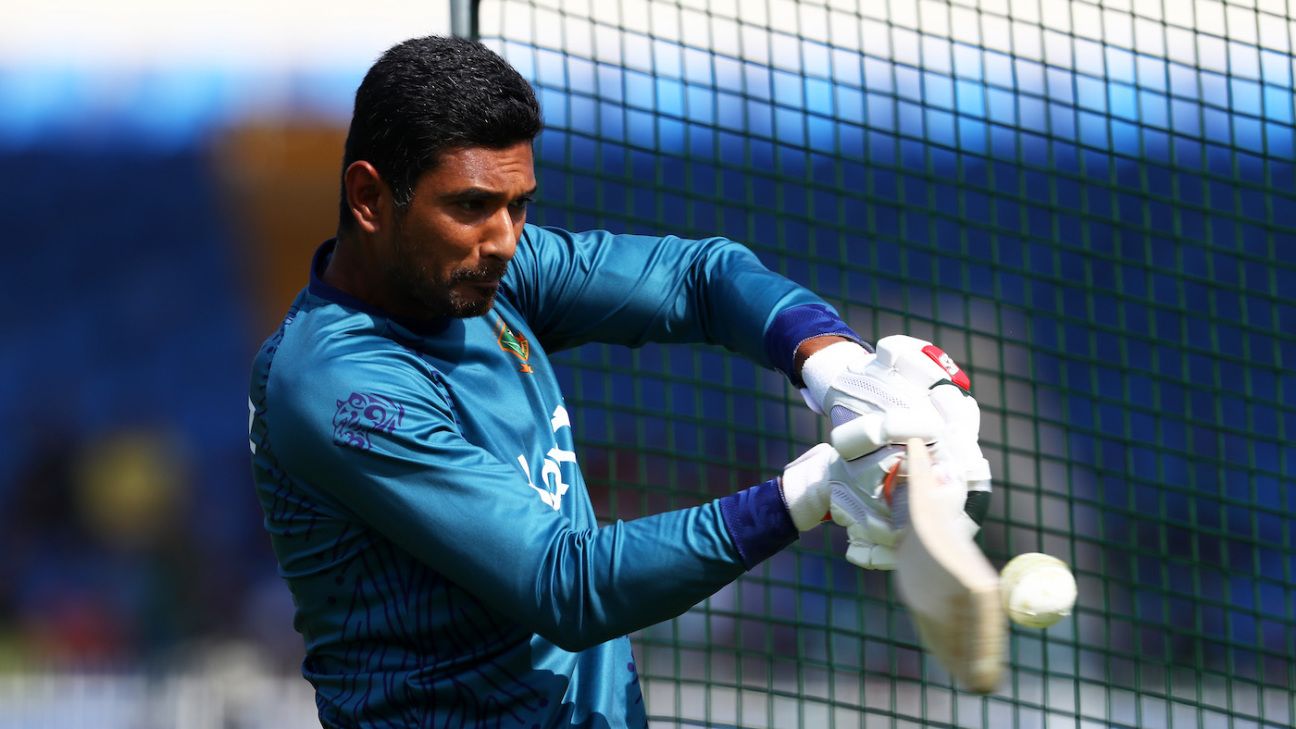 The biggest question going around in Dhaka right now is whether Mahmudullah will make it into Bangladesh's T20 World Cup team. The selectors are expected to announce the 15-member squad on September 15, shortly after the BCB president Nazmul Hassan gives his approval. Before the announcement, the board has arranged a three-day training camp for the new technical consultant, S Sriram, to look at the talent at his disposal.
On Monday, the first day of the camp, team director Khaled Mahmud said they are yet to take a call on Mahmudulalh. He made 52 runs at 106.12 strike-rate in the Asia Cup, having made just 99 runs in six T20s earlier this year. Gone are the days of Mahmudullah being the designated hitter for Bangladesh in the death overs. He has looked a shadow of the player he once was between 2016 to 2018.
"(Mahmudullah) Riyad is an important part of our white-ball cricket," Mahmud said. "There has been no decision on him. We will take a decision when we sit down to do the team, whether we need him in the squad or not. I can say that Riyad is still important for us. It is good to have discussions on whether Riyad will get the chance or not. We also can't say that Riyad isn't an automatic choice. We have to take everything into consideration."
Mahmud suggested that Mahmudullah's experience – he is Bangladesh's most capped T20I player – will not give him an advantage at the selection table. Mushfiqur Rahim, a senior player similarly under pressure to score regularly in T20Is, retired shortly after the Asia Cup, citing his need to give more time to Tests and ODIs. But it was quite clear that Mushfiqur knew his time was up in T20Is.
Mahmud, considered Mahmudullah's mentor from his early days, said that they were not getting the best out of him right now. "At the end of the day, we will consider the best interest of the Bangladesh team. We are not going to see someone differently just because he is more experienced. We definitely value his service, like the other experienced players. Riyad is trying hard, but we are not getting what we expect from him. He is scoring a run-a-ball 27, for instance.
"But Riyad has been our match-winner," Mahmud said. "He made centuries in the 2015 World Cup. He had a big partnership with Shakib [Al Hasan] in the 2017 Champions Trophy. He has won matches single-handedly too. We can't say no to him all of a sudden, but the team is bigger than the individual. We have called up a lot of players [to the camp], but not all are called up for selection."
Bangladesh's thinking of a side without Mushfiqur and probably Mahmudullah comes from their confidence in the return of Litton Das, Nurul Hasan and Yasir Ali from various injuries. It is reportedly hoped that the return of this trio could solve their middle and top order problems that have plagued them for more than 12 months.