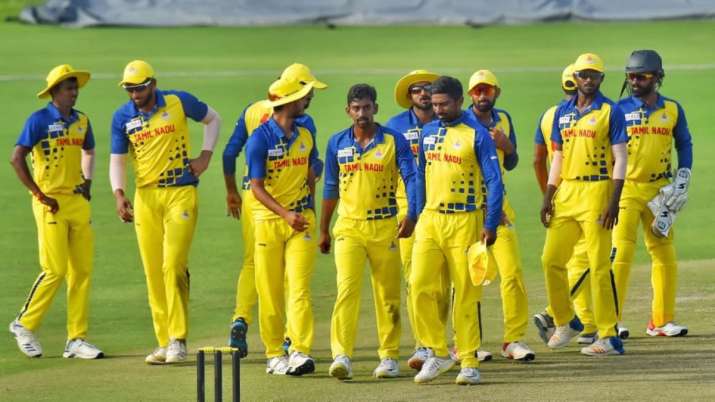 > TN 174/4 after 30 overs Yuvraj Chudasama breaks the 97-run stand between Baba Aparajith and Indrajith after the latter was dismissed soon after scoring his fifty. Aparajith and Dinesh Karthik then carried forward Tamil Nadu's innings before Karthik was dismissed at 31 to bring a screeching hault to a 48-run stand between the Karthik and Aparajith.
> TN 113/2 after 20 overs Tamil Nadu reach 100-run mark and this also brings half-century Baba Aparajith while the brother Indrajith is just two runs away from his fifty. Saurashtra are in a desperate need for a wicket. 
> TN 75/2 after 15 overs 50-run stand comes up between the the Baba brothers and this also brings some respite in the Tamil Nadu dugout. Saurashtra are now in search for a wicket and break this partnership. 
> TN 53/2 after 10 overs Baba  Aparajith and Indrajith are consolidating the yellow brigade after their side suffered two early jolts. The duo is rotating the strike and playing no lose shots. It woule be interesting to see if Baba brothers can lend monumental hands to give their side a good partnership and cruise them into the finals.  
> TN 33/2 after 5 overs Chetan Sakariya has wreaked havoc as he picked two quick wickets to give Saurashtra an early breakthrough. N Jagadeesan departed for a four-ball duck while India international Vijay Shankar walked back after scoring just a boundary. Onus on Baba brothers – Aparajith and Indrajith to bail the team out of trouble in chase of 311. A good partnership is the key for Tamil Nadu.
INNINGS BREAK
> SAUR 310/8 after 50 overs After the fall of Sheldon Jackson's wicket at 134, it was Arpit Vasavada's quick that guided Saurastra to an over-the-line 300-run score. While Saurastra lost four wickets in the last five overs but Arpit's 57-run knock blanketed the quick falls that were happening at the other end. 
> SAUR 247/3 after 43.4 overs Saurashtra batters have resorted to the quick hitting in the last 60 balls of their innings. It is interesting to see if Saurashtra can go past 300 runs on the board. 
> SAUR 217/3 after 40 overs Silambarasan brings the respite to Tamil Nadu as he defines Prerak Mankad's way to the pavilion and ends the 81-run stand between Mankad and Jackson. Meanwhile, Jackson is just two runs away from his century.  
> SAUR 194/2 after 35 overs Sheldon Jackson and Prerak Mankad drive Tamil Nadu. The yellow brigade is ensuring a stable run-rate per over. Jackson in nearing his century. 
> SAUR 161/2 after 30 overs Saurashtra lose opener Vishvaraj Jadeja who departs after a fine innings of 52 runs. Tamil Nadu finally get a much-needed breakthrough and breaks the 98run partnership between Vishvaraj, Sheldon. 
> SAUR 121/1 after 24.3 overs Vishvaraj, Sheldon are going their merry way and have reached their respective half-centuries. The duo's solid partnership has become a headache for Tamil Nadu who are in a desperate search for a wicket. 
> SAUR 90/1 after 20 overs 50-run partnership comes up between Vishvaraj, Sheldon. The duo is driving Saurashtra well. 35 runs gathered from the last six overs and opener Vishvaraj Jadeja is on the stroke of reaching his half century.
> SAUR 55/1 after 14 overs Saurashtra reach 50-run mark and are trying to stabilize after the early wicket of Desai. Vishvaraj, Sheldon are keeping the scoreboard ticking and trying to accelerate the run throttle. 
> SAUR 37/1 after 10 overs Saurashtra lose opener Harvik Desai for just 9 runs. Silambarasan's foxes Desai in an lbw with his medium pace and sets his way to the pavilion. Saurashtra need to get some runs on the board as they are hanging around with a sluggish run-rate.
> SAUR 24/0 after 5 overs Vishvaraj Jadeja and Harvik Desai have given Saurashtra  a stable start. Sandeep Warrier is keeping it tough for the Saurashtra batters while they look comfortable against R Silambarasan. 
> Vishvaraj Jadeja and Harvik Desai are at the crease. Vishvaraj Jadeja is on strike. Sandeep Warrier will open the attack with the ball for Tamil Nadu. 
> Tamil Nadu have won the toss and have opted to field.
> Playing XI
Tamil Nadu Baba Aparajith, N Jagadeesan, Baba Indrajith, Vijay Shankar(c), Dinesh Karthik(w), Washington Sundar, Shahrukh Khan, Ravisrinivasan Sai Kishore, Manimaran Siddharth, R Silambarasan, Sandeep Warrier
Saurashtra Vishvaraj Jadeja, Harvik Desai, Sheldon Jackson(w), Prerak Mankad, Arpit Vasavada, Samarth Vyas, Chirag Jani, Dharmendrasinh Jadeja, Yuvraj Chudasama, Jaydev Unadkat(c), Chetan Sakariya
Squads:
Tamil Nadu Squad: Baba Aparajith, N Jagadeesan, Ravisrinivasan Sai Kishore, Dinesh Karthik(w), Baba Indrajith, Vijay Shankar(c), Shahrukh Khan, Washington Sundar, Manimaran Siddharth, R Silambarasan, Sandeep Warrier, Hari Nishanth, Sanjay Yadav, Kaushik Gandhi, Murugan Ashwin, Laxmesha Suryaprakash, Jagatheesan Kousik, Ganga Sridhar Raju, P Saravana Kumar, Sai Sudharsan, M Mohammed
Saurashtra Squad: Vishvaraj Jadeja, Harvik Desai, Sheldon Jackson(w), Prerak Mankad, Arpit Vasavada, Samarth Vyas, Chirag Jani, Dharmendrasinh Jadeja, Yuvraj Chudasama, Jaydev Unadkat(c), Chetan Sakariya, Kamlesh Makvana, Kushang Patel, Snell Patel, Himalaya Barad, Kishan Parmar, Parth Chauhan, Parth Bhut, Devang Karamta, Pranav Nandha