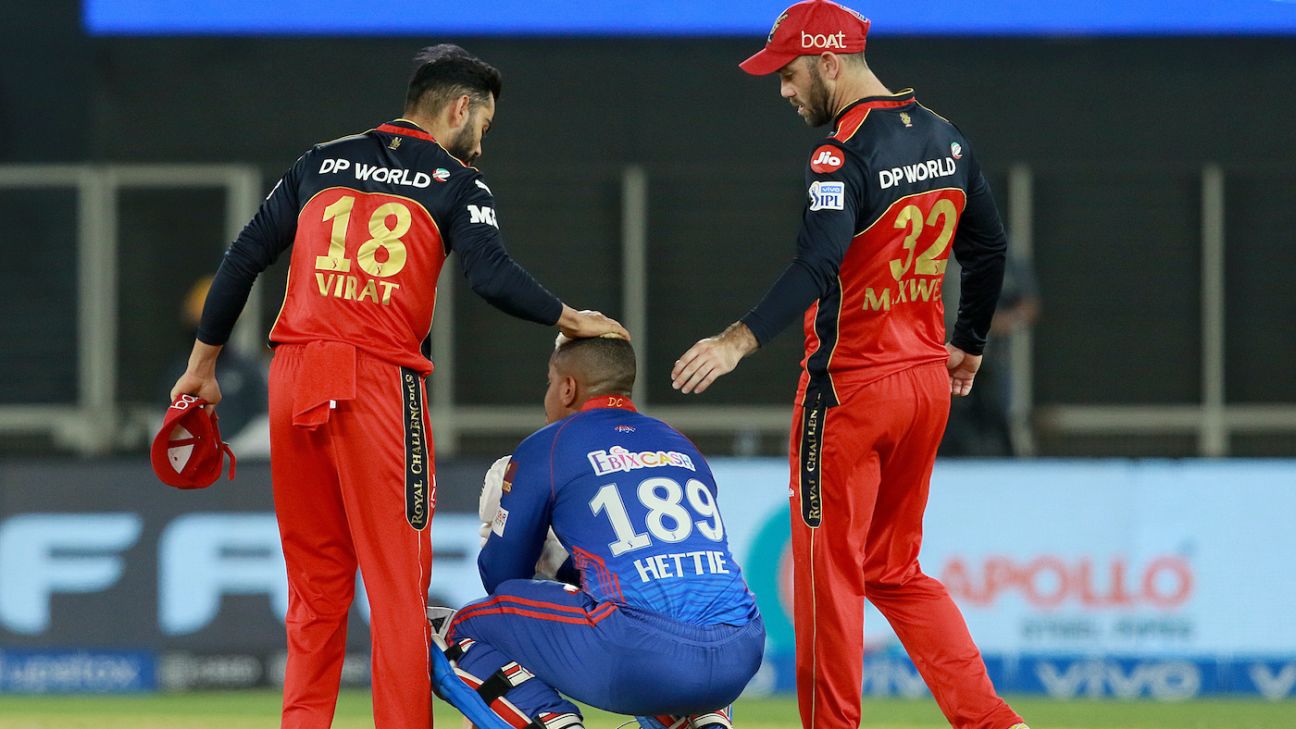 Royal Challengers Bangalore 171 for 5 (de Villiers 75*, Patidar 31, Harshal 2-37) beat Delhi Capitals 170 for 4 (Pant 58*, Hetmyer 53*) by one run
With Rishabh Pant and Shimron Hetmyer set in the middle and the Delhi Capitals needing 14 to win, the batting side held the edge going into the final over of the chase. However, Mohammed Siraj conceded only 12 to hand Royal Challengers Bangalore a one-run win that lifted them back to the top of the IPL 2021 points table.
The Capitals were struggling, having lost their first three wickets early in the 172 chase, but Hetmyer's 23-ball fifty brought them back into the contest. However, with 10 needed in the last two balls, and Hetmyer losing strike, all Pant could do was hit two fours, leaving both unbeaten batters on their haunches after the narrow defeat.
That the Royal Challengers reached 171 for 5 after losing the toss was courtesy another masterclass from AB de Villiers. While the rest of his team-mates failed to make the most of the Ahmedabad surface, de Villiers creamed an unbeaten 75 off 42 deliveries. In a game of close margins, the 23-run 20th over by Marcus Stoinis went a long way in the Royal Challengers winning the match.
Avesh, Ishant tidy for Capitals
Avesh Khan struck in his first over. Getting a length ball to angle in, he had Virat Kohli chopping on for 12. Off the next ball, Devdutt Padikkal was bowled by Ishant Sharma, as the fast bowler chose to go straight instead of going across the left-hander as he did in his first two overs. In the space of two balls, the Royal Challengers were 30 for 2 in 5.1 overs.
Ishant eventually finished with 1 for 26 in his four. Avesh did not add to his wicket tally but bowled yorkers at will in the death overs to finish with 1 for 24.
de Villiers tees off yet again
The Royal Challengers recovered through Rajat Patidar and Glenn Maxwell, and while both fell after getting starts, they had set the stage for de Villiers. He found his groove by running hard early in his innings to get his eye in. After that, he hammered Kagiso Rabada past mid-off to get his first four.
Axar Patel was then muscled over his head for six, Rabada was sliced past third man and then pulled over deep midwicket, and although Khan's pinpoint yorkers kept de Villiers quiet for most of the 19th, he hauled a short ball to the right of long-on to reach his fifty in 35 balls.
Stoinis goes for plenty
That Royal Challengers were only at 148 for 5 after 19 overs was because Pant, the Capitals captain, had used his top bowlers early. Sharma was bowled out long back. So was Rabada. That meant Amit Mishra had bowled only three overs, and Pant did not give him the 20th. Instead, he went to Stoinis.
It was a plan that did not pay off. de Villiers faced every delivery and crunched 22 runs in the over after Stoinis started off with a wide. That pushed the Royal Challengers' score to 171, a total that looked far off for most of the innings.
Capitals' top three fall early
A sudden sandstorm delayed the start of the chase by 15 minutes, but no overs were lost, and Prithvi Shaw and Shikhar Dhawan began by smacking 23 runs in the first two overs.
However, Dhawan fell prey to a deliberate around-the-stumps angle from Kyle Jamieson when he steered a pull to fine leg in the third over. Next over, Siraj got a length ball outside off to move away slightly, and Steven Smith edged it behind. Shaw, who looked the best of the top three, was out soon after the powerplay when he chased a wide ball from Harshal Patel and edged it to the keeper. The Capitals were then 47 for 3.
Pant, Stoinis build a partnership
Although Pant's timing was off early in his innings, what helped the Capitals was Stoinis' stroke-making. He lapped Yuzvendra Chahal for four and then struck Washington Sundar for a couple more boundaries to keep the required run rate to under 12. That helped the lack of fours from Pant's bat go under the radar.
But Pant then turned on the screws with two fours to begin the 13th over, bowled by Harshal, and it appeared like the game was moving to the Capitals' corner, when Stoinis was out for 22 a few balls later. The 45-run partnership, though, gave the Capitals hope.
Hetmyer's blitzkrieg
When Hetmyer came in to bat, Pant was on 33. When Hetmyer reached his half-century, Pant was on 42. In between, Hetmyer creamed the ball to all parts, starting with the 15th over, from Siraj, where he struck a six and a four. The 17th over, delivered by Harshal, was tidy but Hetmyer eked out another four over extra cover.
At that stage, the Capitals needed 46 off 18 balls, and Jamieson was entrusted with the 18th. Hetmyer carted him for three sixes, the equation reducing to 25 off 12.
Pant struggles, Siraj the hero
An 11-run 19th over by Harshal meant that Siraj had to defend 13 off the final six balls. But what was going the bowling side's way was the extent of Pant's struggle. Hetmyer, the form batsman, faced just one ball in the first four as Siraj's full lengths did not allow the batters to get under the ball. With two balls left, Pant needed to hit a six and a four to get the two points.
The penultimate ball was a full toss that was slashed over third man, and Pant had to hit a six off the last one for the win. But he failed to do that as Siraj went wide, and all Pant could do was clatter a four to deep point. Hetmyer, who finished on an unbeaten 53 off 25 balls, was on his knees at the bowler's end, and Pant, too, cut a dejected figure at the wicketkeeper's as the Royal Challengers rejoiced at their thrilling victory.
Sreshth Shah is a sub-editor at ESPNcricinfo. @sreshthx