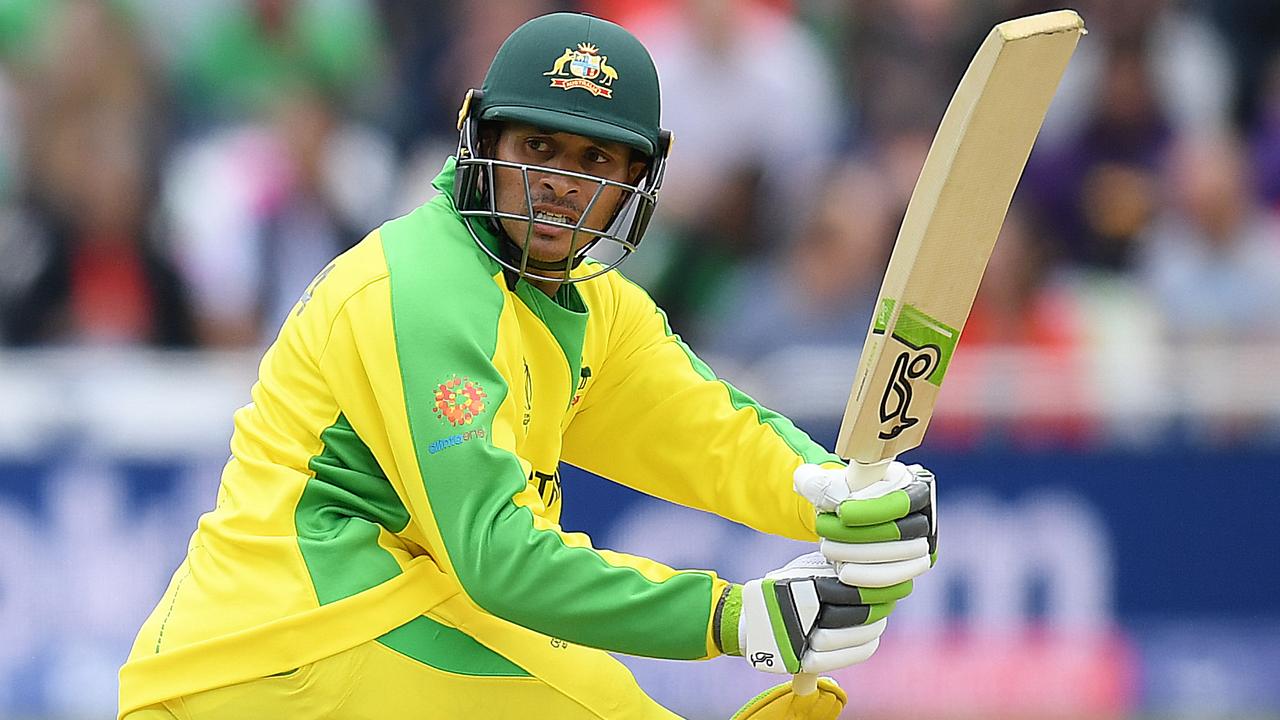 Could Usman Khawaja make another unlikely comeback for Australia, in a format he was dominating before being pushed out? DANIEL CHERNY speaks to the elegant batter.
One thousand and eighty-five. It's not a number that should immediately trigger a response from Australian cricket fans, but for Usman Khawaja it tells a tale. It is his one-day international runs figure in 2019, the last year he played an ODI.
Not since July of that year, when he retired hurt with a hamstring injury during the World Cup match against South Africa, has Khawaja donned the pyjamas for his country.
He had been a key pillar at the top of the order that year in the lead-up to the tournament as David Warner served his ball-tampering suspension, Khawaja making two centuries and four half-centuries across Australia's series victories that year in India and against Pakistan in the UAE.
However then Warner and Steve Smith came back, Khawaja was pushed down to No.3 for the World Cup, and eventually squeezed out of the side altogether despite averaging 49.31 for the year at a strike rate of 84.89. Travis Head and Marnus Labuschagne have since been given look-ins, but Khawaja has remained on the outer as selectors grapple with the make-up of Australia's best ODI XI.
He was dropped for Australia's one-day tour of India in early 2020, by which time he'd also been dumped from the Test side. His international career could easily have been over.
But then he got a call-up to the squad for last summer's Ashes, seized his chance with twin tons as Head missed the Sydney Test through Covid-19, held his spot ahead of Marcus Harris for the tour of Pakistan where he was player of the series and then performed solidly in Sri Lanka.
So if Khawaja was performing pretty well when he was in the ODI team last time, is now a proven performer in Asia across formats – the next ODI World Cup is in India late next year – and has shown he remains a force as an international batter, is he still eyeing a spot at next year's event.
"I'd love to," Khawaja, 35, says.
"But at the moment the selectors haven't given me any inkling. I always joke around that last time I got dropped I was the third-highest run-scorer in the world. If they're dropping me when I'm the third-highest run-scorer, I might be struggling right now.
"It's not on my radar. [But] Test cricket wasn't on my radar. It just happened to fall that way. It's just where I am with my life right now. I feel like I've achieved a lot in this game. I play the game now because I love it. I play the game because I'm competitive, I still get a kick out of it, I want to be the best I can be, for as long as I can play in this game. For me the priority has shifted. Performance is still very important to me, it's just how I go about it has slightly changed."
For now Khawaja will have to be contest with his Test renaissance, and his new role as captain of Brisbane Heat in the Big Bash League. The role and status of the BBL has again come into question after big names Andre Russell and Faf du Plessis were bypassed at Sunday night's overseas player draft.
For Khawaja though, they would just be small fry. Ever the ideas man, he is aiming higher.
"I would love to see the Indians part of it. I would love to see a Virat Kohli, a Rohit Sharma come to the Big Bash. But it doesn't seem like that's happening any time soon. I think that's the ultimate goal," Khawaja says.
"For the betterment of the game, I think it would be amazing. But at the end of the day if the BCCI don't want their players to come play, we can't really do much. I know our fans would love to see the Indians come play. The rest of the world's here, we've just got one country left.
"All the BBL, The Hundred, the PSL, I think they're all on a pretty even keel. The one true constant is that there's no Indian players in all of them. I think it's quite even. I think BBL has an opportunity to be the second-best, but we've really got a way to go."
As clubs opted for lower-profile but perhaps more viable players at the draft, the other eternal questions about the BBL get pondered: Is it more about winning or entertainment, and is it supposed to be a pathway to Twenty20 international cricket? For Khawaja, the answers are clear.
"All the conversations I've had with CA, [BBL chief] Alistair Dobson, [CA cricket operations manager] Peter Roach, [CA strategy guru] Trent Woodhill, they've explicitly said that the BBL is a separate product to international cricket," Khawaja says.
He added that one of the BBL-specific rules made it more difficult to stake a claim as an opening batter.
"That's how I take the BBL. It's an entertainment package on its own, separate from international cricket. And I think you can see that in how the BBL is. We've got a power surge, there's no power surge in international cricket. It is a separate entity," Khawaja says.
"It makes it harder to decipher middle-order numbers, just because of the power surge. Openers, it skews it a little bit, not in a good way, probably in the reverse, they don't get the extra two overs at the start.
"But a lot of the guys are playing T20 cricket around the world. But I'm sure there is a slight element there, [whereby] the difference makes it tougher."
However while a Khawaja is currently a red-ball specialist in international cricket, he is a fan of the T20 freelancer life being led by the likes of Tim David. He wonders what might have been had the format come a couple of decades earlier.
"I think it's great. I think a lot of players are lost to the T20 system because they couldn't play red-ball cricket.
"One of my old mentors and person I love, Richard Chee Quee, one of the best ball-strikers I ever played with, he would have been a dream to have in your T20 team, smacking them around everywhere. But T20 wasn't around. He was obviously a very good first-class cricketer also, but also could have carved out a little niche. There's plenty of those stories back in the day. So I'm all for it. It means more people playing cricket, more professionals in the game. I think that's a good thing."