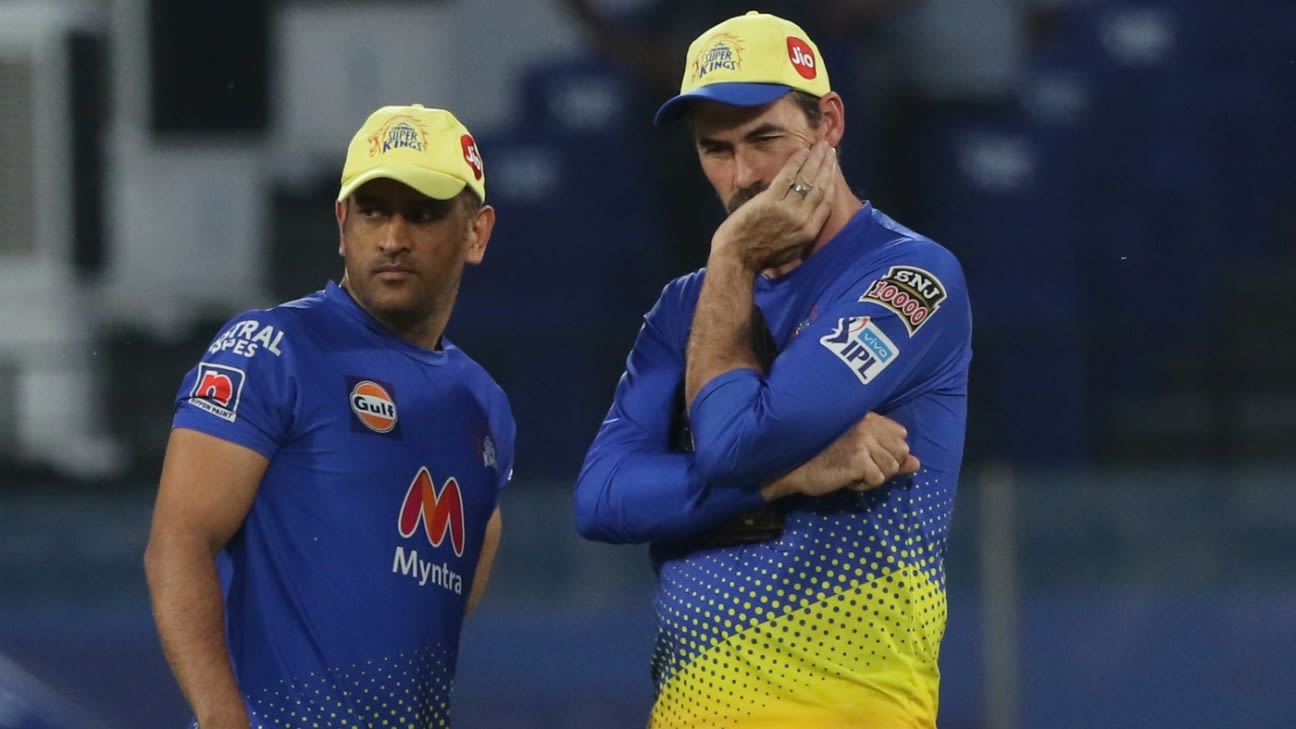 News
Captain MS Dhoni says the "players have taken more responsibility" this season
A "change in attitude" in dealing with the various challenges posed by playing during a pandemic has resulted in a change in fortunes for the Chennai Super Kings, according to captain MS Dhoni and coach Stephen Fleming.
Six months ago, the Super Kings left the UAE having endured their worst-ever showing at the IPL, not making the playoffs for the first time since the tournament's inception in 2008. Now, they are back on a familiar perch, top of the points table six games into IPL 2021, having completed another convincing victory, this time against the Sunrisers Hyderabad.
Speaking at the post-match presentation in Delhi, Dhoni elaborated. "One of the facts was, five to six months we were out of cricket [before IPL 2020]. Nothing was really allowed. It was not like you could go and practice on your own, that also makes it slightly more difficult. Then the change of venue [from India to the UAE], and you know quarantine, it was a slightly longer quarantine, people were not used to it. There were quite a few factors that could have resulted in that [poor showing].
"But overall, I think to really sum it up nicely, the players have taken more responsibility this year – you will be facing adverse things but ultimately it boils down to how each and every individual rises to the occasion and does that 10% extra for the team."
At the post-match press conference, Fleming spoke on similar lines. "It was tough in the UAE. We had a pretty bad run. A lot of things went against us, which we didn't make too much of at the time. We got a pretty big knock at the start of the tournament for a number of reasons, but [during] the last part of the tournament we were really comfortable. We made some changes around our attitude towards what we were doing, and then we were really sure [of] what style we wanted to play going into this year's IPL."
The Super Kings had a rocky start to IPL 2020, with more than ten of their contingent testing positive for Covid-19, and their batting mainstay over several seasons Suresh Raina returning home for personal reasons before the tournament began. While nothing more on the matter has been officially revealed, it is understood that he had told the team management that he had issues with staying in the bio-secure bubble.
"We needed to play a faster game, we needed to keep evolving if we were not in Chennai. And that's what we are trying to do"

Stephen Fleming
The Super Kings subsequently did not seem to be able to fix on a playing XI in the early part of the season, fielding 17 players across the first six matches and winning only two in that period. Eventually, they would go on to play 20 players across the season. By comparison, this year they have fielded 13 players in the first six games – with nine playing in all the matches so far – and have won five of these.
Both Dhoni and Fleming admitted this clarity over the XI was a plus. "Whenever you start a tournament, you may or may not face some kind of issue with the playing XI," Dhoni said. "If there are a few issues, the earlier you settle it, the better it is, because it gives some sort of a settled view to the team-mates."
"The challenge we had – and most franchises had – was that we weren't sure where we were going to play," Fleming said and added the team worked towards correcting this in the latter part of the 2020 season, with an eye on IPL 2021. "We worked really hard on that in Dubai. It wasn't that we just ran the season out, we made sure we made the most of every opportunity we had. We finished that well. To be honest, we were only one, maybe two, games away from getting through [to the qualifiers]. So it wasn't actually a disaster – the finish was really good.
"So we took a lot out of that, and in the off season we just looked at players that could fit and do a job – not just in Chennai but in conditions that were still a bit foreign. We needed to play a faster game, we needed to keep evolving if we were not in Chennai. And that's what we are trying to do; we are not the finished product by any means, but we're playing well at the moment."
That said, Dhoni had a special word of praise for the players who have not got their chance yet. "For the last 8-10 years we've not really changed a lot of players in our squad, and also we appreciate the ones who are not playing a lot," he said. "Keeping the dressing-room atmosphere healthy is very important. I think the individuals, we need to credit them, because those are the persons who need to [not take sitting out personally and] really digest it, because it's not an easy thing – when you are at the top level you want to play. I feel we need to give extra credit to the players who have not played so far."