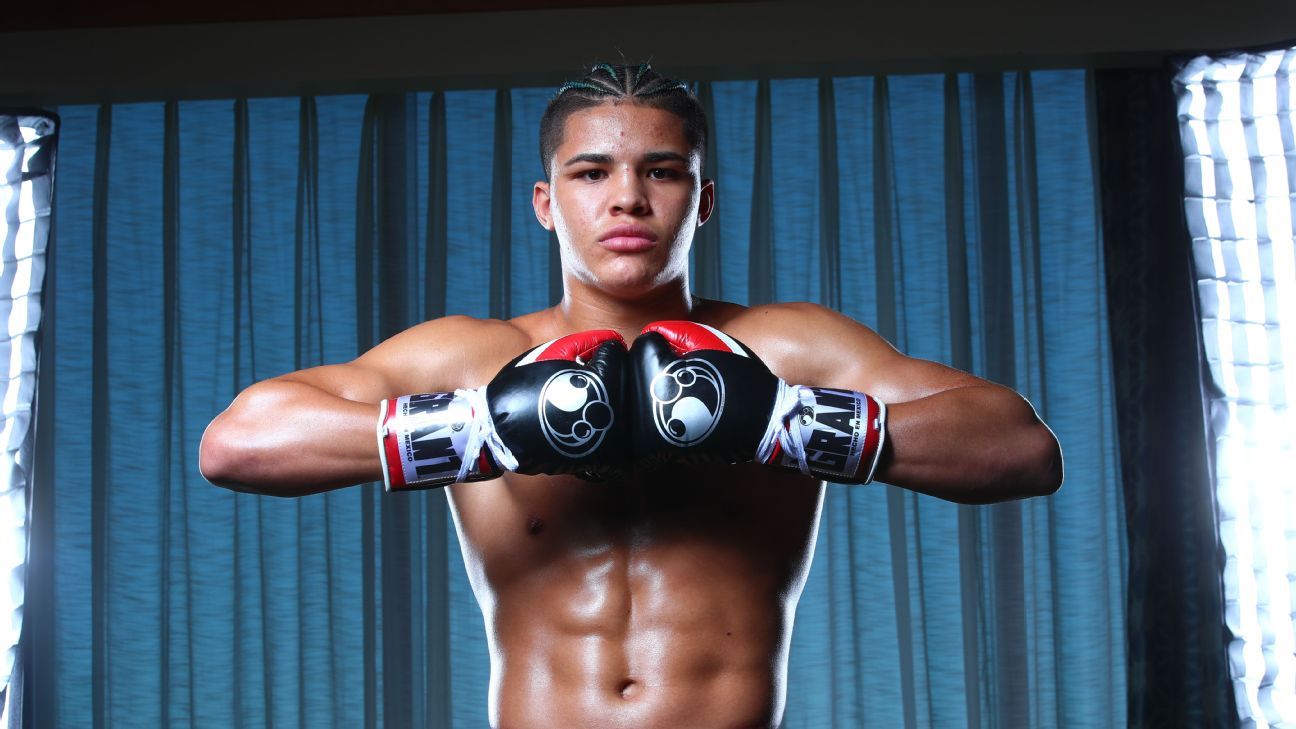 XANDER ZAYAS SAT at dinner alongside his mother, stepfather and sister on Dec. 17, 2018, just a few weeks after capturing the 2018 USA Boxing Youth National Championship in Salt Lake City, Utah. The 16-year-old and his family were joined by his trainer, Javiel Centeno, and manager, Peter Kahn.
The team was ready to make a big decision.
"We had dinner and said, 'This is it. This is the moment,'" Zayas recalled.
Despite being only 16, Zayas had decided to turn pro. Given the uncertain future for young boxers due to changing Olympic rules, specifically the changing of the minimum age from 17 to 19, there might not have been another option. Zayas boasts the boxing skills and the motivation to be great, and his agent knew it was the right time to make a move.

Top Rank Boxing is now on ESPN and ESPN+. Subscribe to ESPN+ to get exclusive boxing events, weigh-ins and more.
6:45 p.m. ET Saturday on ESPN+: Edgar Berlanga vs. Steve Rolls undercard fights
10 p.m. ET Saturday on ESPN+: Edgar Berlanga vs. Steve Rolls, 12 rounds
"Even though we weren't eligible for the Olympics, we were sort of using it as an insurance policy," Kahn said. "Do you know how many top quality amateur fighters will be scattering around, looking to turn pro?"
While many of the other top-rated amateur boxers are fighting for Olympic berths, Zayas found himself on an island. With the current arms racing taking place in the boxing business, with various promoters looking to fortify their rosters, there would be no shortage of suitors.
Kahn fielded calls from high-powered promoters inquiring about his client's availability in January, but the answer came in February, while Kahn was on a layover in San Francisco. He received a phone call from Harrison Whitman, Top Rank's in-house attorney, informing him that they had agreed to the requested signing bonus and monthly stipend. Zayas was now a pro.
"I was taking an ice bath that day," Zayas said. "My coach was upstairs, and I was downstairs, and he yells out, 'Top Rank, here we come!' And I'm like, 'What?" He went, 'Yes, sir.' And I just started smiling. I just couldn't believe it."
Soon, Zayas and his family were at Kahn's house going over the contract. As the ink dried, Zayas realized that signing with the company was a dream come true. He will make his pro debut this weekend in Reno, Nevada, facing Genesis Wynn in a four-round welterweight contest.
"It was a very tough decision because I look at him as my baby," Xander's mother, Yaitza, said. "For me, he is just a regular 17-year-old kid. But we all sat down at home as a family and discussed the plan. And we decided to support him on accomplishing his dream."
---
ZAYAS WON A USA Boxing youth national title in 2018 at 152 pounds after winning it at 125 the year before and 110 before that. He is literally growing in front of everyone's eyes.
"Although I'm just 16 years old, I've been doing boxing since I was 5, and I understand the magnitude of what it means to be promoted by the best promotional company and to earn money," Zayas said six months before his Sept. 5 birthday.
Top Rank's vice president of boxing operations, Carl Moretti, admits that developing fighters is far from an exact science. Every prospect is an unknown until proven otherwise. Case in point: Robeisy Ramirez, the highly touted two-time gold medalist from Cuba, who was upset by Adan Gonzalez in his pro debut on Aug. 10.
"We've been wrong on a bunch of guys, and we'll continue to be wrong," Moretti said. "But we'll also continue to be right. As long as you're batting over .300, you're probably doing it right.
"You certainly see the marketability. We believe the ability will be there. But that's something you don't know 'til you get your feet in the water."
The recruiting began early. Kahn had known of Zayas since he was 13, thanks to Centeno, who had been training Zayas for a year.
"We just felt he was the right type of person that could turn pro at 17 and would be able to have not just emotional success but physical success because a lot of guys don't grow into their man-body until a little bit later," Kahn said. "He has the potential to be like a [Felix] 'Tito' Trinidad. He has the potential to be like a Miguel Cotto."
Cotto registers for Zayas. When the former four-division world titleholder fought, a young Zayas watched intently. While previous generations idolized Trinidad, Hector "Macho" Camacho and Wilfredo Gomez, young men of Zayas' age were brought up on Cotto.
"Every fight, we had all the family, we got together and watched [Cotto] fight and root for him," Zayas said. "It was a big influence in my boxing life and in life in general."
---
ON THE FIRST weekend of November 2018, Kahn met with Top Rank chairman Bob Arum and chief operating officer Brad Jacobs. Over dinner, Kahn mentioned that he was working with a promising Puerto Rican prospect who would likely be turning pro soon. At that time, Zayas was an 11-time USA and Puerto Rican national champion with an overall record of 118-14.
"I said, 'By the way, I just wanted to put this on your radar,'" Kahn said.
Arum is one of the true power brokers in the game, but it was Jacobs who Kahn described as being a key figure in this union.
"Once we got the heads-up from Peter, I spread the word to our staff," Jacobs said. "We meet on a regular basis to discuss prospects that we might have interest in signing."
The meetings take place weekly at the Top Rank offices in Las Vegas or via conference call, and they include Moretti, Jacobs, matchmakers Bruce Trampler and Brad Goodman, president Todd duBoef and Whitman.
Like an NFL franchise heading into the draft, Top Rank has a big board where it ranks potential prospects.
"We have a star system: three-star, four-star, five-star," Moretti said.
Everything from amateur credentials and physical attributes to ceilings as professional fighters and whom fighters will train with is discussed at length. How much it would take to sign these boxers is also key to the conversation. They look into family situations and if there are any past — or current — legal entanglements. A problem in any one of those areas could disqualify a prospect from securing an offer.
"We have a saying, and we borrowed it," Moretti said. "When the s— gets bigger than the cat, get rid of the cat."
Although it was clear that Zayas wanted to be with Top Rank and that Kahn felt comfortable with the company (where he placed lightweight Saul Rodriguez, junior lightweight Andy Vences and welterweight Chris Van Heerden), he had a responsibility to get the best deal for Zayas.
"I made it known that other promotional companies were interested," Kahn said. That put pressure on a Top Rank staff that wanted to wait until Zayas turned 17 years old to sign him.
Initially, duBoef believed Zayas was too young, but when David McWater, the head of Split-T Management (which handles Top Rank's most highly regarded young boxer, Teofimo Lopez), gave a ringing endorsement despite having no ties to Zayas, it swayed duBoef.
Once the boxing side of the promotion had given its thumbs-up, the business side still had to weigh in. There are three factors vital to duBoef: ability, marketability and opportunity. The first two are self-explanatory. The third is about exploiting a current market or creating a new one.
"Like with [Miguel] Cotto, I created a whole Puerto Rican strategy around him," said duBoef, who was instrumental in guiding Cotto to professional stardom after representing Puerto Rico in the 2000 Olympics.
Lightweight Felix Verdejo has yet to become the next great Puerto Rican fighter, and Cotto's retirement has left a void in the sport. The boxing business is healthier and more vibrant when there is a Puerto Rican prizefighter who can draw crowds on the East Coast. With the research and analysis on Zayas completed in early 2019, a representative of Top Rank texted Kahn: "We're going to move on Xander. Now."
It was finally time to meet the kid that Top Rank believes could be the next big thing.
"We bring [the fighters] in when they really want to come in for a visit, and we want to show them the [Top Rank] office and what we're all about," Moretti said. "And we also want to see them physically and how they present themselves, talk to them and try to get an idea of who they are and what they are."
In his first face-to-face meeting, Zayas talked to duBoef about the possibilities that existed, his goals and, of course, Cotto.
As pen was put to paper, Zayas became the youngest boxer to ink a deal with Top Rank. That distinction was previously held by lightweight prospect Gabriel Flores. Zayas is two months younger.
---
ZAYAS HAS HAD plenty of time to prepare for his professional debut. He signed his deal in early February and has since sparred with Ivan Baranchyk, Daniyar Yeluessinov, Ryan Martin, George Kambosos and Amir Imam at the Sweatbox Boxing Gym in Davie, Florida.
This time has been about, "sharpening things up," said Zayas, who has a full itinerary each day, which begins at 6 a.m., when he wakes up and eats breakfast. By 8 or 9, he's in the gym. Depending on the day, he'll go through strength and conditioning or sparring, mixed with his training. By 1 in the afternoon, he is home, where he concentrates on his studies. The occasional Sunday will be used to rest and recover.
After attending Plantation High School his freshman and sophomore years, Zayas was home-schooled his junior year and the start of his senior year. But he says that come January, "I'm planning on going back." Unlike most of his classmates, he can say he has a full-time profession. But for the most part, he is like every other student his age. Before he graduates, he wants to go to prom.
But even after he receives his diploma, his schooling will continue. "I will always push for Xander to have an education," Yaitza said. "That's something that we discussed before we made the decision to start his professional career."
"I want to start in criminal law," Zayas said, "Because I'd like to become a cop."
For now, he'll stay under his mother's roof in Sunrise, Florida.
"He will continue to live with us at home until he feels he is mature enough to take the next step," she said, adding with a laugh, "He will need to be a three-time world champ first."
That maturity will have some logistical hurdles to navigate for the time being. Some states, such as Texas, allow 17-year-olds to box professionally, but in Nevada, a special waiver is required. And don't expect Zayas to fight in Puerto Rico for at least a year: 18 is the minimum age to be granted a boxing license there.
It's a long journey, with the first step taking place inside the Reno-Sparks Convention Center. A young man is entering the unforgiving world of professional prizefighting. But he says he has no real apprehension or second thoughts about his decision.
"It's excitement, not nervousness," Zayas said. "I just want to step into the ring. I want to fight, to show my talent and just go out there and get the win."