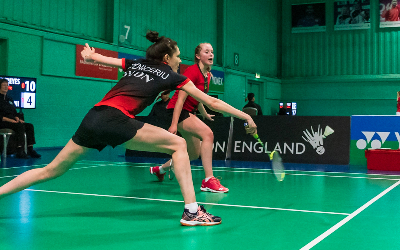 While the last month has seen some of our elite players look towards the YONEX All England Open, February has also provided plenty of domestic action in the Senior County Championship.
The big shock of the month in the Premiership came where Middlesex's remarkable 18-match winning streak was ended by mid-table Buckinghamshire, in a crushing 9-2 defeat.
When Ben Hunt and Robert Golding both scored singles rubber wins to put the all-conquering Middlesex team 2-1 up, they looked on course for yet another win.
But Buckinghamshire roared back with doubles pair Ethan Van Leeuwen and Steven Stallwood particularly impressing.
The table-toppers did at least respond the very next day, returning to winning ways against Cheshire with an 8-3 victory.
Hampshire aren't far behind in second place, with a record of four wins from their opening six matches at the end of February.
They had an impressive weekend with three victories, getting past Leicestershire (6-5), Hertfordshire (7-4) and an 11-0 dismantling of Leinster who endured a tough return to Premiership action.
Surrey were also on the move in the table, recovering from losing the first rubber against Leicestershire to win six in a row, eventually triumphing 8-3.
It was a perfect return for Avon who defeated Hertfordshire 8-3 back in SCC competition for the first time this year, having missed the opening weekend in January.
Along with Leinster, they weren't able to head over to compete due to travel restrictions in Ireland but were now able to get back on court.
Leinster had a difficult return with three defeats from three and will be looking to improve in the March fixtures and move away from the relegation places.
In terms of the individual scoring players, no player who has played two weekends retains a perfect record.
Buckinghamshire's Ethan Van Leeuwen and Hampshire's Ollie Baczala lead the performance charts with 12 wins each, with Surrey youngster Will Jones close behind with 11 and Middlesex's Angus Pedersen the only other player reaching double figures, with 10 wins from 13 for his county.
Leicestershire's Jessica Allen is the leading women's player with a superb record of eight wins from nine, closely followed by team-mate Sarita Patel, just slightly behind with eight victories from 10 matches.