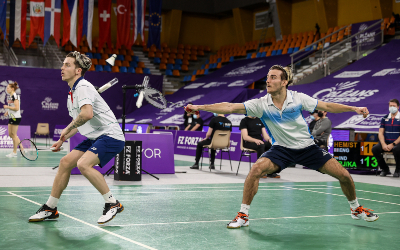 The build-up to the 2022 YONEX All England Open continues this week with many players heading to the Ruhr for the YONEX Gainward German Open.
The Super 300 event held at the Innogy Sporthalle in Mülheim will see many of the world's best players will be taking part and some of England's top shuttlers are in action as the season begins to hot-up.
Callum Hemming and Steven Stallwood are among those hoping for a good run ahead of heading to Birmingham the following week and have received a bye through the first round following the exclusion of Russian players, which led to Vladimir Ivanov and Ivan Sozonov being eliminated from the draw.
Hemming and Stallwood will face the winners of the clash between Krishna Prasad Garaga and Vishnuvardhan Goud Panjala and Hiroki Okamura and Masayuki Onodera, and are in the same half of the draw as England teammates Ben Lane and Sean Vendy.
The pair, ranked 18th in the world, have an intriguing first round match of their own as they take on Scotland's Alex Dunn and Adam Hall in a 'Battle of the Brits' clash.
Less then a month before the All England! https://t.co/jd4ogkBb1m

— Steven Stallwood (@STEVEN_STLLWOOD) February 17, 2022
England will also be represented in the women's doubles draw, where Chloe Birch and Jessica Pugh have been handed a tricky tie in the opening round.
They will need to get past Chinese top seeds Chen Qing Chen and Jia Yi Fan to extend their stay in Germany, but will meet Scotland's Julie MacPherson and Ciara Torrance if both teams can progress to the quarter-finals.
Pugh will also team up with Hemming in the mixed doubles draw, where they face Malaysia's Goh Soon Huat and Lai Shevon Jemie in the opening round.
In the other half of the draw are Marcus Ellis and Lauren Smith, seeded fifth, who will take on Chen Tang Jie and Peck Yen Wei from Malaysia.
The reigning European Games champions will be looking to go deep in the draw and potentially add a German Open title to their list of achievements.
The action gets underway on Tuesday with the five tournament finals on Sunday.