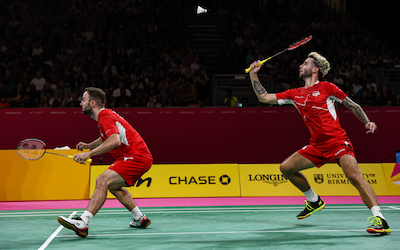 August 21, 2022
Sean Vendy and Ben Lane begin their BWF World Championship campaign on Wednesday as the 14th seed in the men's doubles event in Tokyo.
The pair won silver at the Commonwealth Games in the same event earlier this month, so head to Japan brimming with confidence, having also claimed a European Championship bronze in Madrid in April.
They enter the competition at the quarter-final stage, where they will play either the German pair of Bjarne Geiss and Jan Colin Völker or the Danish team composed of Torjus Flåtten and Vegard Rikheim. The last-eight action starts from around 3am BST on Wednesday.
Elsewhere, Toby Penty gets his men's singles tournament underway on Monday against China's Guang Lu Zu.
Guang is ranked 28 places higher than Penty in the BWF rankings but after a solid showing at the Games, where Penty was defeated by eventual bronze medal winner, India's Srikanth Kidambi, the Walton-on-Thames-born star will be hoping for a second deep tournament run of the month.
Callum Hemming is the only English star in action in two different events. He partners Steven Smallwood for the men's doubles, with a first-round fixture against the Mauritian pair of Georges Julien Paul and Aatish Lubah before he joins forces with Jessica Pugh for the mixed doubles event.
Hemming and Pugh reached their highest ever ranking as a pair at the beginning of August, 46th, and will hope to build on their recent form, having reached the quarterfinals of the Commonwealth Games.
The final English pair in action are Gregory Mairs and Jennifer Moore, who play Juhi Dewangan and Venkat Gaurav Prasad from India in their World Championship opener on Monday.
One pair not in action are Marcus Ellis and mixed doubles partner Lauren Smith. Ellis experienced discomfort in his hip in the build-up to Birmingham 2022, where he and Smith won silver, and will undergo surgery ahead of turning his attention to Olympic qualification in 2023.
Smith and women's doubles partner Chloe Birch, who also enjoyed a podium finish at the Commonwealth Games, will not be taking part having declined participation.
The action begins on Monday and concludes with the finals on Sunday 28th August.