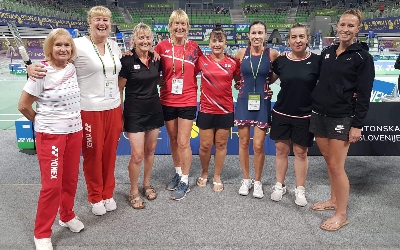 August has been a big month on-court for our Masters players as they jetted off to compete at the 2022 European Senior Championships.
Here is our round-up of the latest news from across the domestic game.
European Senior Championships
England enjoyed a sensational European Senior Championships in Slovenia, topping the medal table as the tournament returned following a four-year hiatus.
A dominant English squad brought home 41 medals from Ljubljana, winning over three times as many golds as second-placed Germany.
In all, 15.5 golds were secured (with a half medal awarded when a doubles player was partnered with a shuttler from another nation) as England recorded another impressive haul at the event.
Eleven silvers and 14.5 bronzes were also claimed as the team established themselves as the best in Europe at the prestigious biannual Championships, which was not held in 2020 due to the pandemic.
Perhaps the most notable success came in the women's singles events, which highlighted the strength in depth throughout the national squad.
Across the eight age categories (ranging from over-35 to over-70), English shuttlers took six women's singles golds.
Jo Dix, Caroline Hale, Betty Blair, Cathy Bargh, Christine Crossley and Betty Bartlett all topped the podium in their respective age groups, while Rebecca Pantaney and Marguerite Butt both claimed silver.
Elsewhere, three English debutants won medals in their first international senior tournaments with Nick Hodgson earning bronze in both the men's and mixed doubles in the over-35s category.
Nikita Kolomnin partnered Hodgson in the men's doubles and Elena Johnson won a women's doubles over-35 bronze.
Perhaps most impressively, every English player that took to the court in 2018 improved on their result this time around.
The next Championships will be held in Dubrovnik, Croatia in 2024.
All England Junior International Announced
Badminton England has confirmed a new All England Junior International tournament for 2023.
The event will take place, like the senior event, in the city of Birmingham with the inaugural edition to be held over five days next summer between 26-30 July.
Offering the opportunity for younger players to play in front of a passionate home crowd whilst striving for crucial world ranking points, the tournament is set to become one of the standout events on the junior circuit calendar.
The University of Birmingham will host the championships, bringing another major international badminton event to England's second city, which successfully hosted the Commonwealth Games last month.
The university has an established badminton programme in place and this further strengthens their support and commitment to young badminton players.
It will give the very best domestic junior players in England in their age group the chance to compete against the best in the world in front of a home crowd.
As with the prestigious annual YONEX All England event, the tournament will showcase the power, pace and guile of the world's best young players.
Get involved
If you would like to play Masters badminton at county, domestic and maybe even international level, new players are always welcome!
If you're over 35, and you have a BE Compete membership, you can enter domestic tournaments for 2022-2023 – go to be.tournamentsoftware.com and search for Masters.
If you'd like to test yourself in the county challenge or find out about playing for your county in the championships, please contact your Masters County Co-Ordinator.
If you'd like to be added to the mailing list to find out about future international tournaments, please email englandmasters@badmintonengland.co.uk.