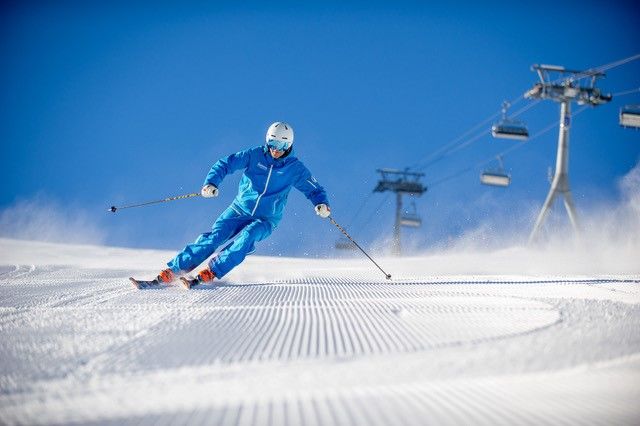 Home › News › Zermatt joins list of glaciers temporarily closed for ski and snowboard activities because of 'unprecedented' high temperatures
The Swiss resort of Zermatt has temporarily suspended year-round skiing and snowboarding on its glacier due to high temperatures in the Alps during Spring and Summer.
The slopes have been open daily for many years now, except for a break of about three months at the start of the worldwide pandemic in spring 2020.
The Zermatt authorities have been keen to stress the closure is only in place until conditions improve, but the resort is the latest Alpine glacier forced to suspend summer skiing this year after low winter snowfalls were followed by 'unprecedented' high spring and summer temperatures that thawed the snow cover on the ice.
Zermatt also confirmed preparations to stage world cup races in late October and early November will continue through the closed period.
In France, Val d'Isere decided not to open in June, Tignes closed after less than a fortnight, and Les 2 Alpes also closed early.
Passo Stelvio in Italy announced last week it was temporarily suspending lift operations.
Saas Fee opened in mid-July but only on the upper half of its glacier and only to pre-booked race teams.
Austria's Mölltal Glacier has also not re-opened this summer.
Zermatt's decision means that only the Hintertux glacier in Austria, the world's other year-round centre, remains open to the skiing public. However, it recently reported its snow base has dropped from 50cm to 25cm in a few days (20 to 10 inches) and that it has dropped from 20km to 6km of slopes open.
The lack of glacier slopes open is causing issues for race teams looking for summer training and SkiRacing.com has recently reported that indoor snow centres are seeing booming business as they look for reliable snow areas to practice on.
---
‹ 'Growing concerns' surrounding mental health prompts historic ski area to change its name
Ski and snowboard areas in Andorra unite under one pass covering more than 300km of piste ›
---
Categories: News, Switzerland