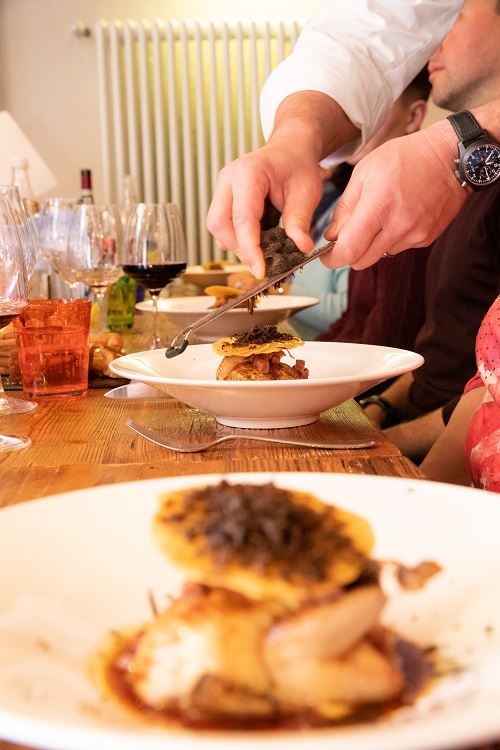 Courmayeur Mont Blanc will be hosting the 7th Mountain Gourmet Ski Experience from 17 to 20 March 2022.
The event, which is being run in collaboration with Grand Hotel Royal & Golf, was created by Momentum Ski's Amin Momen and celebrity UK chef Heston Blumenthal. It has built up a reputation for attracting top chefs and this season's line-up includes Michelin star chefs Tom Kerridge, Paul Ainsworth and renowned local-chef Paolo Griffa.
Momentum Ski has again chosen Courmayeur to host the Mountain Gourmet Ski Experience because of its well-known foodie scene and beautiful alpine scenery.
This season's event is to include a new dinner-only format, as well as a range of accommodation options, flights and transfers as available add-ons which will suit groups of friends, individuals and families.
The dinners will take place around the resort, on the slopes, and at the five-star Grand Hotel Royal & Golf, situated in the heart of Courmayeur, which has a Michelin-Star restaurant, Petit Royal, run by Head Chef Paolo Griffa.
Thursday 17 March: The first dinner to launch Gourmet Ski will be a rustic, informal and local dinner where world-renowned chefs will first meet their guests and spend quality time with them. Priced at £160 per person. 
Friday 18 March: Tom Kerridge & Paul Ainsworth will produce a tasting dinner on the mountain at La Chaumière which will only be accessible by cable car and snowmobile. The pair will prepare some of their signature dishes in the rustic environment of a wood and stone chalet. Five course tasting dinner with wines, including cable car transport. Priced at £210 per person. 
Saturday 19 March: The gourmet tasting evening at the Grand Hotel Royal & Golf, home to local Italian Michelin starred chef Paolo Griffa, will showcase Tom Kerridge's and Paul Ainsworth's more elaborate UK signature dishes with a twist of the mountains and their unique approaches. The three chefs will collaborate by cooking a seven-course tasting dinner with wine pairings. Priced at £220 per person.  
Sunday 20 March: The gourmet atmosphere in Courmayeur continues in the resort's high level restaurants where local chefs enhance traditional dishes, using the highest quality raw materials, new ingredients, and innovative cooking techniques.
There will be no shortage of professional mixologists in the fashionable club district of Via Roma and on the slopes of Courmayeur, where you can taste many signature and classic cocktails.
Courmayeur is situated on the Italian side of Mont Blanc and is a traditional resort full of history and charm and surrounded by spectacular scenery.
The centre of the village is car-free and offers a variety of shops, world-class restaurants and bars, a choice of accommodation for all budgets, and an après-ski scene.
Courmayeur has earned quite a reputation among foodies. Highlights include the local Valle d'Aosta cuisine, local Mont Blanc wines, an abundance of local produce and traditional, alpine dishes.
Courmayeur is ideal for skiers and non-skiers alike with a wide range of activities on offer including snowshoeing and fat biking – as well as plenty of experiences for families and foodies alike.  
For more information on Courmayeur Mont Blanc, please visit: www.courmayeurmontblanc.it/en
For more information on Grand Hotel Royal & Golf, please visit: www.hotelroyalegolf.com/en
For more information and bookings for the Mountain Gourmet Ski Experience please visit: https://momentumski.com/gourmet-ski
---
‹ Latest ski offers for this season
Chamonix hosts new event for all lovers of ski touring and epic descents ›
---
Categories: Italy