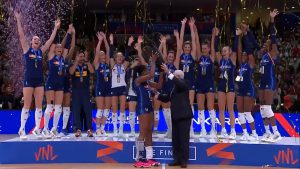 Serbia celebrate their first VNL medal
Italy triumphed with their first women's Volleyball Nations League title. In Sunday's final in Ankara, the reigning European champions hammered out a 3-0 (25-23, 25-22, 25-22) win over Brazil and left the South Americans with a third consecutive VNL silver. Earlier on Sunday, Serbia made their first-ever VNL podium after winning the bronze medal match, also in straight sets. The reigning world champions bounced back from their semifinal loss to Brazil on Saturday and claimed a hard-fought 3-0 (27-25, 25-17, 26-24) victory over Finals hosts Türkiye.
https://rb.gy/roje9n
Italian star opposite Paola Egonu once again led her team as the best scorer of the final match. This time she tallied 21 points, including three blocks, towards the three-set victory. Outside hitter Caterina Bosetti added another 11. Opposite Kisy Nascimento was Brazil's best scorer on 14 points, followed by captain Gabriela Guimaraes on 11.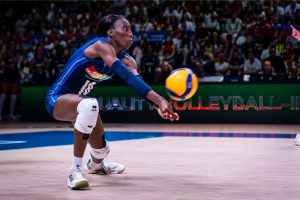 A five-point run, including three kills by Egonu and a block by middle Cristina Chirichella, helped Italy open an early 10-3 lead in the first set. Brazil scored some great points trying to get back on track, like an ace by middle blocker Ana Carolina Da Silva for 17-13, or an overpass kill by Gabi for 23-20, but what could have really served as a momentum changer was a three-point series with an ace from Gabi and monster blocks from Kisy and Carol for 23-22. However, it was still not enough to completely catch up. Italian middle Anna Danesi took advantage of a free ball mistake on the opponents' side to hammer the overpass for a 24-22 set point. Two serving errors later, the set was over at 25-23 Italy's way.
The second set was quite close until Bosetti's gentle touch widened the margin to three, 12-9 for Italy. Shortly after, great hits through the middle by Danesi and Chirichella and a couple of spiking errors by Brazil in between extended the lead further from 12-10 to 16-10. Once again, Brazil kept fighting to partially close that gap, but were never able to recover completely. Egonu attacked between the blocker's hands to bring in set point at 24-21. A rally later, sub-in setter Ofelia Malinov surprised Brazil with a ball over on two to close the set at 25-22.
Italy were able to break away again right after the technical timeout in the third set, which came at 12-11 Brazil's way. A solid hit by outside Elena Pietrini was followed by kill blocks from Egonu and Danesi and a successful swing from Bosetti for 15-12. With sub-in Ana Cristina de Souza pumping additional fuel to the Brazilian offence, the South Americans were able to battle their way back to a 20-20 level. However, that was as far as the Italians would let them go. They regained control of the scoreboard. Egonu's off-the-block hit delivered the match point at 24-22 and Chirichella produced the match winner with a monster block for 25-22.
https://youtu.be/H37Lfp_Tm64
"I'm really happy! We did it as a group. We still have a long way to go, but we are happy with this great result. All of my teammates were great and the staff had a well-prepared technical plan, which worked out really well."
Alessia Orro, setter of Italy
https://www.instagram.com/p/CgHYzmrNi7i/
As Serbia shut out Türkiye in the bronze medal game, their outside hitter Sara Lozo was on fire with a 62% success rate in attack and a kill block towards a 19-point match high, followed by cross-court teammate Bianka Busa with 14 points and opposite Ana Bjelica with 12. Turkish opposite Ebrar Karakurt was her team's most prolific player with 14 points, while middle blocker Zehra Gunes added another 13, including five blocks.
Serbia rejoice with the VNL 2022 bronze medals
The lead went back and forth several times during a hard-fought first set, but the gap never got wider than two points. Even after captain Eda Erdem crowned a four-point Turkish run with an ace, the score was 18-16 Türkiye's way. Soon after, Busa took advantage of a strong serve to hit the overpass for a 22-20 Serbian lead. Moments later, she spiked off the block to bring set point at 24-22. Two points in a row by Erdem levelled it at 24-24. She scored again to deny the next Serbian set point as well, but even that was not enough. Lozo's successful attack delivered the next opportunity for Serbia to close the set and they did with setter Bojana Drca's ace for 27-25.
A three-point Serbian series early into the second set was highlighted by a kill block from middle Jovana Stevanovic for 6-2. She attacked successfully for another break point to extend it to 12-7. Serbia continued to dominate on the court, spearheaded by Lozo's swings, which contributed seven points towards the set win, including the one that brought up set point at 24-16 and the one that converted it to a 25-17 close.
Four points in a row for Serbia – a swing by Lozo, a double block by Lozo and Maja Aleksic, another swing by Lozo and a spike out of bounds by Karakurt – opened a five-point gap at 11-6 in set three. It did not take long for Türkiye to get back to within one (13-12), but it took them all the way to 19-19 to catch up after points from Meryem Boz and Gunes. A monster block by Gunes put them in the lead at 22-21 and a successful hit by Karakurt gave them a 24-23 set point. Two kills in a row by Lozo turned the tables again as Serbia reached match point. Their captain Ana Bjelica can take all the credit for the match winner as she cleverly pulled her hands out of the ball's way from Hande Baladin's long shot for 26-24 and the victory.
https://youtu.be/hiDLzgnqLlo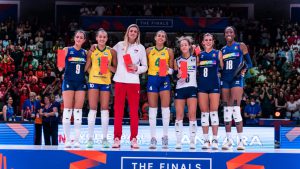 Seven great players named on the VNL 2022 Dream Team
Italian opposite Paola Egonu added another well-deserved individual award to her ever-growing collection of athletic honours. After leading her team to a historic Volleyball Nations League title, the 23-year-old star was named Most Valuable Player of the VNL 2022 Finals. The seven players of the VNL Dream Team were honoured during the Awarding Ceremony after the final match on Sunday in Ankara.
Best Setter: Alessia Orro (Italy)
Best Opposite: Paola Egonu (Italy)
Best Outside Hitters: Caterina Bosetti (Italy) and Gabriela Guimaraes (Brazil)
Best Middle Blockers: Jovana Stevanovic (Serbia) and Ana Carolina Da Silva (Carol) (Brazil)
Best Libero: Monica De Gennaro (Italy)
Egonu was by far the best scorer of the Finals with a total of 83 points over the three matches played, 30 clear at the top of the ranking. Her tally included 72 spikes, six blocks and five aces. She was the leading point-maker in each of Italy's three games at the Finals in Ankara, contributing 36 points to the quarterfinal win over China, 26 to the semifinal victory over Türkiye and 21 to the triumph over Brazil in the final. The 1.93m-tall opposite also topped the best attackers chart with a 47.06% success rate.
"I am super happy and proud of us, because it's the first time winning the VNL. Now we can finally go on vacation! As I always say, I can get a player award, but what's more important is that I am happy we work together as a team. I am proud to have been chosen to wear an equality jersey and represent something this important! I hope we can continue with that…"
Paola Egonu, opposite of Italy, VNL 2022 gold medallist and MVP
FINAL STANDING
Italy

Brazil

Serbia

Turkiye

United States

China

Japan

Thailand

Dominican Republic

Germany

Netherlands

Canada

Poland

Bulgaria

Belgium

Korea
Related links of AVC
AVC Website: click www.asianvolleyball.net
AVC Facebook: click www.Facebook.com/AsianVolleyballConfederation
AVC Twitter: click: www.twitter.com/AsianVolleyball
AVC Instagram: click: https://www.instagram.com/avcvolley/?hl=en
AVC Youtube: click: Asian Volleyball Confederation
AVC WeChat: Asian Volleyball Confederation