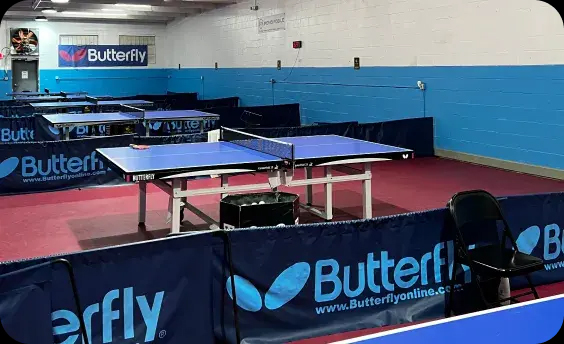 (by Steve Hopkins)
With three league nights each week, open play, tournaments, camps for kids and adults and coaching opportunities, Washington DC Table Tennis Center something for everyone.  The 5,000 square foot dedicated table tennis facility has 10 professional Butterfly tables and 2 robots on wood flooring.  In addition, there is a lounge with chairs, tables, TV, Wi-Fi Internet, a microwave oven, snacks, and drinks. The lounge overlooks the playing area so family and friends can relax while watching. There is ample parking and easy access to public transportation.  Coaches Khaleel Asgarali and Martin Jezo can help with group or private lessons.
WDCTT is located on Chillum Place in the NW section of Washington, DC with easy access to public transportation and the red line.  WDCTT is the only full-time table tennis center our Nation's Capitol. The location is convenient across the whole region, including being just four miles from the University of Maryland campus in College Park.
Table Tennis is a lifetime sport. There are no age, gender or physical barriers. You can play at 3 years old or over 100 years old. You can play anytime in any weather condition. It can be a fun basement family activity, or a serious Olympic sport. It is easy to start, but difficult to master so players can continue to improve throughout their whole lives. It is the safest, fastest, and best brain sport in the world. It improves hand-eye coordination, sharpens reflexes, stimulates mental alertness and extends concentration abilities. These are key traits to be successful in all fields of life. If you want to live long and be strong, come play table tennis.  What better place to play than the Washington DC Table Tennis Center.
Every Day: 5:00 am to 11:00 pm
Location: 6403 Chillum Pl, NW, Washington DC 20012
Contact: www.wdctt.com  |  asgarali.wdctt@gmail.com  |  202-428-8364
Share the post "WAB Club Feature: Washington DC Table Tennis"