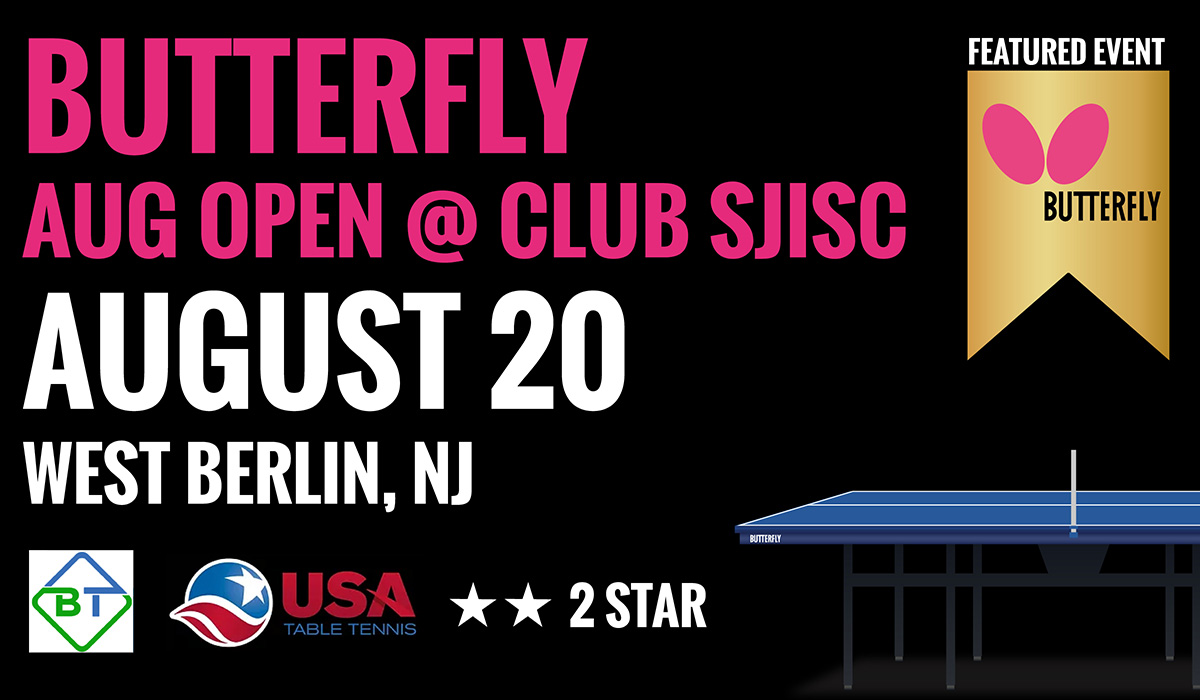 South Jersey Indoor Sports Center
545 RTE-73, West Berlin, NJ-08091 609-760-5396
All matches are played for 11 points and 3 out of 5 games. Top 2 from each group will move to next round, if the group is split. Tournament director reserves right to change draw limit depending on # of players. USATT dress code enforced . Players must be USATT members and Non-Members may join USATT with their entry.
Format:
M= Medal, T=Trophy, RR = Round Robin, SE = Single Elimination
Ratings from the USATT as of 08/18/2022 will be used for events
Referee:
Chris Lehman [IR/IU]
Umpires:
Marius Wechsler [CU], Randy Stoddard [CU], Lalit Patel [CU].
Tournament Director:
John Wooten
Club equipment:
Butterfly Euroapa25 (14tables), R40+ balls, Vinyl flooring
Entry deadline:
Entry fees must be paid by Aug 19, 2022.
Event Cancellation: The committee reserves the right to cancel the tournament or modify the format based on the number of entries. Entries in events may be limited.
Unrated Players: May advance if they get evaluated 30 min prior to their event to receive an estimated rating by designated professional at the venue.
Refund Policy: Withdrawal needs to be made by the entry deadline or entry fee will be forfeited.
Registration Options:
Option#1 – Visit Omnipong.com to enter the tournament and pay online
Entry Form
Option#2 – Email us following information to SJISCTournaments@gmail.com
First, Last Name, USATT Member# Rating, Email address, Home Club, Total # of events
Share the post "Butterfly Open @ Club SJISC – Aug 20, 2022"