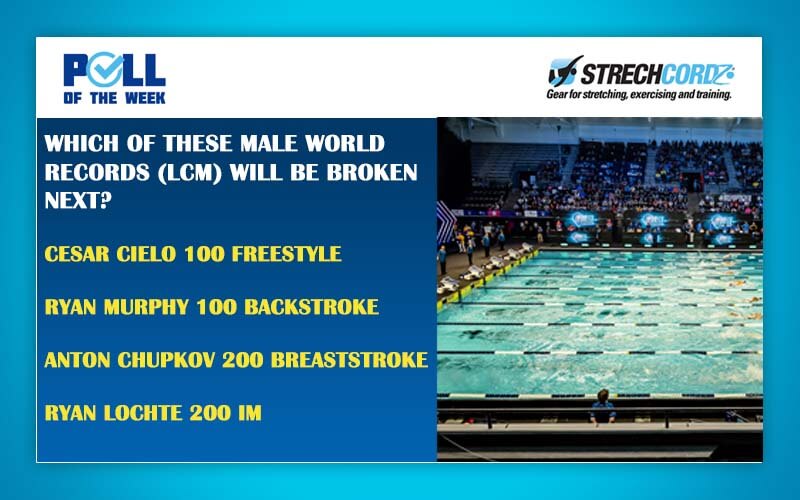 This is the Swim Poll of the Week for Friday, October 8, 2021, sponsored by Strechcordz Swim Training Products. In our last poll, we wanted to know: Which of these male world records (LCM) will be broken next?
The four options in the discussion were Cesar Cielo's 46.91 in the 100 freestyle from the 2009 World Championships, Ryan Murphy's 51.85 in the 100 backstroke from the 2016 Olympics, Anton Chupkov's 2:06.12 in the 200 breaststroke from the 2019 World Championships and Ryan Lochte's 1:54.00 in the 200 IM from the 2011 World Championships. The men's event list has many events with long-lasting world records, including some marks belonging to Michael Phelps, Aaron Peirsol and Paul Biedermann, but these four records have been challenged much more in recent years.
Caeleb Dressel has been the closest to Cielo's record, with a 46.96 American record back in 2019 and a quick time of 47.02 this year, and Kyle Chalmers is not far away either at 47.08. Zac Stubblety-Cook, the Olympic gold medalist in the 200 breast, almost broke Chupkov's world record earlier this year, and 100 back gold medalist Evgeny Rylov dipped under 52 as he led a Russian 1-2 in the 100 back at the Tokyo Olympics. However, no one has been within a second of Lochte's 200 IM world record since 2016.
So which of these records do Swimming World readers foresee going down the soonest?
https://www.youtube.com/watch?v=XNbWYdd8cBU?version=3&rel=1&showsearch=0&showinfo=1&iv_load_policy=1&fs=1&hl=en-US&autohide=2&wmode=transparent
Swim Poll of the Week: Which of these male world records (LCM) will be broken next?

Cesar Cielo, 100 freestyle (46.91) — 34%
Ryan Murphy, 100 backstroke (51.85) — 23%
Anton Chupkov, 200 breaststroke (2:06.12) (55.48) — 27%
Ryan Lochte, 200 IM (1:54.00) — 13%
---
Show how special you are and become a member of the International Swimming Hall of Fame's "One In A Thousand" Club. Help keep the International Swimming Hall of Fame moving forward toward a new vision and museum by joining now.
Related
setTimeout( function () {
!function(f,b,e,v,n,t,s){if(f.fbq)return;n=f.fbq=function(){n.callMethod? n.callMethod.apply(n,arguments):n.queue.push(arguments)};if(!f._fbq)f._fbq=n; n.push=n;n.loaded=!0;n.version='2.0';n.queue=[];t=b.createElement(e);t.async=!0; t.src=v;s=b.getElementsByTagName(e)[0];s.parentNode.insertBefore(t,s)}(window, document,'script','https://connect.facebook.net/en_US/fbevents.js');
// init window.fbq('init', '1467300236903193');
// track window.fbq('track', 'ViewContent', { category: 'partner', subcategory: 'swimworld', domain_name: location.host, });
window.fbq('track', 'PageView');
}, 2000);