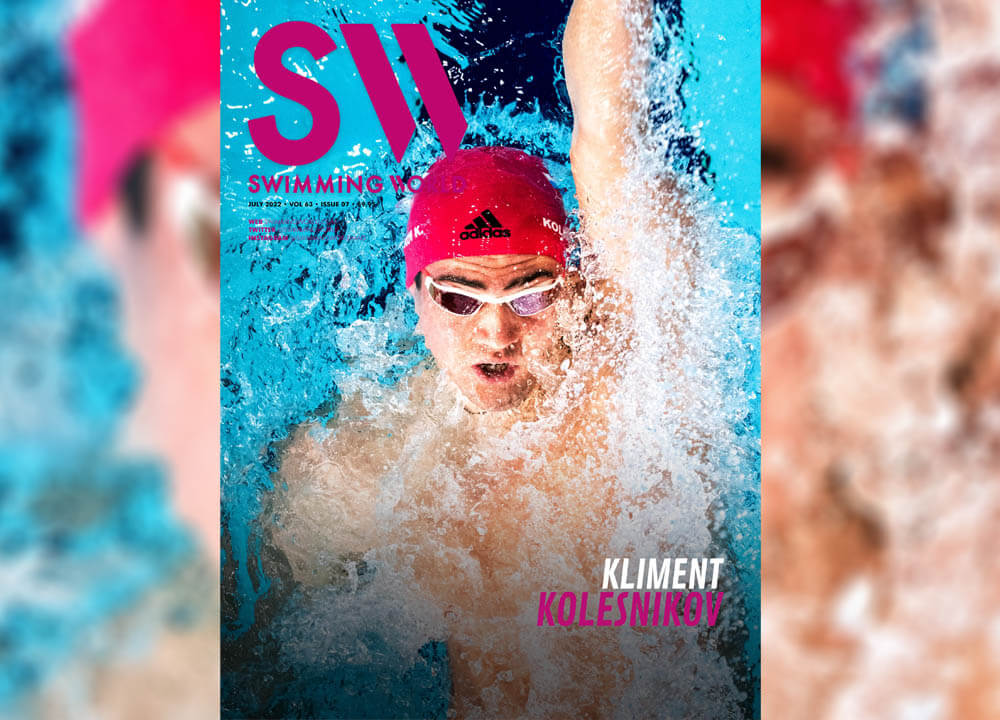 The latest issue of Swimming World Magazine
is now available for download in the Swimming World Vault!
Non-Subscribers Can Download This Issue Here
In this issue of Swimming World, read about Russia's Kliment Kolesnikov. Because of Russia's invasion of Ukraine, FINA banned all Russian swimmers from international competition through the end of 2022, so the two-time Olympic medalist will spend 2022 focused on his training. Also featured is Mary T. Meagher's historic 1981 world record in the 200m butterfly; Mental health in swimming; The evolution of two years of progress for the Nevada Swim Club Sandpipers; Dealing with Dismay (Part 2); The effect of velocity and technique on resistance; Special Sets with Daniel Matheson and Kevin Zacher; Q&A with U.S. Naval Academy Coach Bill Roberts; How They Train with Midshipman Caleb Mauldin; Dryland exercises for the summer shift to power and speed; Up and Comer Peter Shih of the Scottsdale Aquatic Club; The 2022 Aquatic Directory; and much more!

---
[Photo Courtesy: Giorgio Scala/Deepbluemedia/Insidefoto ]
Get Swimming World Magazine and Swimming World Biweekly FREE When You
Become A Member of the International Swimming Hall of Fame
New! 30 Day Membership to ISHOF AND Digital Swimming World Subscription for just $10 a month!
Want more? Get a 1 Year ISHOF Family Membership With Swimming World Print AND Digital Subscription
Order Now!
Non-Subscribers can click here to download this issue for only $5.94
FEATURES
010 WORLD RECORD FLASHBACK: MARY T. MEAGHER—HER LEGACY LIVES ON
by John Lohn
In Swimming World's latest edition of "World Record Flashback," we examine the historic 1981 world record of Mary T. Meagher in the 200 meter butterfly. When Madame Butterfly clocked 2:05.96 at the United States National Championships, she produced a standard that was years—even decades—ahead of its time.
012 MENTAL HEALTH IN SWIMMING
by Matthew De George
Mental health isn't a new topic for athletes, just like it isn't new for any group that hits a headline for grappling with emotional and psychological challenges. But the difference in recent years is the willingness to shine a light on it.
016 ONLY IN VEGAS
by Dan D'Addona
The evolution of the Sandpipers of Nevada Swim Club has grown exponentially in the last two years in true Las Vegas style—from a long shot to a sure thing.
018 NUTRITION: WATERMELON—MORE THAN A FRUIT!
by Dawn Weatherwax
Watermelon is the third largest fruit produced in the world. It is rich in potassium, vitamin C, vitamin A and magnesium—a nutrient-dense fruit that provides many benefits.
026 DISAPPOINTMENT = POTENTIAL OPPORTUNITY
by David Rieder
Because of Russia's invasion of Ukraine, FINA banned all Russian swimmers from international competition through the end of 2022, preventing them from competing in this summer's World and European Championships. Instead, former world record holder (50 back) and two-time Olympic medalist Kliment Kolesnikov will spend 2022 focused on his training, "preparing for future meets to show that I can be even faster."
COACHING
021 DEALING WITH DISMAY (Part 2)
by Michael J. Stott
Last month, Swimming World took a macro look at coach-and-swimmer reaction to disappointing performances. In this installment, we explore how some of the country's most respected coaches handle that experience.
024 SWIMMING TECHNIQUE CONCEPTS: THE EFFECT OF VELOCITY AND TECHNIQUE ON RESISTANCE
by Rod Havriluk
Water resistance (i.e., resistive force, also called drag) presents a huge obstacle to competitive swimmers. The magnitude of the effect of swimming velocity and technique on resistance emphasizes the importance of these factors on swimming performance. Conveniently, the drag equation calculates resistance based on both velocity and technique (as measured by the drag coefficient and the cross-sectional area of the body that is perpendicular to the flow of water).
040 SPECIAL SETS: DANIEL MATHESON/KEVIN ZACHER—AQUATIC EVOLUTION OF COACH AND SWIMMER
by Michael J. Stott
This month's "Special Sets" features Santa Clara swimmer, Daniel Matheson, now at USC, and tracks former Scottsdale coach Kevin Zacher's development as a coach before and while working with Matheson.
043 Q&A WITH COACH BILL ROBERTS, U.S. NAVAL ACADEMY
by Michael J. Stott
044 HOW THEY TRAIN CALEB MAULDIN
by Michael J. Stott
Submarine posting may be known as the silent service, but there was nothing quiet about Midshipman Caleb Mauldin's performances while swimming for the Naval Academy. Mauldin completed his academic time in Annapolis with impressive showings at February's Patriot League Championships, helping the Middies win for the 18th straight year.
TRAINING
023 DRYSIDE TRAINING: SUMMER SHIFT TO POWER & SPEED
by J.R. Rosania
With the onset of summer, training has begun the shift to power and speed in the weight room. Now's the time to zero in on explosive and fast movements. Here are some exercises that will help that process.
JUNIOR SWIMMER
046 UP & COMERS: PETER SHIH
by Shoshanna Rutemiller
COLUMNS & SPECIAL SECTIONS
008 A VOICE FOR THE SPORT
009 DID YOU KNOW: ABOUT SOICHI SAKAMOTO?
015 THE OFFICIAL WORD
028 2022 AQUATIC DIRECTORY
047 GUTTERTALK
049 PARTING SHOT
Swimming World is now partnered with the International Swimming Hall of Fame.
To find out more, visit us at ishof.org
setTimeout( function () {
!function(f,b,e,v,n,t,s){if(f.fbq)return;n=f.fbq=function(){n.callMethod? n.callMethod.apply(n,arguments):n.queue.push(arguments)};if(!f._fbq)f._fbq=n; n.push=n;n.loaded=!0;n.version='2.0';n.queue=[];t=b.createElement(e);t.async=!0; t.src=v;s=b.getElementsByTagName(e)[0];s.parentNode.insertBefore(t,s)}(window, document,'script','https://connect.facebook.net/en_US/fbevents.js');
// init window.fbq('init', '1467300236903193');
// track window.fbq('track', 'ViewContent', { category: 'partner', subcategory: 'swimworld', domain_name: location.host, });
window.fbq('track', 'PageView');
}, 2000);