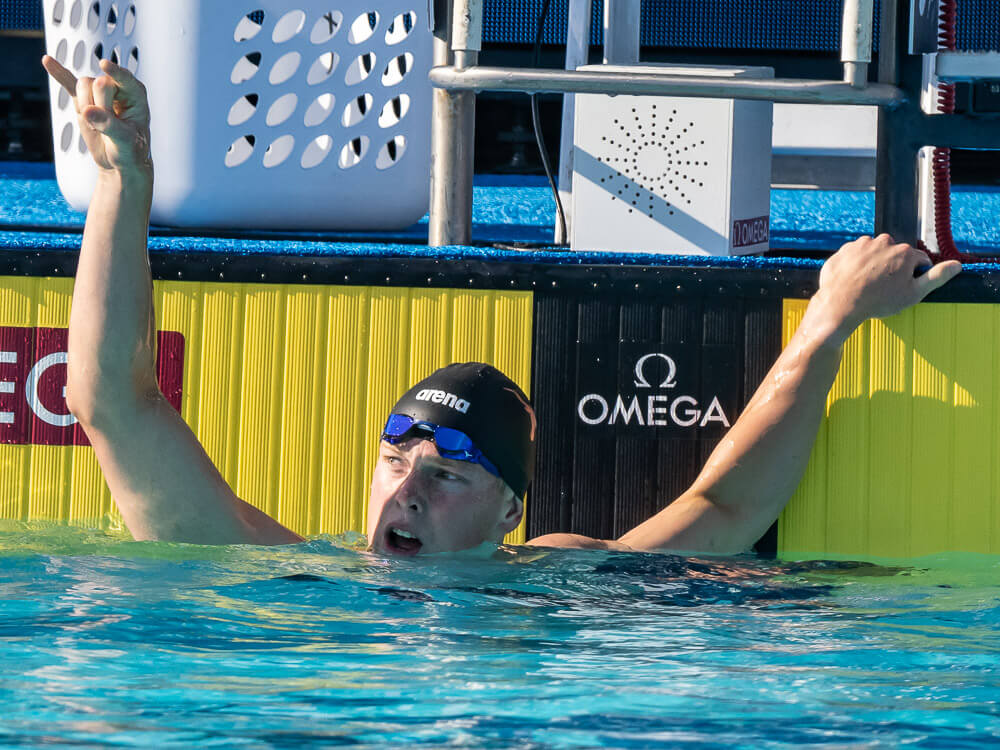 Luke Hobson Soars to No. 2 All-Time Among Americans in Short Course 400 Freestyle
Earlier this week, David Johnston took advantage of his visitor status at the Australian Short Course Championships to set an American record in the short-course version of the 800-meter freestyle. On Friday night, it was Luke Hobson who made a run at United States history in Sydney.
En route to victory in the 400 freestyle at the Sydney Aquatic Centre, Hobson clocked a time of 3:35.67, which ranks as the No. 2 performance in history by an American. Only Peter Vanderkaay has been faster, thanks to his 3:34.81 effort at the Japan Open in 2009. After competing in the Duel in the Pool, Hobson decided to stay in Sydney and get in additional racing. After the meet, he'll return to the University of Texas for his sophomore season.
Hobson has emerged as a bright hope for the United States in the middle-distance freestyles. A little less than two years shy of the 2024 United States Olympic Trials, Hobson is one of the main names in the conversation for a bid to the next Olympic Games in Paris. Earlier this summer, Hobson was the titlist in the 200 freestyle at the United States Nationals. More, he went 1:45 in the event at the Duel in the Pool.
During his win in the 400 freestyle, Hobson finished comfortably ahead of Aussie Mack Horton, who touched the wall in 3:37.94, more than two seconds back of the American.
Meet Results
setTimeout( function () {
!function(f,b,e,v,n,t,s){if(f.fbq)return;n=f.fbq=function(){n.callMethod? n.callMethod.apply(n,arguments):n.queue.push(arguments)};if(!f._fbq)f._fbq=n; n.push=n;n.loaded=!0;n.version='2.0';n.queue=[];t=b.createElement(e);t.async=!0; t.src=v;s=b.getElementsByTagName(e)[0];s.parentNode.insertBefore(t,s)}(window, document,'script','https://connect.facebook.net/en_US/fbevents.js');
// init window.fbq('init', '1467300236903193');
// track window.fbq('track', 'ViewContent', { category: 'partner', subcategory: 'swimworld', domain_name: location.host, });
window.fbq('track', 'PageView');
}, 2000);