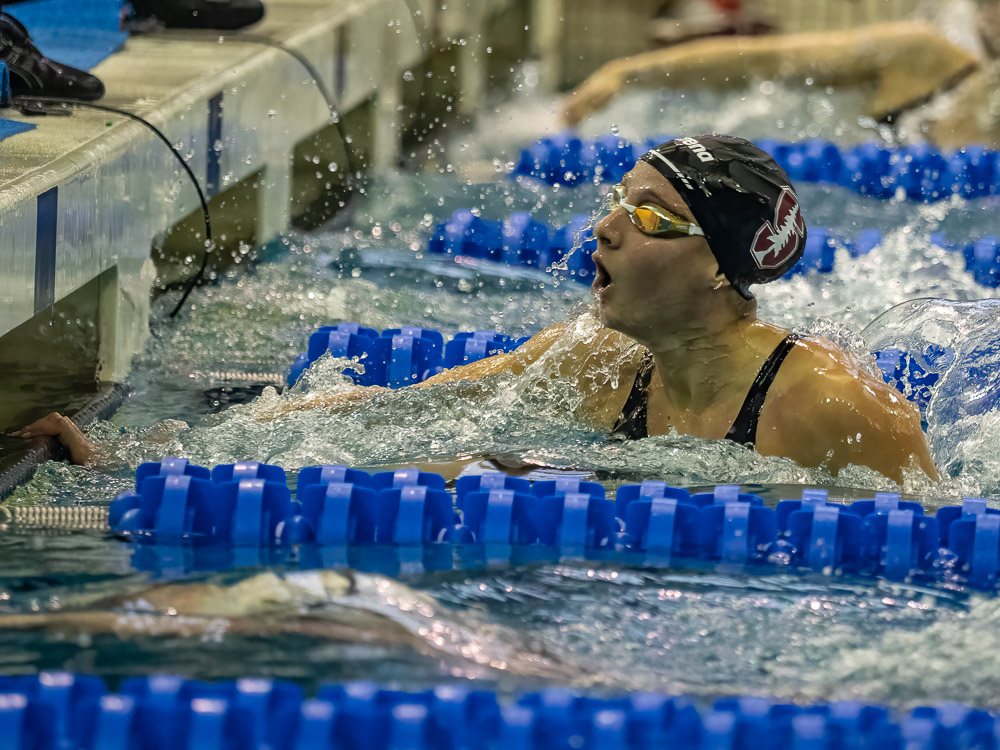 Lia Thomas, Brooke Forde Among 2022 NCAA Woman of the Year Nominees
NCAA champion Lia Thomas and American Olympian Brooke Forde were among the nominees for the 2022 NCAA Woman of the Year, released Thursday.
The duo is among 577 graduating student-athletes in Division I, II and III nominated for the award. Schools nominate their athletes for the award, and conferences select up to two from each school. The preliminary list will be narrowed down to 10 athletes from each division, 30 in total. The Woman of the Year award was created in 1991, honoring "female student-athletes who have exhausted their eligibility and distinguished themselves in their community, in athletics and in academics throughout their college careers." This year's class of nominees coincides with the 50th anniversary of Title IX.
The 2022 NCAA Woman of the Year will be named at the NCAA Convention in January 2023 in San Antonio, Texas.
Among the nominees are 50 aquatic athletes, with 46 swimmers and five water polo players (one, UC San Diego's Ciara Franke, does both).
Some of the most notable nominees are:
Thomas, the NCAA champion in the 500 free and a transgender woman who the subject of controversy throughout the season.
Forde, a Stanford grad who won a silver medal in the 800 freestyle relay at the Tokyo Olympics.
Sarah Bacon, a five-time NCAA champion diver at the University of Minnesota
Delaney Schnell, a diver at the University of Arizona who won a silver medal for the United States at the Tokyo Olympics in the 10-meter synchro
Emily Sweet, the Bentley swimmer nominated for the Honda Inspiration Award
Crile Hart of Kenyon, a Honda Award Finalist in Division III
The list of aquatics nominees are below, and the full list is available here.
NCAA Woman of the Year Nominees
Division I
Sarah Bacon, University of Minnesota, Big Ten
Autumn D'Arcy, Cal State Bakersfield, Mountain Pacific Sports Federation
Hanna Everhart, Duquesne, Atlantic 10
Brooke Forde, Stanford, Pac-12
Ciara Franke, UC San Diego, Big West (also water polo)
Riley Gaines, Kentucky, SEC
Sara Gendron, Bryant, Northeast Conference
Sydney Harrington, Navy, Patriot League
Elena Kotanchyan, Long Beach State, Big West (water polo)
Susan Elizabeth LaGrand, Oakland, Horizon League
Kara McCurdy, Providence, Big East
Anna Metzler, New Hampshire, America East
Madelyn Moore, University of Northern Carolina, Western Athletic Conference
Emily Nicholson, Fresno State, Golden Coast Conference (water polo)
Emma Nordin, Arizona State, Pac-12
Felicia Pasadyn, Harvard, Ivy League
Kathryn Power, Houston, AAC
Tara Prentice, UC-Irvine, Big West (water polo)
Mariana Roge Ferreira Duarte, University of the Pacific, Golden Coast Conference (water polo)
Delaney Schnell, Arizona, Pac-12
Sienna Senn, Davidson, Atlantic 10
Kate Steward, Kansas, Big 12
Camryn Streid, Cincinnati, AAC
Lia Thomas, Penn, Ivy League
Sarah Thompson, Missouri, SEC
Georgia Vargas, Siena, Metro Atlantic Athletic Conference (water polo)
Division II
Kaitlyn Agger, Wingate University, South Atlantic Conference
Savannah Brennan, Florida Institute of Technology, Sunshine State Conference
Johanna Buys, University of Indianapolis, Great Lakes Valley Conference
Elizabeth Caird, Saginaw Valley State, Great Lakes Intercollegiate Athletic Conference
Anna Miram, Wingate University, South Atlantic Conference
Grace Sill, Florida Southern, Sunshine State Conference
Emily Sweet, Bentley, Northeast-10
Kayla Tennant, Queens University of Charlotte, South Atlantic Conference
Division III
Claudia Barnett, Washington & Lee, Old Dominion Athletic Conference
Zoe Chan, College of New Jersey, New Jersey Athletic Conference
Molly Craig, Williams College, New England Small College Athletic Conference
Lydia DaCorte, Wheaton (Mass.) College, New England Women's and Men's Athletic Conference
Maddie Ford, Connecticut College, New England Small College Athletic Conference
Ellen Gilbert, Illinois Wesleyan, College Conference of Illinois and Wisconsin
Clio Hancock, Emory, University Athletic Association
Mary Hufziger, Tufts, New England Small College Athletic Conference
Macy Klein, St. Catherine, Minnesota Intercollegiate Athletic Conference
Sophie Lear, Ursinus, Centennial Conference
Drew Lei-Alerta, Sarah Lawrence, Skyline Conference
Madelynn Marunde, Augustana (Ill.) College, College Conference of Illinois and Wisconsin
Emmerson Ann Mirus, Kenyon, North Coast Athletic Conference
Kathryn Murphy, Mount Holyoke, New England Women's and Men's Athletic Conference
Valery Piachonkina, Austin College, College Water Polo Association (water polo)
Anna Pilecky, University of Wisconsin-Stevens Point, Wisconsin Intercollegiate Athletic Conference
Jesse Stovall, Southwestern (Texas) University, Southern Collegiate Athletic Conference
Jessica Touve, Bridgewater (Va.) College, Old Dominion Athletic Conference
setTimeout( function () {
!function(f,b,e,v,n,t,s){if(f.fbq)return;n=f.fbq=function(){n.callMethod? n.callMethod.apply(n,arguments):n.queue.push(arguments)};if(!f._fbq)f._fbq=n; n.push=n;n.loaded=!0;n.version='2.0';n.queue=[];t=b.createElement(e);t.async=!0; t.src=v;s=b.getElementsByTagName(e)[0];s.parentNode.insertBefore(t,s)}(window, document,'script','https://connect.facebook.net/en_US/fbevents.js');
// init window.fbq('init', '1467300236903193');
// track window.fbq('track', 'ViewContent', { category: 'partner', subcategory: 'swimworld', domain_name: location.host, });
window.fbq('track', 'PageView');
}, 2000);