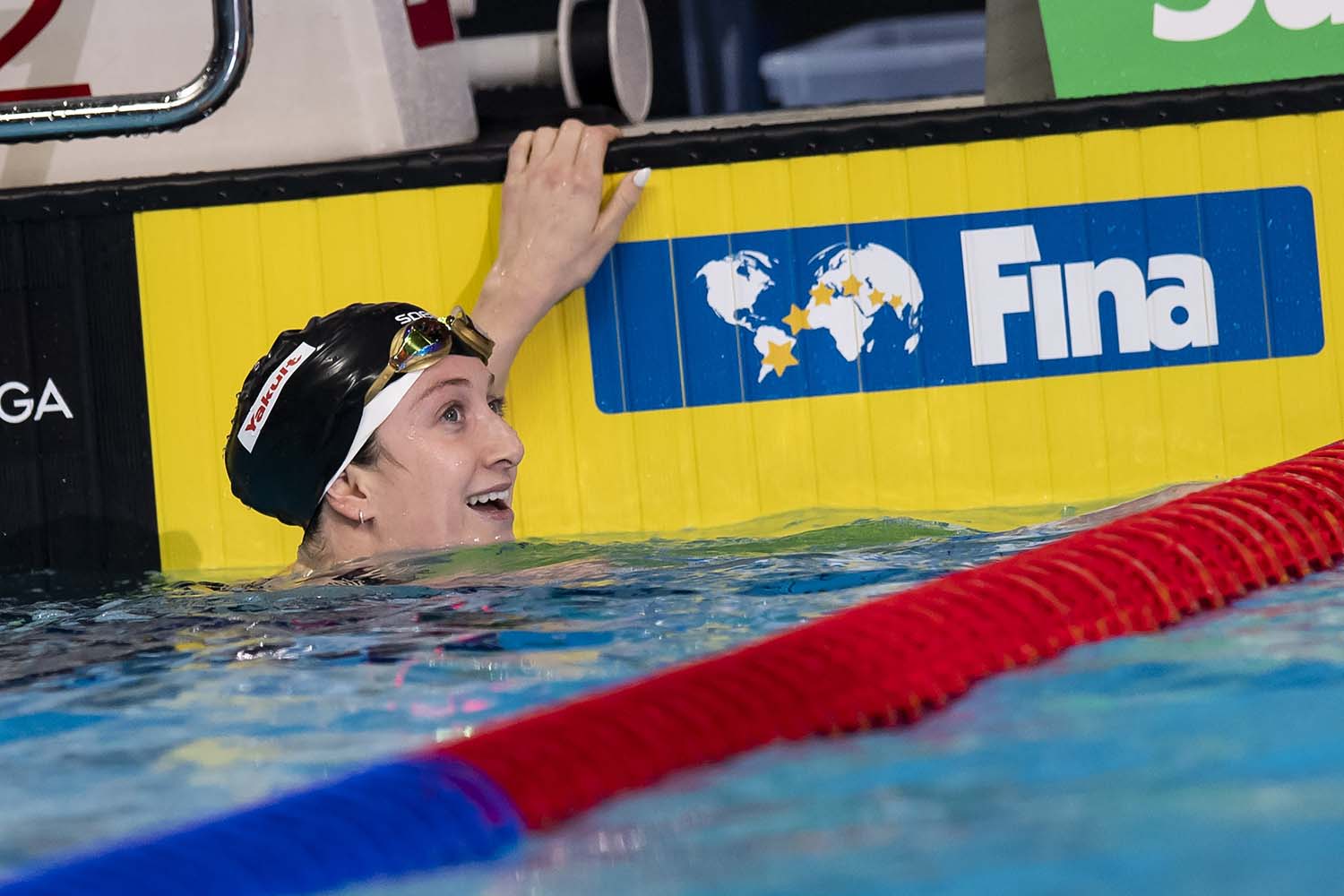 U.S. National Team member and 2021 Short-Course World Champion Emily Escobedo announced her retirement as a competitive swimmer on Sunday.
Escobedo will begin her career as a special ed preschool teacher this fall.
She made the announcement on social media.
"For the past 20 years, swimming has been my life & has been my greatest blessing. I wouldn't be who I am today without this sport & the people that came with it. I am grateful for the coaches who became mentors, the teammates who became family, and the experiences that hold some of my favorite memories," Emily Escobedo posted. "From Davenport, to Riptides, to Condors. From UMBC to the US National Team. From NYAC to the NY Breakers to the Cali Condors, I am thankful to all those I met along the way.
"While this sport will always be my greatest love, I am so excited for my next chapter…Special Ed Preschool Teacher coming to you in September🍎Here's to retirement🥂🥹🤍"
As a five-time member of Team USA, Escobedo participated in several international meets. At the 2021 Short-Course World Championships, Emily Escobedo won the gold medal in the 200 breaststroke.
She nearly made the Olympic team in 2020, finishing just behind Lilly King and Annie Lazor in the 200 breaststroke. She was also eighth in the 100 breaststroke.
At the 2019 World University Games, she won the gold medal as part of the medley relay and was the silver medalist in the 200 butterfly. She finished third in the 200 breaststroke at the NCAA championships twice, and was fourth twice at USA Nationals.
She turned pro and competed in the International Swimming League (ISL) as a member of the Cali Condors and also the NY Breakers.
"I want to thank my family for their endless support & my teammates for believing in me, sometimes more than I believed in myself. I want to thank my coaches for helping me make it farther in this sport than I could ever have dreamed possible," Emily Escobedo posted. "Thank you to USA Swimming for bringing me on the journey of a lifetime."
setTimeout( function () {
!function(f,b,e,v,n,t,s){if(f.fbq)return;n=f.fbq=function(){n.callMethod? n.callMethod.apply(n,arguments):n.queue.push(arguments)};if(!f._fbq)f._fbq=n; n.push=n;n.loaded=!0;n.version='2.0';n.queue=[];t=b.createElement(e);t.async=!0; t.src=v;s=b.getElementsByTagName(e)[0];s.parentNode.insertBefore(t,s)}(window, document,'script','https://connect.facebook.net/en_US/fbevents.js');
// init window.fbq('init', '1467300236903193');
// track window.fbq('track', 'ViewContent', { category: 'partner', subcategory: 'swimworld', domain_name: location.host, });
window.fbq('track', 'PageView');
}, 2000);