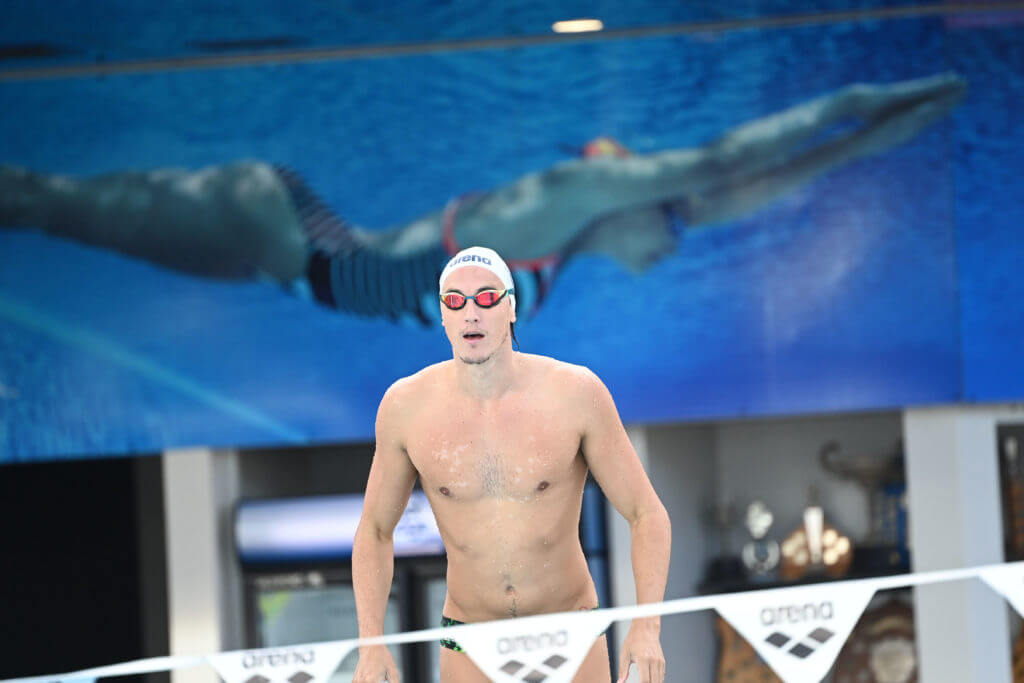 Sydney Sprints: Cam McEvoy is In The House After A Move To Sydney And The Famous Manly Swimming Club
Manly SC is a club steeped in Swimming Australia's long and proud history and it's no wonder there were a few eyebrows raised when the fields were released for this week's Sydney Sprints Meet and Australian Short Course Championships.
It included the name of one the world's fastest ever freestyle sprinters, triple Olympian Cam McEvoy, who will race in the Manly red, white and blue colours at the Sydney Olympic Park Aquatic Centre in the 50 metres freestyle.
It's an event where McEvoy still holds the Australian All-Comers Record at 20.75 – a time that ranks him in the All-Time Top 20 at 18th.
McEvoy also co-holds the Commonwealth record with Canada's Brent Hayden in the 200m freestyle at 1:40.80 and has a 100m time of 46.19.
At 28, the Gold Coaster has temporarily settled with his family in Manly where his father Rod, a former champion surf lifesaver with Queenscliff and Manly Lifesaving Clubs grew up.
And when McEvoy turned up at the Andrew "Boy" Charlton Swimming Centre for a swim he was noticed by Manly Surf Club's Australian ironman champion and squad member Kendrick Louis and the timing was perfect.
Manly head coach Justin Rothwell takes up the story.
"Cam actually turned up at the Manly Pool, he was down on the Northern Beaches with family and work and Kendrick actually reached out to me and said Cam McEvoy's in the pool why don't we try and get him to join the squad and jump in with the team," said Justin.
"So I sent Cam a message and he came back to me and said straight away if I can help out in any way then let me know.
"He said he was getting back into swimming and was just going to focus on the 50m freestyle – and said he's doing his own thing but he actually needed to join a club and asked if he could join Manly.
"He said he had a bit of history with the Manly area as his dad Rod is from Manly, he grew up down here and was a champion lifesaver and he asked if he could join the swimming club and compete at the Australian Short Course Championships and of course we welcomed him with open arms.
"Cam has been amazing around the pool and around the club and I actually asked him would he like to jump into a relay with the team this wrek and he said he would love to and would love to give back to the team at any opportunity he can so he's going to swim one of the mixed freestyle relays which our guys are really excited about it."
McEvoy will start his campaign with the budding Manly kids on day two of the meet tomorrow (Thursday night) in the Mixed 4x50m freestyle relay alongside exciting teenage trio Lille McPherson, 13, Josh Kerr, 16 and Georgina Seton 19 – for a moment the budding young stars (and their parents) are sure to cherish.
And while McEvoy is one of the oldest competitors, McPherson, who was just named swimmer of the meet at the recent School Nationals, is one of the youngest, who will line up in the 100m freestyle heat alongside Australia's most successful Olympic and Commonwealth Games medallist in Emma McKeon.
ABOUT MANLY SWIMMING CLUB: Manly Swimming Club is based at Andrew "Boy" Charlton Pool in the Metro North East region of Sydney, NSW and in 2020 celebrated its 115th season as a club. Strongly supported by the Northern Beaches Council and Head Coach Justin Rothwell, their squad size has increased from 40 swimmers in October 2018 to now servicing around 350 swimmers including pool, surf lifesavers and triathletes. Manly Swimming Club itself is made up of around 230 members.
Manly Swimming Club was established in 1905 and was initially based at the famous Manly Baths, which is where the Manly Skiff Club is currently located on the eastern side of Manly cove. An ocean baths where many world records set in that pool particularly in the 1920's-1930's – a time when swimming was so revered as a sport people would climb trees just to catch a glimpse of races – and where legendary Olympian and coach Harry Hay was the notable coach.
A number of Olympians have hailed from Manly SC; the majority of the Australian Olympic Team in the 1920s and 30s was made up of Manly swimmers. Names like Andrew Boy Charlton, John Devitt, Noel "Tiger" Ryan, Cecil Healy, and open water legend John Koorey (1st Australian male to swim the English channel) are just a few high-profile Australian swimmers who are a part of Manly SC's rich history.
In fact the new indoor pool at the "Boy" Charlton pool is named in honour of Olympic champions John Devitt and Cecil Healy.
Fast forward to today, you will find Manly SC's members have earned spots on junior national teams, and numerous swimmers are competing at state and national events.
Head Coach Justin Rothwell ensures that all swimmers are provided with opportunity to train alongside swimmers of different age groups for growth and development purposes.
MANLY SWIMMING CLUB
GREATNESS STARTS SOMEWHERE
setTimeout( function () {
!function(f,b,e,v,n,t,s){if(f.fbq)return;n=f.fbq=function(){n.callMethod? n.callMethod.apply(n,arguments):n.queue.push(arguments)};if(!f._fbq)f._fbq=n; n.push=n;n.loaded=!0;n.version='2.0';n.queue=[];t=b.createElement(e);t.async=!0; t.src=v;s=b.getElementsByTagName(e)[0];s.parentNode.insertBefore(t,s)}(window, document,'script','https://connect.facebook.net/en_US/fbevents.js');
// init window.fbq('init', '1467300236903193');
// track window.fbq('track', 'ViewContent', { category: 'partner', subcategory: 'swimworld', domain_name: location.host, });
window.fbq('track', 'PageView');
}, 2000);