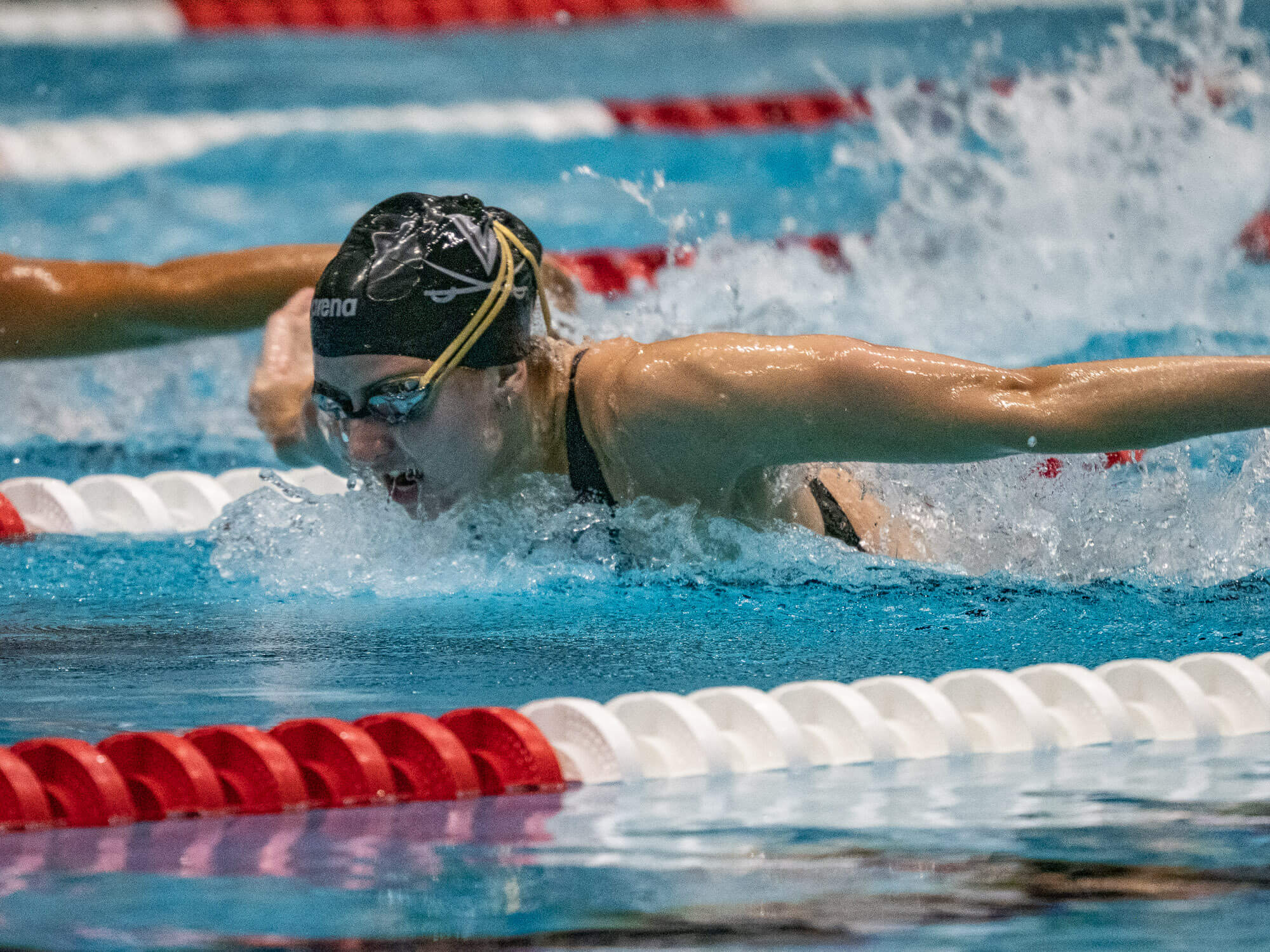 California and Virginia Compete in Unique Events in Day Two of Dual Meet
After a Friday evening dual meet where the reigning national champion Virginia women took down California while the Golden Bear men beat the Cavaliers, the two teams returned to Spieker Aquatic Complex Saturday for a meet with a unique twist. The unscored showdown included a mixed 400-yard relays, a two-race series for both the 300 free and 300 IM and skins elimination 50s of all strokes, similar to the races seen in the International Swimming League.
The meet opened with the Cal team of Hugo Gonzalez, Reece Whitley, Isabel Ivey and Elise Garcia winning the mixed 400 medley relay in 3:21.89, holding off the Virginia team of Gretchen Walsh, Noah Nichols, Max Edwards and Kate Douglass by just 0.17 as Douglass raced home in 47.44.
In the 300 IM series, Ella Nelson out-dueled teammate Emma Weyant in the first race 3:07.54 to 3:07.93, even as Weyant, the Olympic silver medalist in the 400-meter IM, closed in 27.52. In race two, Nelson dominated with a 3:05.95, leaving Cal's Alicia Wilson (3:08.43) and Weyant (3:08.90) in the dust. For the men's second race, Casey Storch of the Cavaliers was the winner in 2:49.99. Cal grabbed the wins in the first 300 freestyle for women and men, with Ayla Spitz taking the women's (2:50.89) and Chris Jhong the men's (2:37.80).
In the skins races, Virginia's Douglass won the women's butterfly, while Cal's Trenton Julian, the runner-up in the 200 fly at last year's NCAAs, took first in the men's. Cal's Isabelle Stadden and Virginia's Justin Grender won the backstroke skins for women and men, respectively. The Cavaliers swept breaststroke with Alexis Wenger and Noah Nichols coming out on top, and the freestyle winners were also from Virginia: Walsh and Matt King.
The meet-ending mixed 400 freestyle relay went the way of Virginia as King, Matt Brownstead, Walsh and Douglass swam to a time of 3:05.90, 1.36 seconds ahead of the top Golden Bears team (Bjorn Seeliger, Gonzalez, Ivey and Garcia).
Related
setTimeout( function () {
!function(f,b,e,v,n,t,s){if(f.fbq)return;n=f.fbq=function(){n.callMethod? n.callMethod.apply(n,arguments):n.queue.push(arguments)};if(!f._fbq)f._fbq=n; n.push=n;n.loaded=!0;n.version='2.0';n.queue=[];t=b.createElement(e);t.async=!0; t.src=v;s=b.getElementsByTagName(e)[0];s.parentNode.insertBefore(t,s)}(window, document,'script','https://connect.facebook.net/en_US/fbevents.js');
// init window.fbq('init', '1467300236903193');
// track window.fbq('track', 'ViewContent', { category: 'partner', subcategory: 'swimworld', domain_name: location.host, });
window.fbq('track', 'PageView');
}, 2000);