SailGP: Kiwis become first team to top both podiums at Great Britain Sail Grand Prix
by Miranda Blazeby, SailGP 17 Aug 18:35 PDT
18 August 2022

New Zealand SailGP Team F50 catamaran heads back to Technical Base after practice ahead of Bermuda SailGP, Season 3, in Bermuda. © Ricardo Pinto/SailGP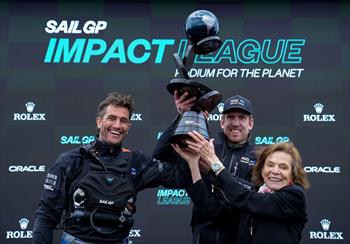 New Zealand SailGP Team co-helmed by Peter Burling and Blair Tuke at the presentation of the Impact League Trophy with Sylvia Earle (Marine Biologist, on right of frame) on Race Day 2 of San Francisco SailGP, Season 2 © Bob Martin/SailGP

New Zealand has become the first team to win both podiums at an event after topping the Impact League leaderboard at the Great Britain Sail Grand Prix.

The team, which is led by co-CEOs Pete Burling and Blair Tuke, triumphed with 176 points, while Canada picked up 171 and Switzerland took the Most Improved accolade with 169 points, up 33 from Chicago.

The results mean that New Zealand moves into the top spot on the overall Impact League leaderboard with 509 points – in prime position to repeat its Season 2 triumph. Denmark sits in close second with 505 points while Canada is in third with 498.

Speaking about the results, co-CEO Blair Tuke said: "Since joining the league it's been our ambition to top both podiums – so to be the first team to do so at an event is something we're hugely proud of.

"We innovate to be the best we can be on the water and off the water – striving to build a talented and diverse team, working to minimise the impact of our activities on land to reduce the effects on the ocean, and using our voice to drive action for the ocean and take this message to the world."

The total prize money of $25K will be divided between the three top teams and donated to their partners. New Zealand is awarded $13K for its partner Live Ocean, Canada picks up $7K for Ocean Wise and Switzerland wins $5k for the VI Foundation for being the most improved team.

Canada athlete Isabella Bertold said: "The Canada SailGP Team is continuously working to reduce our travel footprint as we compete in Season 3, while our partnership with Ocean Wise is helping us to amplify the importance of protecting and restoring our ocean. We encourage everyone to take up the #pickup3 challenge to help keep our ocean viable for future generations."

As the winning team, New Zealand is also awarded a Golden Crane Ticket – an on-water advantage that allows the winner of each event to adjust their crane slot assignment to suit their team's schedule and ultimately allow for more time on the water to train.

The Impact League is measured across 10 criteria, including travel and accommodation, food, and diversity, equality and inclusion, which are aligned to SailGP's targets to reduce its carbon footprint by 55%.

Key highlights during the Great Britain Sail Grand Prix saw New Zealand build a double ended wing sheet with the tech team, enabling the wing sheet to be reused instead of replaced. The double wing sheet was trialled on practice days and has now been approved for race days from Copenhagen, cutting down on the wing sheet material used by 50%.

Canada implemented a primarily remote working support team, cutting down on team members on site and transatlantic flights. Switzerland meanwhile welcomed Rory Mckinna, a disabled sailor, to the event. Rory helped the team with shore-side tasks as part of his role as an Inspire careers candidate.

Speaking about the results, SailGP's director of purpose and impact Fiona Morgan said: "It's fantastic to see New Zealand winning the double at an event for the first time – taking out both the racing and the Impact League titles to demonstrate that weaving sustainability into the fabric of sport doesn't come at the cost of performance.

"While the competition is tighter than ever before and teams are really pushing each other to challenge for the top spots, we're also seeing some amazing collaborations as teams work together to come up with sustainable initiatives which is exactly what the Impact League was designed for."

The Impact League has been simplified in Season 3 to ensure it drives maximum impact, while reducing the time taken for teams to collect and report on all criteria at every event. It is more weighted towards quantitative data, encourages collaboration and learning between teams, while aligning to SailGP's global sustainability goals and actions.