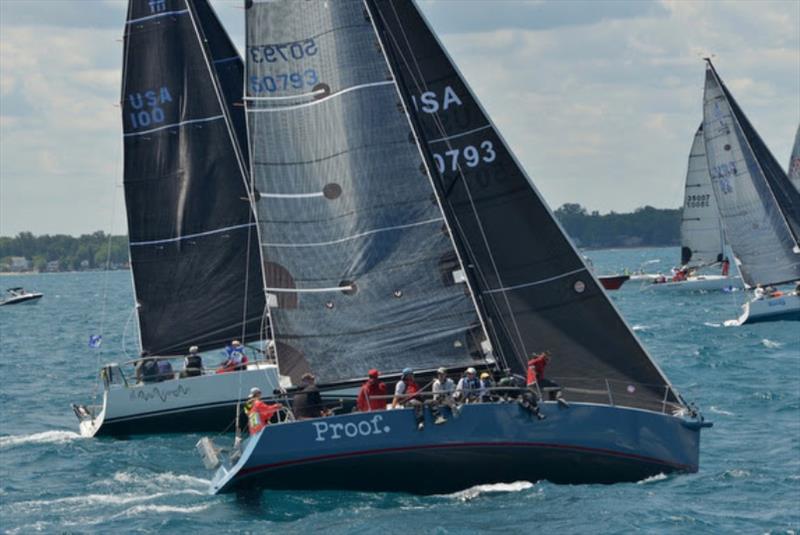 Gorgeous, stormy Chicago Mackinac Race
by J/Boats 30 Jul 08:34 PDT
From July 22, 2022

This year's Chicago to Mackinac Race will certainly go down as one of the rougher, faster races on record for the fleet of 205 sailboats.

Bookended by simply glorious weather and good breezes for the first 75 miles and last 75 miles, the massive storm system that rolled across Lake Michigan from 9:00 pm Saturday night to 6:00 am Sunday morning will be an experience many will remember for a long time, for better or for worse.

Everyone's goal was to get to Mackinac Island in one piece and, hopefully, be able to tell a few tall tales at the infamous Pink Pony Bar and Restaurant of how they survived and ended up at the #1 Resort Island in the USA, as voted on by vacation experts at Travel & Leisure Magazine.

Southerly winds got the race off to a fast start of downwind sailing, with the Chicago Yacht Club Race Committee firing off every start at their scheduled time. However, the fleet was soon met by strong storms and squalls associated with what veteran weather router Chris Bedford called "a mesoscale convective system (MCS)." The development of an MSC equates to a large mass of thunderstorms that moved across the lake from west to east late Saturday and Sunday morning that was over 500 miles long (west to east) and 300 miles wide (north to south).

"What made last night extra unique," said Bedford, "is it that the first mass was then followed by another one early this morning. From preliminary reports, it appears the first round was probably most impactful with strongest wind gusts between 45 to 55 knots."

Bedford said that while storms like this are not uncommon to occur in the summertime, he doesn't recall a whole night of storms like this that had tens of thousands of lightning strikes.

"Usually, it's a one-and-done kind of thing, but this year it was something we refer to as 'training', which is one storm after another." The "super cells" were easy to follow on radar, as they were so distinct; essentially Rorschach inkblots of colors ranging from green to yellow, then orange to red, then lastly purple to white in the centers. The big wide mass of storms was all green and yellow, with wide swaths of orange & red- meaning intense supercells with winds in the 25 to 45 kts range. The other colors are not so good when you see them on the live color radar.

Basically, the gradations indicate higher vertical velocities within the storm cells… with white being the "hottest" color- winds above 60 mph. Learn more about live color radar here.

As a result, close to 30 entries retired from the race with a variety of issues from ripped main sails, exploded spinnakers, and broken equipment, to onboard minor injuries and equipment issues, but fortunately no serious injuries.

Undeterred by the weather forecast, the J/Navy of sixty-three boats (31% of the fleet) tackled the race with passion, albeit sailing with caution as navigators gazed at the horizon for storm activity and watched "live radar" on their on-board navigation electronics. It was relatively easy establishing range and bearing and approximate timing on the supercells that would hit your boat as they traveled around 30 to 40 kts west to east. Plus, with "God's light show" illuminating the clouds as bright as day with thousands of lightning strikes, it would've been hard to miss the storms. The wildest lightning strike we witnessed was a lightning bolt that lasted several seconds and appeared to be a few hundred yards wide… incomprehensible, yes… but impossible to miss by six crew on deck!

J/120 Class

By winning the eleven-boat J/120 Class by nearly three hours, Mike Fozo & Robin Kendrick's PROOF also won the coveted Chicago Mackinac Trophy Overall, emblematic of winning the "big boat" division. Congratulations to Mike & Robin's crew on PROOF of Dale Werkema, Nick DeGalan, Tom Vern, Brad Restum, Steve Harthorn, Jim Fisher, and Wally Cross! They duplicated the amazing feat of winning both Mac Races in the J/120 class! Second in their division went to Charlie Hess' FUNTECH RACING and third place was Mike Kirkman's HOT TICKET.

J/111 Class

The thirteen-boat J/111 Class also saw excellent performances. As second J/Boat overall in 14th place and winning the class, Scott Sellers' NO SURPRISE pulled off the rare "double" winning his division in both Mackinac Races (fully-crewed in Chicago to Mackinac and Doublehanded division in the Bayview to Mackinac). Coincidentally, around 5:30 AM Sunday morning, on the YB Tracker, you could see it was a full-on duel between the J/111 NO SURPRISE and the J/120 PROOF as they passed Big Sable Point. However, thereafter, it was clear the J/111 had some issues dealing with the last string of storms, wobbling around a bit, while the J/120 crew had things well-sorted out and planed away at 10-13 kts in a strong ESE to S winds of 15 to 28 kts. Normally, a J/111 would plane away from a J/120 doing at least 12 to 15 kts in those conditions offshore. Had that been the case off Big Sable Point, perhaps the outcome for the overall honors would have been a different story.

The balance of the J/111 class saw Tom Dickson's WARLOCK take the silver and Brad Faber's UTAH takes bronze to fill out the podium. The rest of the top five included Colin Caliban's NO QUARTER in 4th place and Roland Rayment's ROWDY in fifth.

J/109 Class

The top two boats in the thirteen-boat J/109 class have both been Mackinac Cup Overall winners, with George Miz's SMEE AGAIN winning over Robert Evans' GOAT RODEO. Rounding out the podium was David Gustman's NORTHSTAR.

J/105 Class

Repeating past winning performances in the ten-boat J/105 class was Clark Pellet's SEALARK, taking the win by just 21 minutes over Mike Sheppard's FLYING PIG. Taking the bronze medal was Josh and Laura Lutton's KINSHIP.

Doublehanded Division

As anticipated before the race, the odds-on favorites to win the Doublehanded Class were two very experienced, very fast J/Teams. Given both boats' past performances, it was even-odds as to which team would persevere through the wild stream of thunderstorms to top the leaderboard. In the end, it was a repeat win for Andy Graff & Scott Eisenhardt's J/88 EXILE, with Rich Stearns and Bill Zeiler's J/105 HOKEY SMOKE settling for the silver.

Section 3

The big red machine from Port Washington, Wisconsin sailed by the Schanen family sailed yet another good race and were able to hop onto the podium for the "umpteenth" time. Bill Schanen's J/145 MAIN STREET finished Sunday midnight to take the bronze medal in their division.

Section 4

The two teams from Chicago's North Shore town of Lake Forest, accustomed to being on the podium in most races, missed their mark this year. Principally sailed by family and friends teams, the storms would've taken their toll dealing with endless sail changes and many dozens of storm cells. Nevertheless, Tom Papoutsis' J/133 RENEGADE placed fourth while their neighbors Randy Ku.

Section 5

Learning to sail their boat faster and faster over the past few seasons has been Matt Songer's J/122 EVVAI. Ultimately, their perseverance and solid navigation landed them on the podium, taking the silver medal for the class!

Section 6

Getting a podium finish in either of the Mackinac Races is always a huge "win", no matter how you look at it. It's very difficult to sail a fast, conservative race and still fend off the "corner shooters" that invariably just "send it" off to one corner of the race track in the vain hope to win the division or the race. While winning their class, Tim & Cathy McGuire's J/112E ELEVATION experienced a steering issue during the first major thunderstorm on Saturday night, fixed it quickly, but lost enough time to settle for the bronze medal. As a result, they were one of few boats to repeat a strong performance in the Bayview Mackinac Race where they got the silver medal.

Section 7

Proving, yet again, the J/99 is a versatile, easy-to-sail, fast all-around performer offshore was Ben Wilson's team on RAMBLER. Having won or podiumed in class in a few races in this summer's Lake Michigan offshore season, Wilson's team was determined to keep their hot streak rolling. When the proverbial "cow manure" hits the fan and the rain is blowing horizontal in 30+ kt winds, it's easier to be handling a smaller boat with smaller sails, as you can change gears rapidly. No question, the RAMBLER crew was up to the task, winning their division comfortably by nearly three hours!!

Section 8

The "small boat" division of 30 to 36-footers saw an interesting battle unfold for two J/Boats teams. From the start, through the everlasting storm cells, to Big Sable Point, it was Jeff Progelhof's J/36 SENOR MOMENT with a Texas crew that was leading both Section 8 and the Mackinac Cup Overall! With a crew of college All-Americans aboard (Kelsom Elam and Bill Draheim from Dallas), the J/36 was pushed hard and nearly pulled off an epic upset against more modern J/Designs. However, as the storms passed, the wind filled in behind blowing ESE to SE at 15 to 28 kts, perfect conditions for a J/88 to plane away in clouds of spray. That's exactly what happened for Jim and Scott Sorbie's J/88 LEGACY! By the time they washed away the spray off their glasses, they made it to the Greys Reef turning gate in near record time for a J/88, coasting at speed into the iconic finish line off Mackinac to earn the silver medal! Sailing as hard as they could, Progelhof's J/36 SENOR MOMENT still managed to pull off a fourth in class.

More information at cycracetomackinac.com