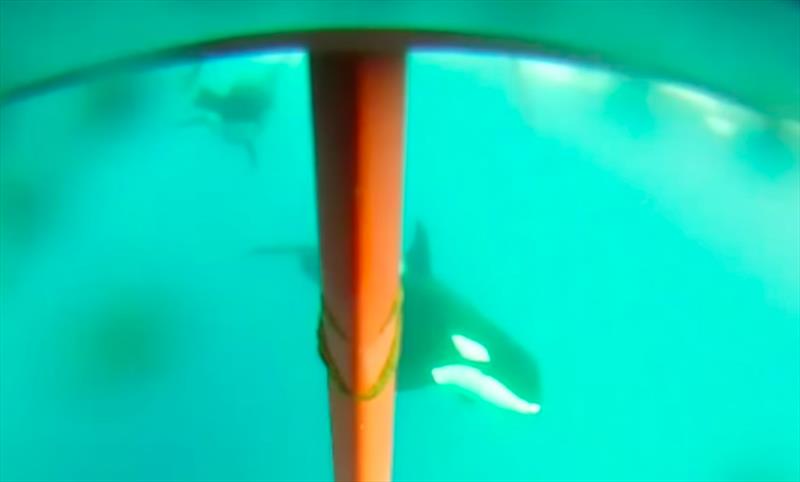 Globe40 Race Leg 1 Day 2: Rudder-munching Killer Whales
by Andy Rice 27 Jun 12:55 PDT
26 June 2022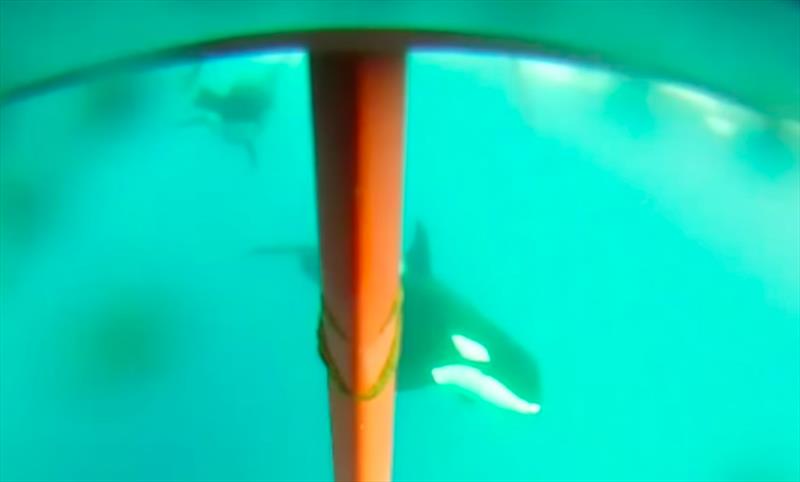 The Globe40 Race yacht Milai is attacked Orcas © Milai

While the soon-after-the-start collision between the French and Canadian boats highlighted the hazards and obstacles above the surface, other competitors in the Globe40 Race would have been more mindful of the enemy below.

The Globe40 is a 30,000 mile, multi-stop doublehanded race around the world in Class 40 keelboats. Leg 1 from Tangier to Cape Verde should be straightforward, fast and pleasant downwind sailing conditions. However, as the Dutch team discovered on the prologue race from Lorient in France to Morocco a week earlier, fishing nets are a real hazard round these parts.

For the Japanese boat it was much worse. The crew of Milai were attacked by a group of playground bullies barring the entrance to the Strait of Gibraltar. A mob (not a pod) of orca killer whales decided to play a game of 'snap the rudder' with the starboard rudder of the Japanese Class 40. Owner Koji Nakagawa had already noticed the fins of the orcas trailing the stern before the attack began. "We have a camera to watch what's going on underwater," said Nakagawa. "And we could see that orca A would come up and smack the rudder, then orca B, then orca C, and so on. To them it was a game, but to us it was quite scary."

With the Class 40 rule only permitting glass-fibre construction, the orca assault eventually succeeded as the pod of attackers broke the rudder clean in two. 1-0 to the Orca of Gibraltar.

Race director of the Globe40, Christophe Gaumond, said the orcas were an ever-present menace near the Strait of Gibraltar at this time of year. "It's migration season for tuna entering the Mediterranean," said Gaumond, a veteran of multiple Olympic Regattas and Vendée Globes. "So the orca are a threat and the tuna nets are another hazard in this area. There is a lot of commercial traffic going up and down the Atlantic too, so there are many hazards to watch out for on this first leg."

As for the orca damage, co-skipper Masa Suzuki thanks the wicked whales for forcing a replacement rudder to be fitted. "We had never replaced a rudder before," he said, "so now I have been below the boat and we now know how to do that job if we have to do it again. So the orca did us a favour," he laughed.

It seems like the Japanese have avoided the orca coming back for seconds, however. As of 1500 hours (Tangier time) on Monday afternoon, Nakagawa and Suzuki hold a 7 mile lead over the fleet as they surge towards the first waypoint of Madeira. As yet the broken bowsprit of French entry, The Globe en Solidaire, means the boat has yet to depart Tangier.

To follow the race, and to find out more about what the Globe40 is all about, go to www.globe40.com