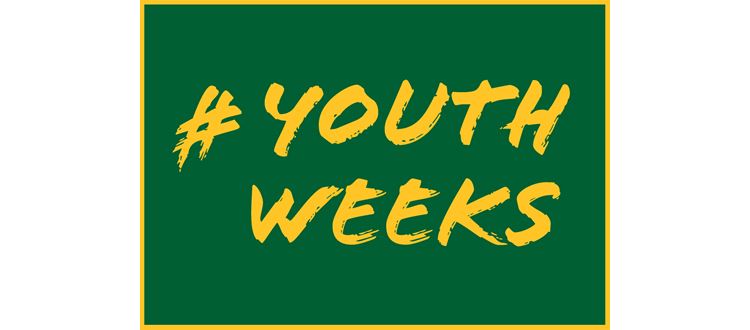 The Sharks and Free State showed serious intent on day two of the SA Rugby U16 Grant Khomo Week in Kimberley, scoring impressive wins over traditional powerhouses, DHL Western Province and Blue Bulls on Tuesday. 
These wins secured their undefeated record so far, with the DHL Western Province XV the only other team not to have their flags lowered during the first two days of matches at the Northern Cape Griquas Stadium. 
The Free State side had a stellar second half against the Pretoria side, ultimately scoring 10 tries in a 60-12 win, while the Sharks outplayed the Capetonians by 24-7. The Kimberley crowd had something to cheer about as Griquas beat SWD 23-12 and the Griquas XV outplayed Border Country Districts 26-0. 
The Leopards scored the biggest win of the day in a 47-0 romp over Zimbabwe, while Valke and Thepa Trading Motswako Griffons played to an exciting 23-all draw.
Scorers:
Griquas 23 (8), SWD 12 (12)
Griquas – Tries: Stiaan van Loggerenberg (2). Valentino Lenge, Denilson Metcalfe. Penalty goal: Marno Greeff.
SWD – Tries: Kurt Coetzee, Deven Kleingeld. Conversion: Andrew Stopforth.
Valke 23 (15), Thepa Trading Motswako Griffons 23 (13)
Valke – Tries: Zaid Rippenaar, Divan Francis, Matthew Bergman. Conversion: Bergman. Penalty goals: Bergman (2). 
Griffons – Tries: Craig Mann, Cheswil Jooste, Lerato Rammile. Conversion: Jooste. Penalty goals: Jooste (2).
Griquas XV 26 (21), Border CD 0 (0)
Griquas XV – Tries: Jeandre Hanse, Lehan van der Westhuizen, Stefan van der Merwe, Tshiamo Tsiane. Conversions: Tsiane (3).
Limpopo Blue Bulls 27 (7), Namibia 8 (5)
Limpopo – Tries: Damian Bye (3). Conversions: Unathi Mlotshwa (3). Penalty goals: Mlotshwa (2).
Namibia – Try: Rudolph Harmse. Penalty goal: Jano Erasmus.
Border 35 (13), Pumas 17 (10)
Border – Tries: Bubbles Mtshini, Mbasa Mda (2), Mveli Mqulo, Thina Fenako, Praise Mtsila. Conversion: Itha Mbulana. Penalty goal: Qiqa Qwesha.
Pumas – Tries: Sihle Mkhatshwa, Sibisi Sibisi. Conversions: Theuns Meyer (2). Penalty goal: Meyer.
Leopards 47 (14), Zimbabwe 0 (0)
Leopards – Tries: Luyanda Taffa (2). Hanre Venter, Simeon Botha, Asif Sumara,  Loyiso Fihla (2). Conversions: Tiano Combrinck, Lorenzo Snyers (5).
WP XV 45 (17), Eastern Province (7)
WP – Tries: Truspe Schoeman, Codi Binneman, Collin-Paul Kemp, Abeeb Boraine, Keenan Stoffels, Nicolas Reynolds, Michael Satade. Conversions: Boraine (5). 
EP – Try: Sipho Nonyalela. Conversion: Lucraine Muggels.
Golden Lions 30 (20), Boland 22 (10)
Lions – Tries: Esethu Mnebelele, Khuti Rasivhaga, Tiaan Le Roux. Coversions: Simphiwe Moyo (3). Penalty goals: Moyo (3). 
Boland – Tries: Wilfred Slingers, Dewron Aford, Ewald Vorster. Conversions: Luan Giliomee (2). Penalty goal: Giliomee.
Free State 60 (38), Blue Bulls 12 (7)
Free State – Tries: David Venter, Danie Kruger, Liam Santos, Philip McLaren, Toriq Schambreel, Theko Montjane, Ethan Adams, Pretorius Ekeji (2), Alzeadon Felix. Conversions: Felix (2), Schambreel (3). 
Blue Bulls – Tries: Malan Graham, Daniel Malakiya. Conversion: Ruben Pienaar.
Sharks 24 (19), DHL Western Province 7 (7)
Sharks – Tries: Jake Jansen, Swelihle Mbatha, Zingce Simka. Conversions: Luke Davidson. Penalty goal: Aka Boqwana.
WP – Try: Matthew Weideman. Conversion: Ashwin Cox.
SA Rugby U18 Girls Week
Meanwhile, in Welkom, the focus moved to the U18 teams at the SA Rugby U16 and U18 Girls Weeks played at HT Pelatona Projects Stadium and like Monday, when the U16 teams played, some excellent matches were produced by the girls. 
DHL Western Province, SWD Eagirls, Limpopo Blue Bulls and the Mastercard Golden Lions looked most impressive and one of them is likely to finish the tournament undefeated. In total 42 tries were scored, with the Limpopo side getting seven and the WP and SWD sides 6 each in their respective wins.
Springbok Women coach, Stanley Raubenheimer and SA Under-20 Women's coach, Laurian Johannes-Haupt, were among the interested spectators. 
Scorers:
Eastern Province 15 (0), Pumas 3 (3)
EP – Tries: Zenazi Ntuthu, Sisonke Hawu (2).
Pumas – Penalty goal: Refiloe Mafa.
Limpopo Blue Bulls 39 (17), Leopards 5 (5)
Limpopo – Tries:  Blessing Shoko (2), Hope Matoto (3), Lerato Tauyatswala, Delsy Mkansi. Conversions: Shoko (2). 
Leopards – Try: Chantel Maakwe.
Griffons 5 (5), Valke 0 (0)
Griffons – Try: Aliswa Princess.
Mastercard Golden Lions 29 (24), Zimbabwe 5 (5)
Lions – Tries: Vuyiswa Dlamini, Boitumelo Motshoane, Thobile Msizazwe (3). Conversions: Lesego Mothlamme (2). 
Zimbabwe – Try: Mary Muziwemuno.
Sharks 15 (0), Blue Bulls 7 (7)
Sharks – Tries: Sinothile Bhengu (2), Andiswa Nkosi.
Blue Bulls – Try: Mihle Gomo. Conversion: Khanyi Sebeko.
Griquas 27 (15), Free State 10 (5)
Griquas – Tries: Abigail Brandt (2), Jody-Anne Meyer (2), Clarize Smith. Conversion: Donishea Cloete. 
Free State – Tries: Rebecca Ntsapo, Judy Thaeli.
DHL Western Province 36 (12), Border 0 (0)
WP – Tries: Bronishia Hess, Logan Welman (3), Anja le Roux, Mpora Mpondo. Conversions: Le Roux (3).
SWD Eagirls 36 (17), Boland 5 (5).
SWD – Tries: Charoney Marnewick, Leakisha Andrews, Che-Cody Fredericks, Mia-Lee Matiwane, Willicia Piterse (2). Conversions: Piterse (3). 
Boland  – Try: Mihlali Ntlahla.
U16 Fixtures for Wednesday 29 June:
10h00: Griffons v Leopards; Free State v Griquas
11h20: Valke v Sharks; Boland v Eastern Province
12h30: Border v SWD; Pumas v Mastercard Golden Lions
13h40: Limpopo Blue Bulls v Border Country Districts; Blue Bulls v DHL Western Province