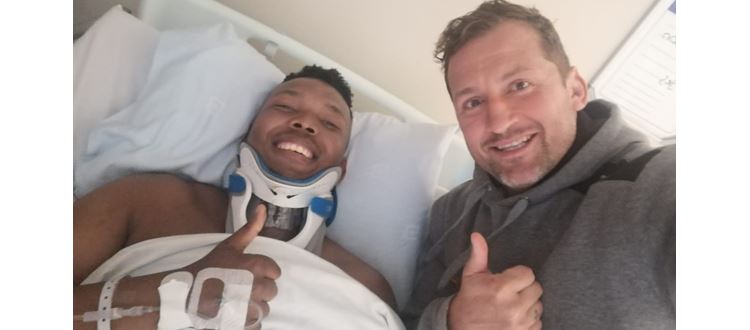 Thapelo Moshodi and Schalk Ferreira
Thapelo Moshodi (hooker) broke his neck in a training match between the Toyota Cheetah u.21 and UXI Institute of Excellence u.21's on Friday, 29 July. 
ER24's crew were on standby at the field, where they stabilised him according to the procedure. Afterwards, he was taken to a nearby facility to be stabilised. He was then transferred by ER24 to Mediclinic Bloemfontein for further treatment. 
He underwent a successful neck operation on Saturday evening. The good news is that he will be transferred to CityMed Day Hospital in Bloemfontein, where he can start rehabilitation less than a week after the accident. 
The Toyota Cheetah prop, Schalk Ferreira, visited Thapelo at MediClinic Bloemfontein to encourage him by sharing his experiences as he broke his neck twice. 
Toyota Cheetahs is fortunate to have ER24 and Mediclinic as professional health care partners. ER24 provide medical standby for the players at training and league matches, and spectators attending Toyota Stadium matches.