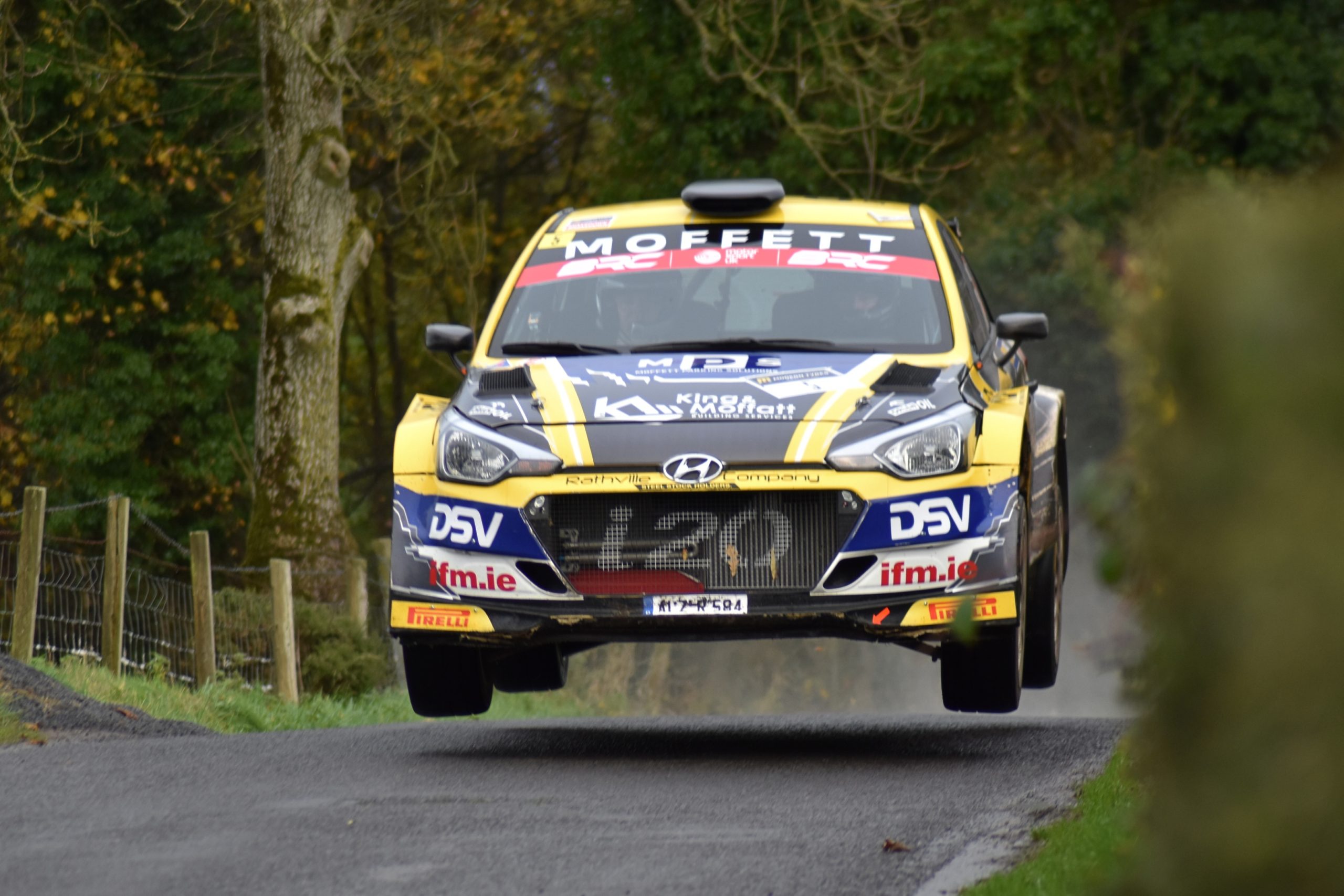 The Ulster Rally plays host to the seventh and final round of the 2022 Irish Tarmac Rally Championship with several titles still up for grabs.
Irish Tarmac has been at its hustling, bustling, and breathtaking best right from Galway's opener six months ago.
Josh Moffett and Andy Hayes started the season with a perfectly controlled and well-deserved victory on the west-coast washout. Their fantastic form continued through the following five Irish Tarmac classics and will arrive at the Ulster Rally's Newry headquarters within touching distance of their second ITRC crown.
Meirion Evans and Callum Devine are the only two drivers that can upset the odds and push Moffett off the top of Irish Tarmac's standings for the first time this year. Their outside chances are dependent on a top-scoring finish on Ulster's double-points finale as well as needing Moffett to finish further down the pecking order.
At the moment, it looks like Wales' Evans is going to be Moffett's sole championship challenger as Devine is set to miss out on the Ulster Rally.
---
ITRC crews will score points at the end of Friday's action with the clocks reset before Saturday's six stages with another full set of points on offer. Even if Evans scores the maximum 34 points available, he will need Moffett to bag less than 20 points.
That means two fourth-place finishes on Friday and Saturday are all Moffett needs to clinch one of the most hotly contested Irish Tarmac titles in recent history. Alternatively, if he can't wait the extra day, finishing first on Friday would do the job for Moffett.
Alastair Fisher withdrew his Ulster Rally entry after his Volkswagen Polo R5 inflicted damage from a championship-ending crash on July's Cork 20 International Rally.
That leaves Jonny Greer, Desi Henry, and Jason Mitchell to complete the two-day rally's top five. Recently crowned Northern Ireland Rally Champion Greer looked sharp in his Citroen C3 Rally2 on previous Irish Tarmac outings in West Cork and Killarney.
Desi Henry is another who cannot be overlooked for the Ulster Rally win. In fact, if Moffett opts to play it safe in his championship bid – Evans, Greer, and Henry could find themselves locked in a battle to claim their first ever Irish Tarmac rally win.
---
Modified
In modifieds, Simon Reid and Colin Byrne will make the long trek north to continue their ITRC duel. Byrne looked to have the upper hand for most of the Cork 20 but a late altercation with a chicane forced his Ford Escort Mk2 into retirement, handing Reid a national victory and top place in ITRC's modified standings.
Reid now leads Byrne by 12 points ahead of Ulster's double-points decider. James Stafford is sandwiched between the Mk2 Escort pilots, four points adrift of Reid, but it looks like he won't compete on the final round.
2019 Irish Tarmac Modified Champion Damian Toner could be one to watch, however. The local two-wheel-drive ace is 24 points behind Reid but will be a favourite to take top points on the Ulster.
Gareth Black and Mark O'Connor are two more drivers in the modified title hunt and will be keeping an eye on each other with their own two-litre class up for grabs.
---
Historic
Six drivers are still in with a chance of winning the Irish Historic Tarmac Championship heading into their final round. Neil Williams holds a three-point lead over Luke McCarthy after topping the competitive class in Cork.
Duncan Williams, Berian Richards, and Craig MacWilliam are slightly further back in the standings but with 34 points on offer in the Ulster, there is plenty to play for in the sweet-sounding historic series.
---
And to add more number crunching title conundrums into the mix – Ryan Caldwell, Joseph Kelly, and Jason Dickson continue their three-way battle for ITRC 3's Rally4 honours. Dickson might be the outside bet, 25 points off leader Caldwell, but he has been the pacesetter since his first top score in Killarney.
Nine tough, demanding, and relentless stages will crown the winners and champions on the Ulster Rally. The event's base may remain in Newry but the route is very different with the stages set to give the crews one last epic Irish Tarmac test for 2022.
One last feature worth a mention – night-time rallying returns as Ulster Rally competitors face the notorious Slieve Gullion forest, in the dark, on Friday night.
Ulster Rally schedule:
Friday
SS1 // Slieve Gullion 1 (9.72 km) – 17:28
SS2 // Bronte Homeland 1 (24.67 km) – 18:53
SS3 // Slieve Gullion 2 (9.72 km) – 20:43
Saturday
SS4 // Tyrone's Ditches 1 (19.54 km) – 10:08
SS5 // Babylon Hill 1 (20.53 km) – 10:44
SS6 // Mount Pleasant 1 (13.50 km) – 11:28
SS7 // Tyrone's Ditches 2 (19.54 km) – 14:23
SS8 // Babylon Hill 2 (20.53 km) – 14:59
SS9 // Mount Pleasant 2 (13.50 km) – 15:43
Ulster Rally entry list (Top 10)
1 Josh Moffett – Andy Hayes (Hyundai i20 R5)
3 Meirion Evans – Jonathan Jackson (Volkswagen Polo R5)
4 Jonny Greer – Niall Burns (Citroen C3 Rally2)
5 Desi Henry – Paddy Robinson (Ford Fiesta Rally2)
6 Jason Mitchell – Paddy McCrudden (Fiesta Rally2)
7 Stuart Biggerstaff – Anthony Nestor (Fiesta R5)
8 Alan Carmichael – Arthur Kierans (i20 R5)
9 Niall Henry – Barney Mitchell (Fiesta R5)
10 Michael McGarrity – Damian Garvey (Skoda Fabia R5)
11 Cal McCarthy – Eric Calnan (C3 R5)
---
Subscribe for free to receive more stories like this direct to your mailbox
---
---
Photos by Roger Dawson and D Harrigan Images