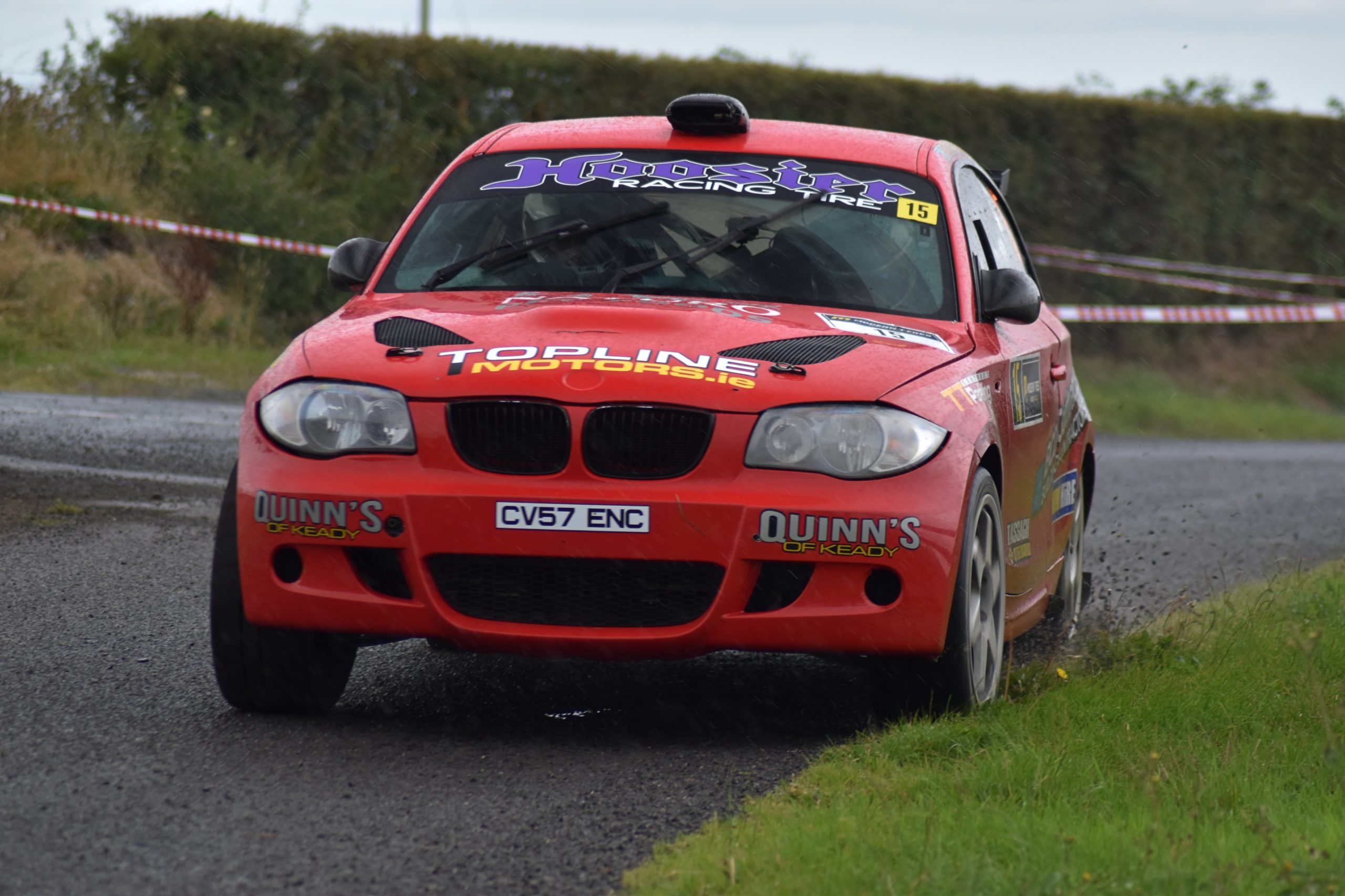 Marty Toner and Ben Teggart picked up a surprise two-wheel-drive win on the Ulster Rally after Marty's brother Damian suffered a bruising crash on the final stage.
Simon Reid finished fourth in modifieds, crucially ahead of Colin Byrne, to seal the Modified Irish Tarmac Rally Championship with co-driver John Murphy.
A fast start to Friday's stages strengthened Reid's championship advantage. The Waterford driver faced a similar plight to his international counterpart, Josh Moffett, on Saturday knowing he just needed to survive the six tricky stages. And survive he did, just about, as Reid managed to escape "the biggest moment he had in his life" on Ulster Rally's penultimate stage.
---
Damian Toner and Denver Rafferty were Ulster's star attractions on Friday night when they set a series of giant-killing times in their Ford Escort Mk2.
Toner rounded out the opening day's action with a second-fastest time overall on Slieve Gullion's night-time pass, beating eventual rally winner Meirion Evans and Irish Tarmac Champion Josh Moffett on the mountain epic.
Toner was untouchable in two-wheel-drive and led the Ulster National Rally right up to the final stage. The County Armagh driver looked set to finish fifth overall but a heavy collision with a bridge on Mount Pleasant instead added them to the retirements list with just six kilometres to go.
---
His turn of events was in contrast to Marty Toner who started the rally in dramatic fashion and ended it on a high.
On its way to stage one, Toner's BMW collected a flying stone chip which punctured its oil cooler. The car filled with smoke on Slieve Gullion's start-line and his nightmare was only beginning.
Toner dropped a minute on Gullion, the stage he was most familiar with on Ulster's 2022 itinerary, as his power steering gave up on the 10-kilometre test.
Toner and Teggart quickly began their charge back up the Ulster Rally field, from 37th after stage one to 17th at the end of day one. Their push continued on Saturday, setting a string of top three two-wheel-drive times to eventually finish first in modifieds and eighth overall.
"We had lost a minute on the first stage," explained the BMW pilot. "We got second in two-wheel-drive in the dark and when we woke up to rain on Saturday morning we decided – 'That's it, it's time to party!'
"37th after stage one to eighth overall, we can be happy with that."
John Devlin and John McCarthy finished second in two-wheel-drive less than seven seconds behind Toner in his 2.0-litre Ford Escort. An impressive drive to top the Class 6 crews. They were another to push the boundaries in Ulster's tricky conditions, sliding into a concrete post through a mucky farmyard section on the penultimate stage.
---
Camillus Bradley and Crawford Henderson completed Ulster's top three two-wheel-drive crews.
Damian Toner's final stage accident allowed Colin Byrne and Gareth Black to collect an extra couple of ITRC points that had them and their co-drivers, Stephen Quin and Connor Dunlop, finish second and third in the series' final modified standings.
---
Subscribe for free to receive more stories like this direct to your mailbox
---
---
Photos by Roger Dawson, Adam Hall, and D Harrigan Images