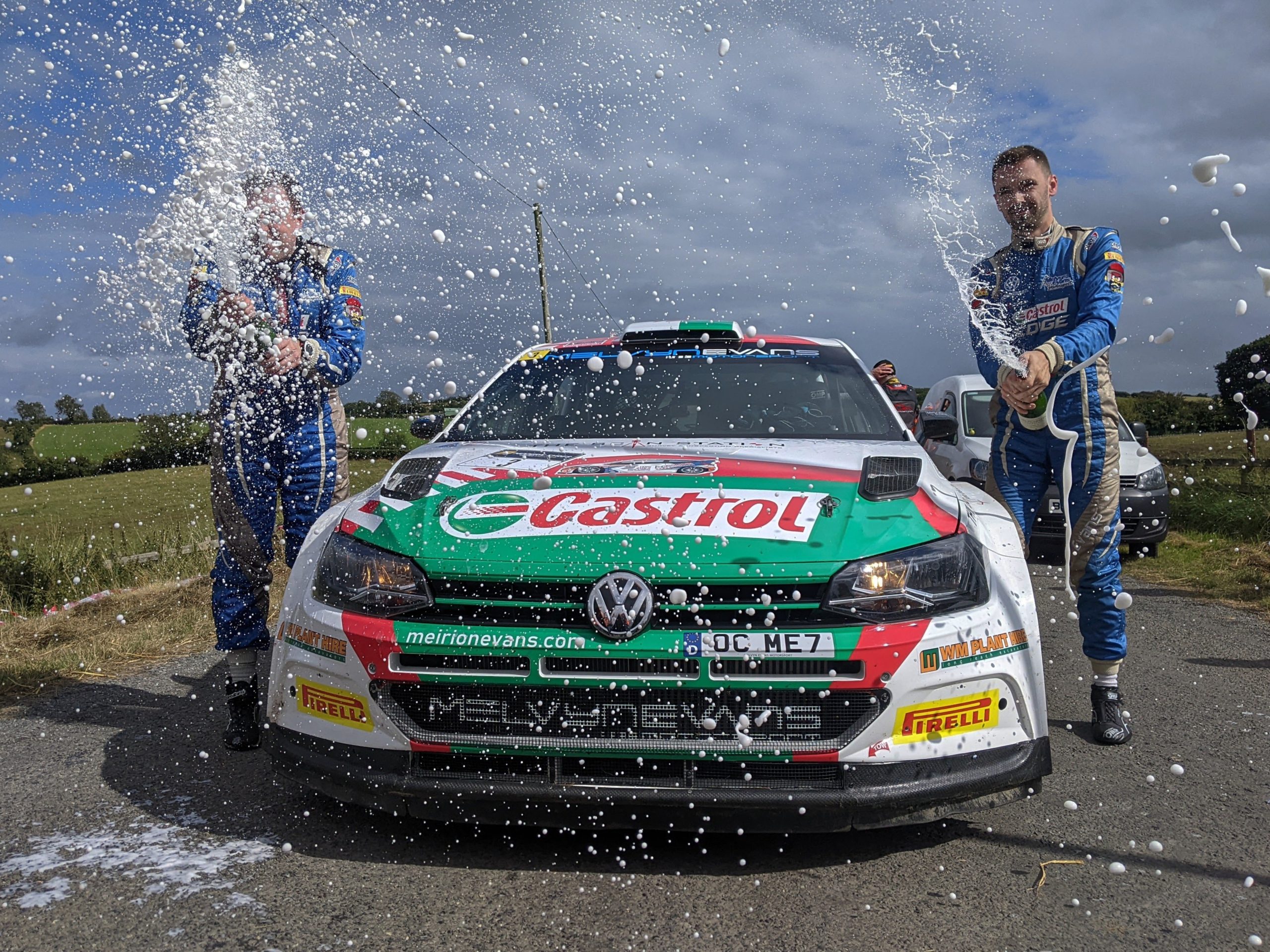 Meirion Evans and Jonathan Jackson claimed a two-minute victory on the Ulster Rally, the final round in the 2022 Irish Tarmac Rally Championship.
It's the Welsh crew's maiden international victory and first win in Ireland, getting the monkey off their backs after several runner-up finishes.
---
The Volkswagen Polo R5 pair still held an outside chance of sneaking ahead of long-term ITRC leaders Josh Moffett and Andy Hayes heading into the Ulster Rally.
Evans' maximum tally on Ulster's double-points finale wasn't enough to usurp Moffett, however, with a fourth-place finish good enough to seal the Hyundai crew's second Irish Tarmac title.
"We are over the moon," said Moffett at the end of Ulster's final stage. "It has been a tough weekend, we've had to take things back a few gears, but to get here at the end – it is brilliant.
"We have been listening for any noise or rattle in the car over the two days but to be fair the car has been faultless all year. It is a credit to Tom [Gahan] and the boys."
---
The 2022 Ulster Rally started off with three stages on Friday evening, two runs of the infamous forest park test, Slieve Gullion, sandwiching the 24.7-kilometre Bronte Homeland.
Desi Henry started off brightest in his Ford Fiesta Rally2, building an 18.5-second overnight lead. Unfortunately for Henry, who was looking for his first international win, slippery conditions on Saturday brought his rally to an early end.
Henry's Rally2 Fiesta slid into a gate post on Saturday's opening Tyrone's Ditches test. A narrow muck-ridden lane was the scene of the incident with Henry first to tackle the treacherous conditions as he ran first on the road.
That handed the Ulster Rally lead to Evans, who won the wet stage by 17.1 seconds. Evans had been locked in a battle with Jonny Greer but the Welshman's fastest time gave him a 23.3-second lead.
Both Evans and Greer had experienced several moments on Ulster's incredibly challenging terrain. Evans had relinquished second on stage two when he lost 10 seconds in a Bronte Homeland field. Greer lost his edge on stage four after surviving a moment in a flooded fast section and seeing Henry's off on Saturday morning's opener.
Just behind, Jason Mitchell was revelling in the mucky conditions. The Strabane-based farmer slipped ahead of Moffett and into the top three as the latter continued to focus on surviving the challenging championship decider.
Evans and Jackson extended their lead on the next two stages despite completing Mount Pleasant with an odd slick tyre paired with three wets. A puncture on the road section to stage six forced the Welsh crew into running the unusual tyre combination.
A puncture spoiled Greer's hopes of a final loop fight with Evans on stage seven and dropped the Northern Ireland Rally Champion to third.
Evans sealed his fourth stage win in a row on Tyrone's Ditches and now held a two-minute and sixteen-second lead with two tests remaining.
As it turned out, it was a lead Evans was able to manage perfectly to clinch a popular maiden international rally win.
"It was been a long time coming," said Evans.
"This is only our second year doing the [Irish Tarmac] championship so I think it makes sense to come back.
"There isn't anything I would rather do instead, to be honest."
A brace of fastest times for Greer and co-driver Niall Burns secured second place for their Citroen C3 Rally just ahead of Mitchell and Paddy McCrudden.
It was Mitchell's first international rally podium since starting his rallying adventure less than three years ago.
"Things couldn't have gone better this weekend," said the 44-year-old. "I can't believe we have got third place.
"It is an unreal feeling to get a podium finish on an international rally – I just need to get a taste of the champagne now…"
Stuart Biggerstaff and Anthony Nestor completed Ulster Rally's top five, the Fiesta crew's best Irish Tarmac finish of the year.
---
2022 Ulster Rally results (Top five)
1 Evans – Jackson (Polo R5), 1:30:17.5s
2 Greer – Burns (C3 Rally2), +2:05.3s
3 Mitchell – McCrudden (Fiesta Rally2), +2:25.3
4 Moffett – Hayes (i20 R5), +2:55.1
5 Biggerstaff – Nestor (Fiesta R5), +4:35.4
---
Subscribe for free to receive more stories like this direct to your mailbox
---
---
Photos by Adam Hall and D Harrigan Images